Atelier Studio
Housed at ATELIER Studio|Gallery is the private studio of founder and director, David James. David's working studio is open to the public upon request and may have any manner of projects on the go! Currently, David's main focus is on creating figurative, drawing-based works that explore the complexities of the human condition, connection and relationship.
The Studio is also the venue for art making classes and workshops held by David or our associated artists. Keep an eye on out below and social media, for classes and workshops on offer each term – or sign up to our Mailing List to be personally informed by email.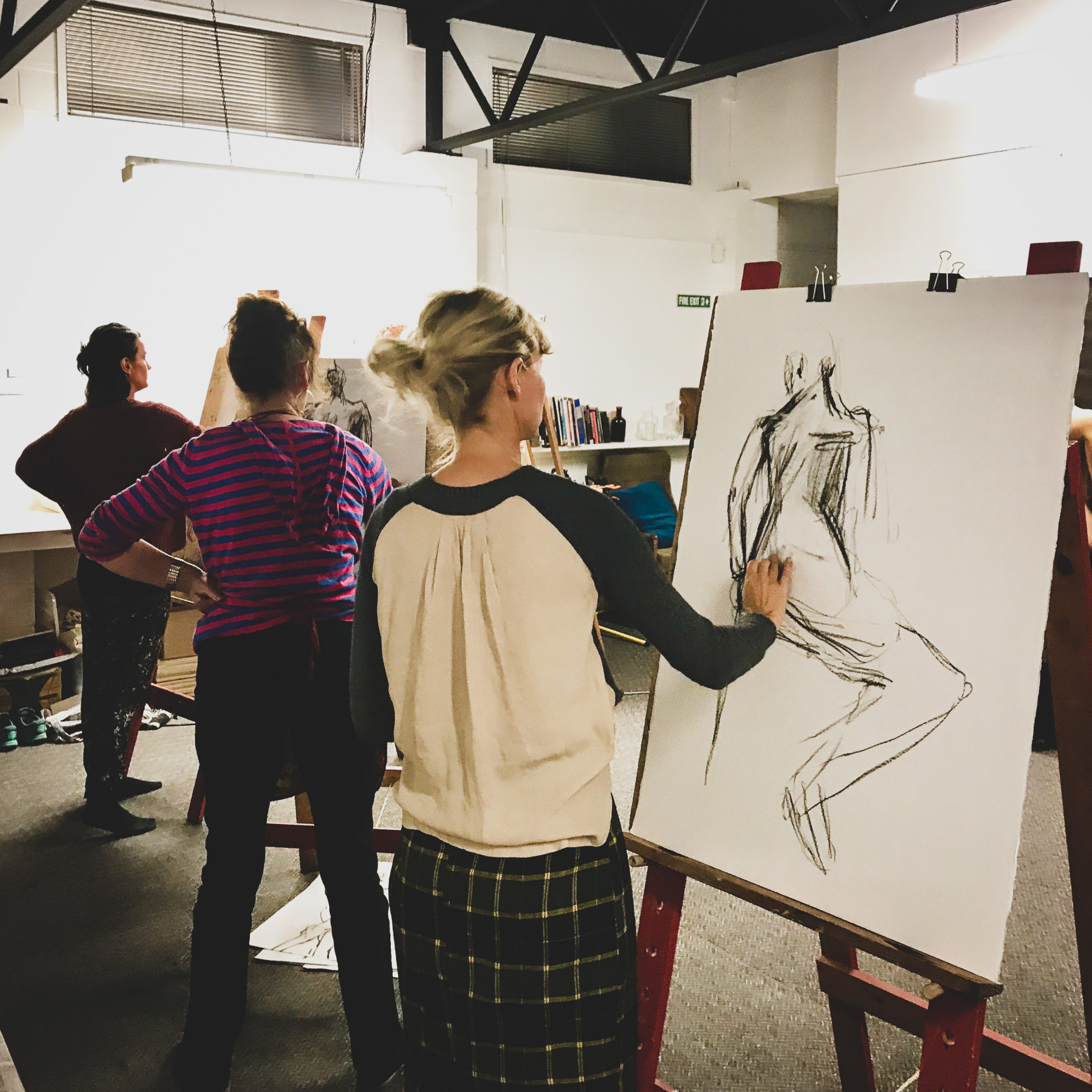 FIGURE DRAWING
ANATOMY & PROPORTION WORKSHOP SERIES
We are excited to offer this series of Figure Drawing workshops that focus on Anatomy & Proportion and will explore the underlying skeletal structure and muscle groups that make up the human form. Each workshop will target a specific aspect, for example, the Upper Torso, providing artists and students alike, the opportunity to develop their figure drawing skill and knowledge through drawing from a live model.
These workshops are exciting and suitable for students of all abilities and interest in figure drawing.
Tutor: David James
Cost: $120
Register and pay online now by clicking a button below:
Saturday 25 June (10:00 – 4:00): Anatomy & Proportion #1 – The Upper Torso, $120 
—————————————————-
Saturday 23 July (10:00 – 4:00): Anatomy & Proportion #2 – The Pelvic Structure, $120
—————————————————-
Saturday 13 August (10:00 – 4:00): Anatomy & Proportion #3 – Head, Hands, Feet, $120
The Intuitive Approach
AN EXPLORATION INTO ABSTRACT PAINTING
The more we paint like ourselves the more our work connects with others. This workshop is about daring to risk and going deeper within ourselves to create work that is authentically us. No risk equals more of the same and more of the known, the access way for growth and freshness lies in the vulnerability of risking and embracing the unknown!
Bring your acrylic paints and other materials you like to use and let's have some fun!
This workshop is suitable for anyone of any level interested in learning an intuitive approach to abstract painting.
Tutor: Emma Marie
Date: Saturday 6 August, 10:00 – 3:00
Cost: $95
Register and pay online now by clicking the button below:
Pay by Direct Credit
If you would prefer to pay for a workshop by direct credit, or if you are having issues with the payment form – you are welcome to pay by direct credit to the account number below. Alternatively, you are welcome to pay by eft-pos at the gallery. Please, don't hesitate to contact us for any further assistance.
ASB
12-3165-0178388-00
Use your NAME as a Reference, and the Workshop Title as the Code
ENQUIRE ABOUT THE STUDIO
Use this contact form if you want more information or have any questions about our art classes.
(Fields marked with an * are required)
Please Enter Your Contact Details: