O'Malley & Lees
Current Exhibition:
Exhibition Dates: 9 September – 9 October 2021
View All Exhibitions
You are warmly invited to the virtual exhibition opening our next two-person show, featuring new work by Erin O'Malley and Fiona Lees. These two artists present exquisite painterly works – O'Malley in her signature non-representational approach and master control of colour, and Lees working in the subtleties of the figurative tradition rewriting past stories for the present.
Come and see this beautiful work LIVE on Facebook or on our Instagram page at 7:00pm, Thursday 9 September.
Sit back and enjoy as we broadcast the exhibition live with gallery director, David James.
All work is for sale and the gallery will be open to the public under Level 2 conditions on Friday 10 September.
Livestream Virtual Opening Thursday 9 September, 7:00pm via Facebook or Instagram
Artists: Erin O'Malley and Fiona Lees
Exhibition Dates: 9 September – 9 October 2021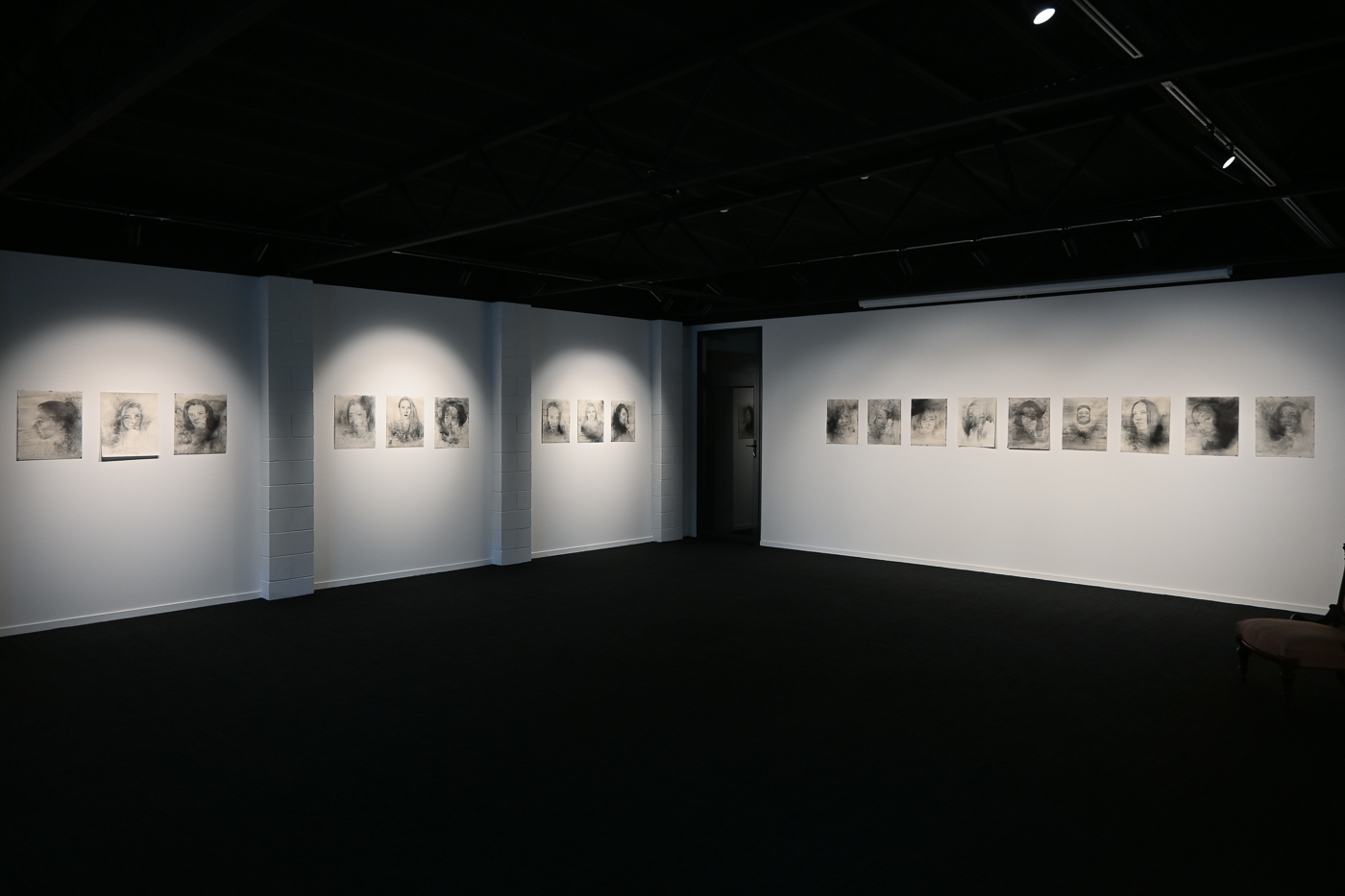 Past Exhibition:
21 FACES
Exhibition Dates: 7 August – 4 September 2021
21 FACES is a drawing project mediated via social media channels TikTok and Instagram. In collaboration with 21 people throughout the world, David has created a series of enigmatic images that highlight the individuality of each participant, and also the interconnectedness of our global community.
Join us for a live virtual opening by following:
@davidrossjames on TikTok or @atelierstudiogallery on Instagram
LIVE Virtual Opening: Saturday 7 August at 1:00pm NZ time
Artist: David James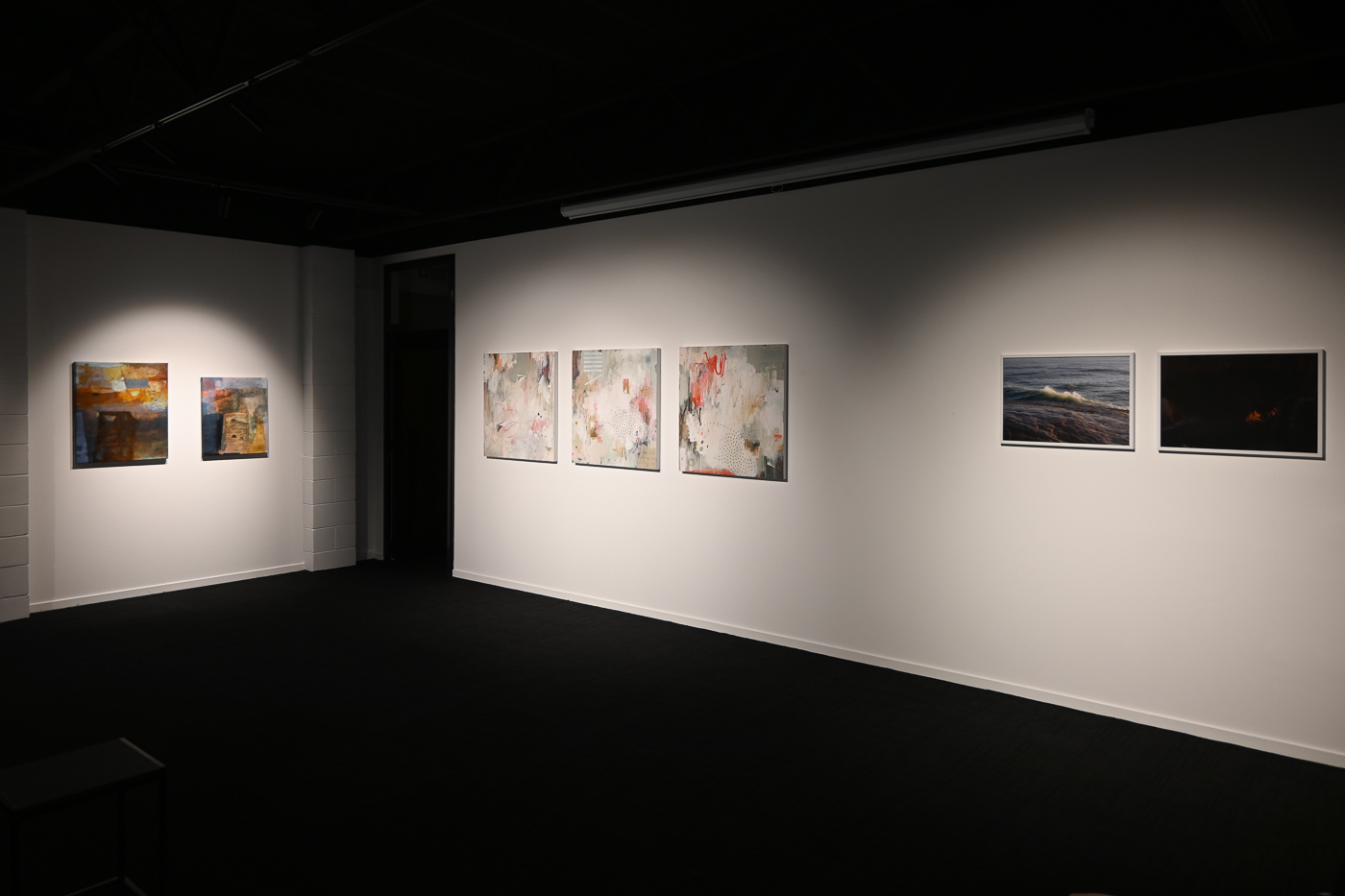 Past Exhibition:
ALIVE – an exhibition of hope for the human race
Exhibition Dates: Saturday 3 July – Saturday 31 July
Hope – it's a four-letter word that whispers, one day things will become better. Yet, in a world dominated by stories of tragedy, misery, and pain, an act of hope counters this prevailing tide with images and stories that value life itself.
This exhibition fuses the concepts of beauty and hope to create an experience that values life and the resilience of humanity. Experiencing beauty, whether in images, music, or even a sunset, has the powerful potential to move our hearts to hope and energize us to act upon it.
Group Show: Emma Marie, Mary Spacapan, Christine Hunter, R. Sawan White, Caroline Burton, Tracy Croucher, Nadia Downing.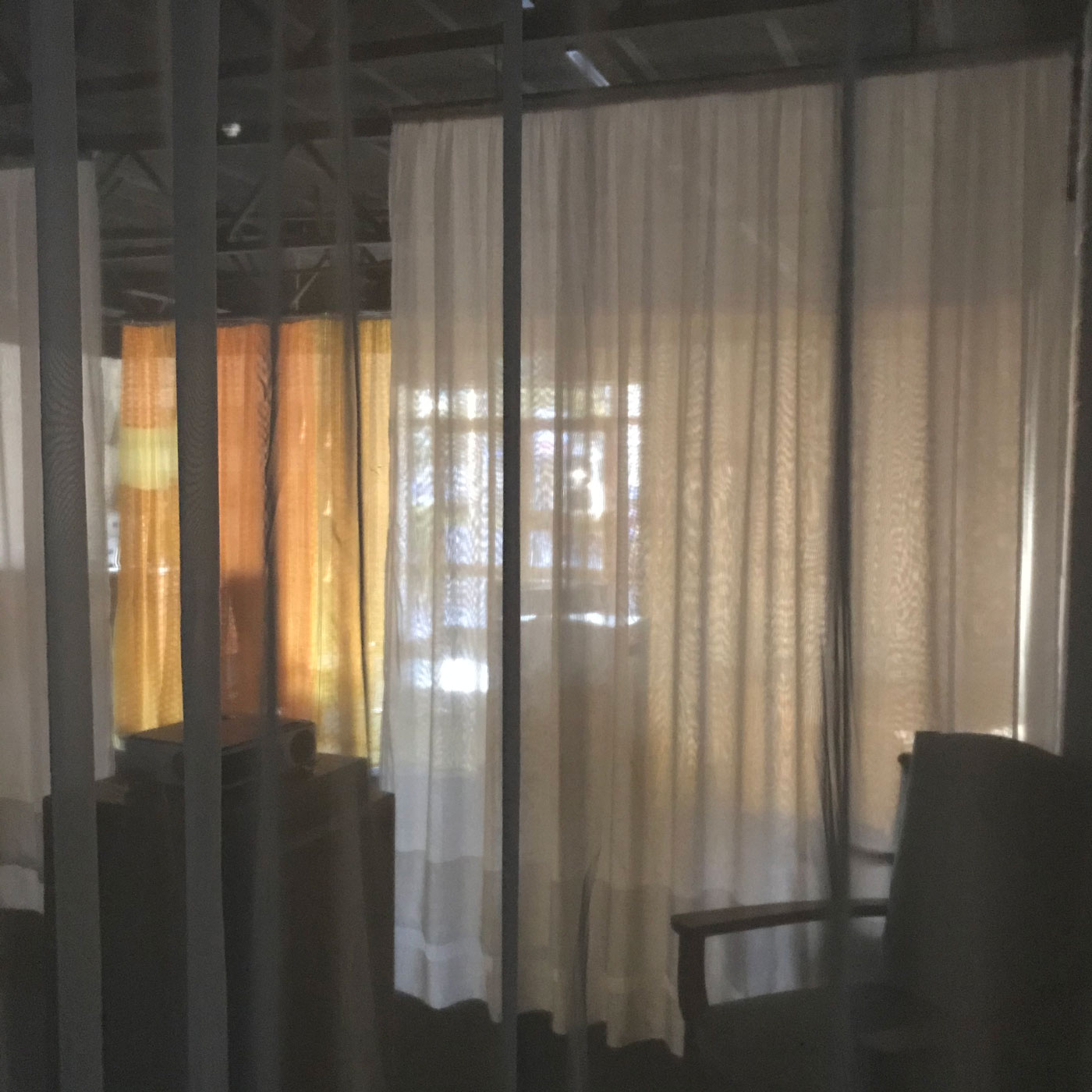 Past Exhibition:
WAITING, WITHIN THE NETS
Opening Preview: Friday 28 May 5:30pm
Exhibition Dates: Saturday 29 May – Saturday 26 May
April Hay's new work WAITING,WITHIN THE NETS, transforms the physical gallery space to open up our imagination and memories to imaginings, narratives and evocations of past experiences.
Solo Exhibition: April Hay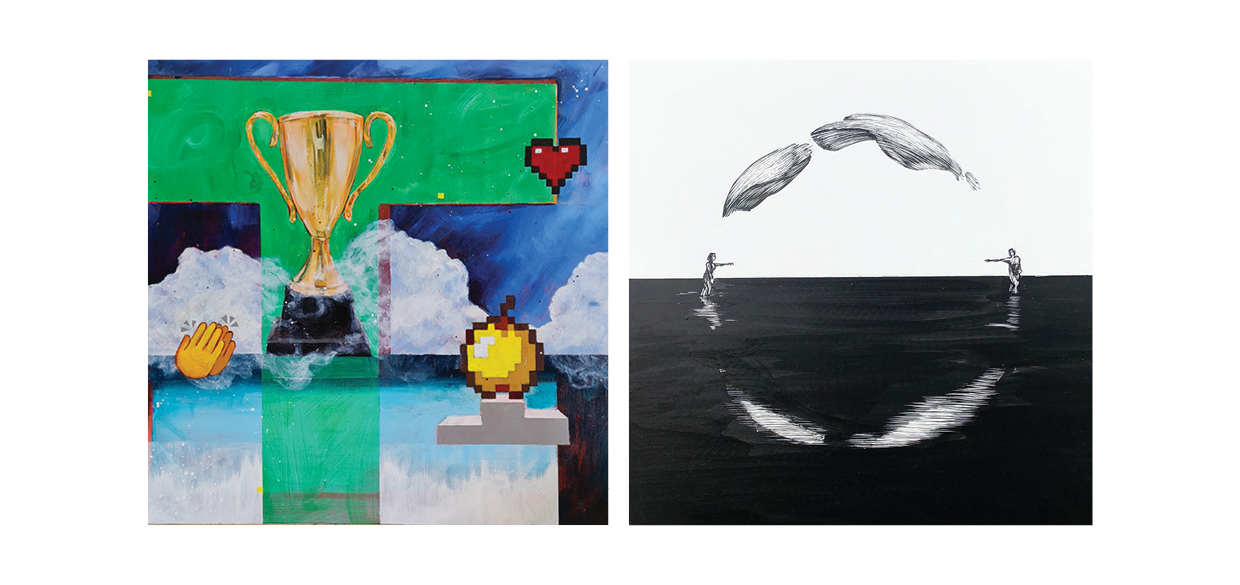 Past Exhibition:
TONY DOWNING & REBECCA BARCLAY-CLIST
Opening Preview: Friday 26 March 5:30pm
Exhibition Dates: Saturday 27 March – Saturday 24 April
Artists' Floortalk: Saturday 27 March 11:00am
New work by Tony Downing and Rebecca Barclay-Clist that both powerfully explore metaphor and symbolism to present images that make us stop, think, and feel, as their stories unfold in our minds and imagination.
Two-person Show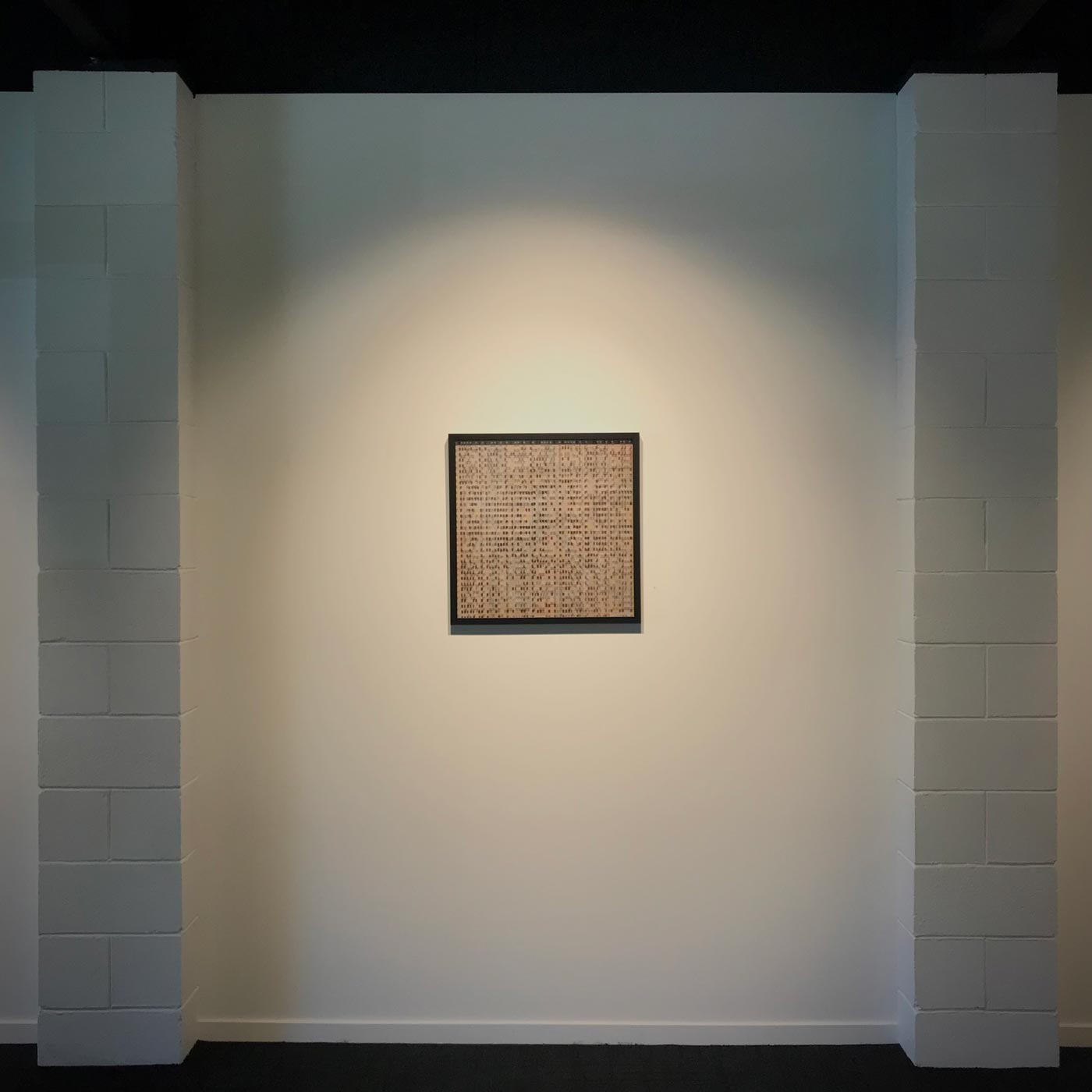 Past Exhibition:
In This Moment
Opening Preview: Friday 19 February 5:30pm
Exhibition Dates: Saturday 20 February – Saturday 20 March 2021

Simon Hunter is a Nelson based artist. His art practice uses a multi- media approach to create artwork that explores layers, traces and histories both in the physicality of the work and the ideas he engages with.
"Layers of images, words and memories etch themselves upon the soul and embed themselves within the spirit. Each succession seems to cover and hide those that went before, and yet, they are not gone-not one has been erased, they lie dormant waiting to be revealed again".
Solo Exhibition: Simon Hunter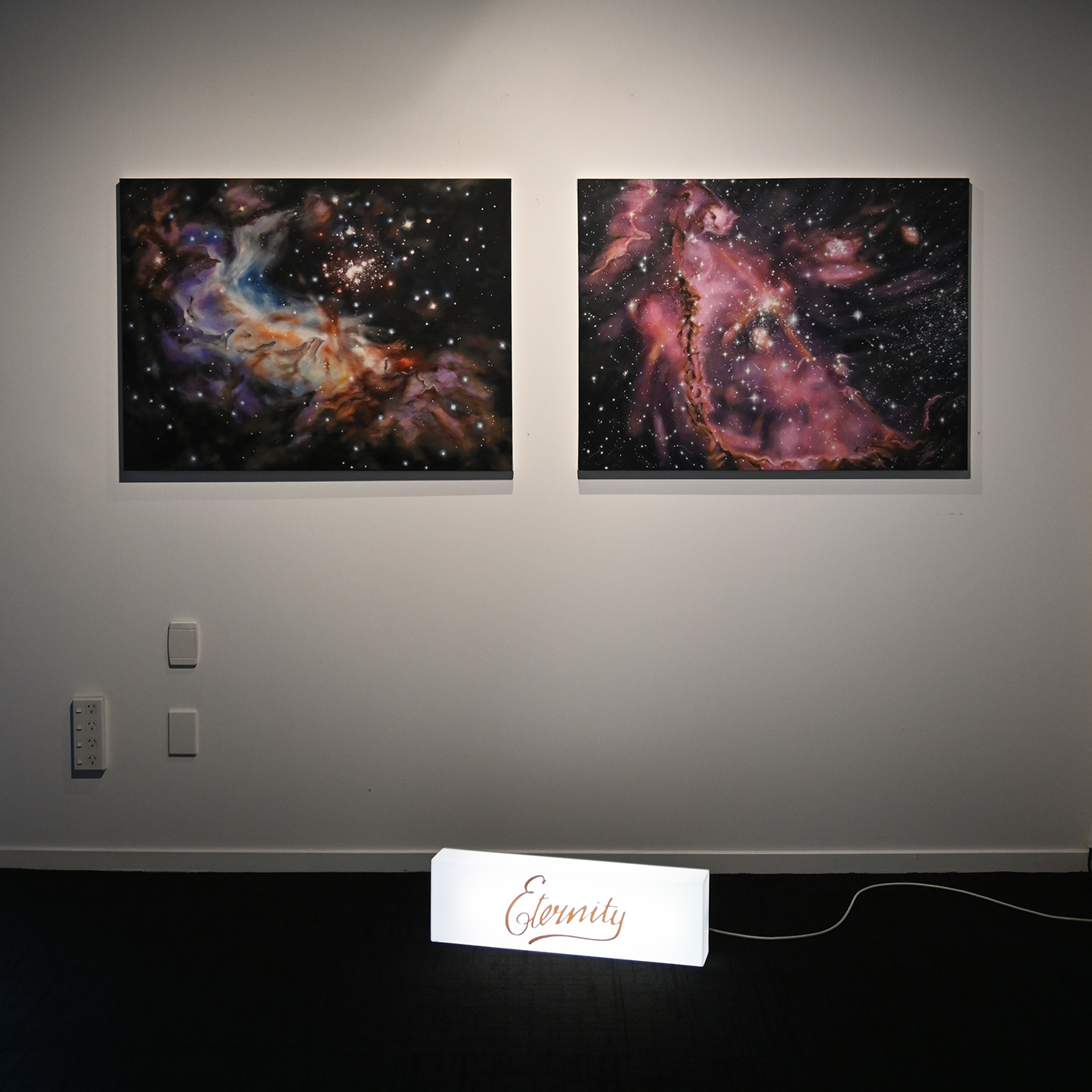 Past Exhibition:
IMAGE + TEXT
Opening Preview: Friday 27 November 5:30pm
Exhibition Dates: 28 November – 23 December 2020
Artists' Floortalk: Saturday 28 November 11:30am

The combination of Image and Text has been a powerful union throughout the history of art – one that has been used to define and subvert conventions throughout the ages. From the scribbles and scribing of pre-historic cave paintings or ancient Egyptian hieroglyphics, to Simone Martini's lavish Annunciation or Barbara Kruger's epic maxim's, 'text as image' and 'image as text' leads a viewer into an experience of art that communicates through the hazy meld of the pictorial and the linguistic.
Does the image define the text? Or, does the text redefine the image? What do we 'read' first, the image or the text? What holds dominance?
In this group exhibition, eleven artists explore the combination of image and text within their work. From stop-motion animation to video, and painting to installation, this exhibition presents a powerful selection of contemporary art by artists from throughout New Zealand.
Group Exhibition: Sudhir Duppati + Fiona Lees + Simon Hunter + Tony Downing + Rebecca Barclay-Clist + Matthew Walters + Elisabeth Kumaran + Rob Ah Chong + David James + Emma Marie + AViD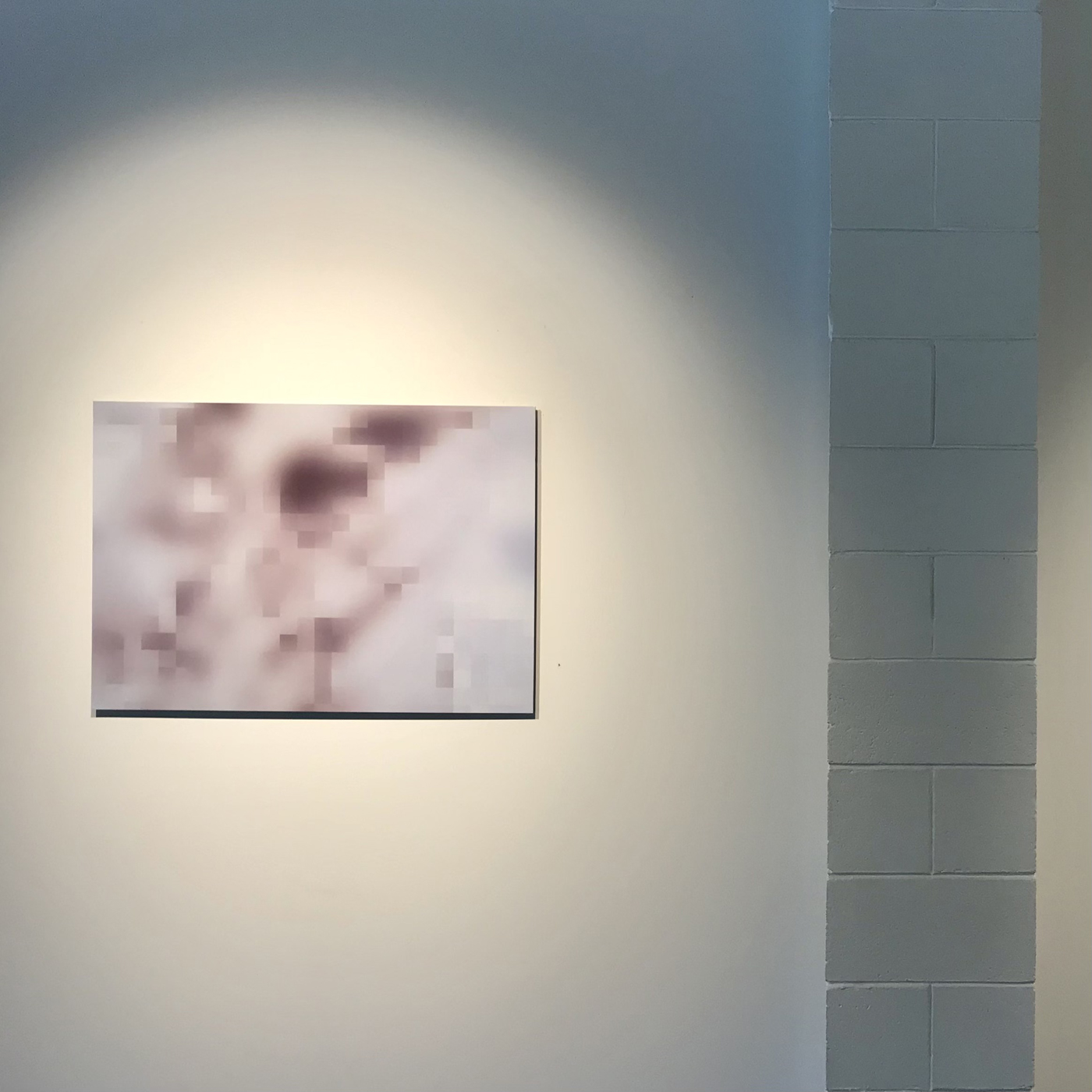 Past Exhibition:
The Feed
Opening Preview: Thursday 1 October 5:30pm
Exhibition Dates: Friday 2 October – Saturday 31 October 2020
Artists' Floortalk: Thursday 22 October 12:15pm

Exploring ideas of perspective, information, knowledge and epistemology, Walters various modes of drawing and painting denote old methods with contemporary issues of the human condition. Walters present a significant new body of work and selected works from his back catalogue yet to be shown.
Solo Exhibition: Matt Walters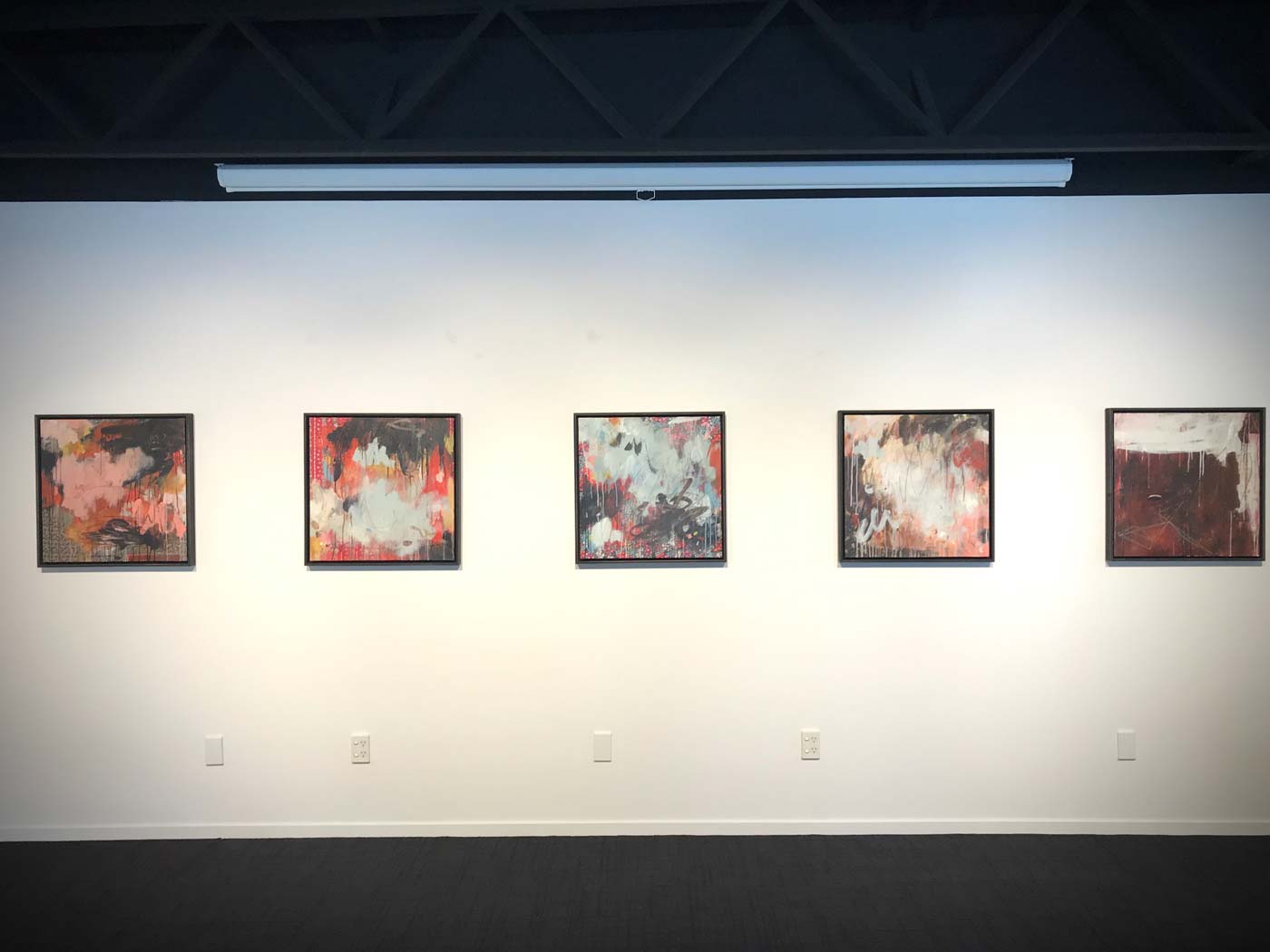 Past Exhibition:
NOWNESS
Opening Preview: Friday 28 August
Exhibition Dates: Saturday 29 August – Saturday 26 September 2020

Emma Marie views her paintings as captured moments of space and time where thoughts and emotions emerge into physical form … and what Eckhart Tolle would describe as N.O.W.N.E.S.S. These works are created from a meditative state of play, in a call and response manner, each colour and mark builds on what is there and always seeks to achieve balance and harmony. Her painting process can be likened to the designing of one's life; building up the layers, scratching back, reworking, risking, and realisation.
Solo Exhibition: Emma Marie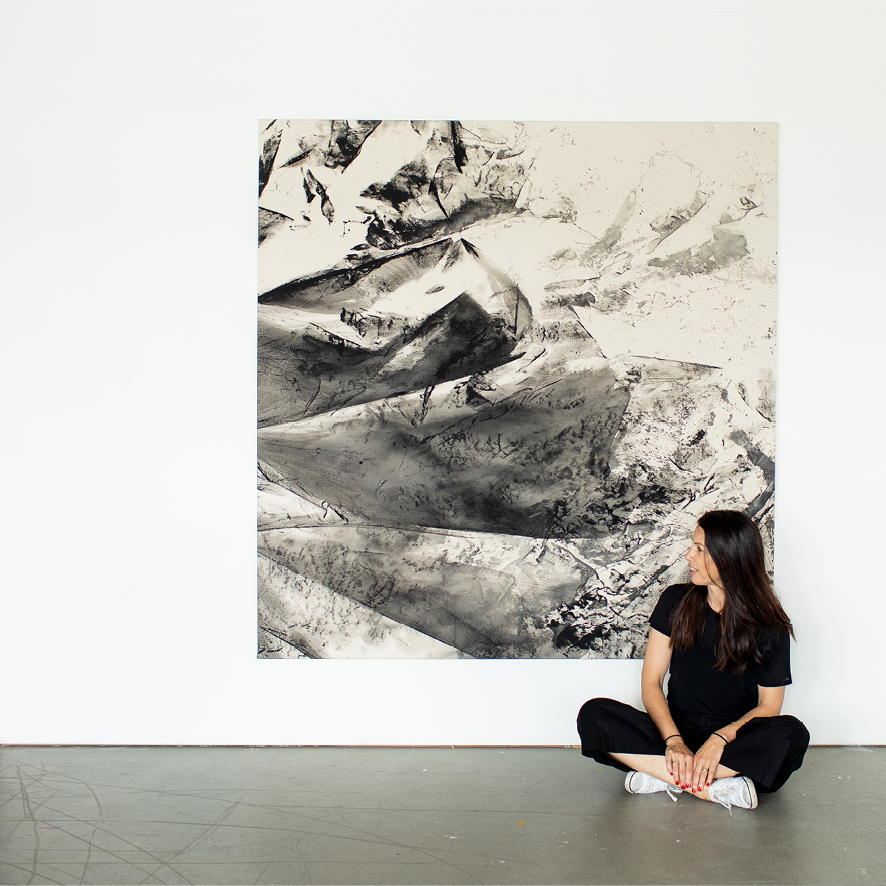 Past Exhibition:
Painting Encounters and Revelations
Opening Preview: Friday 24 July, 5.30pm
Exhibition Dates: Saturday 25 July – Saturday 22 August 2020
Floortalk: Saturday 25 July, 11:30am

Amamda Watson's practice explores the interaction between environments, painting materials and herself as an artist, as she works in and with places. Her paintings register encounters and experiences she has with the land and the studio environment, and presents experience of place in a holistic manner. The paintings have been made by 'wrapping' or 'covering' surfaces with large pieces of canvas, positioning them over and around masses of rock, parts of trees or organic matter on the ground, or bunched on the studio wall.
Solo Exhibition: Amamda Watson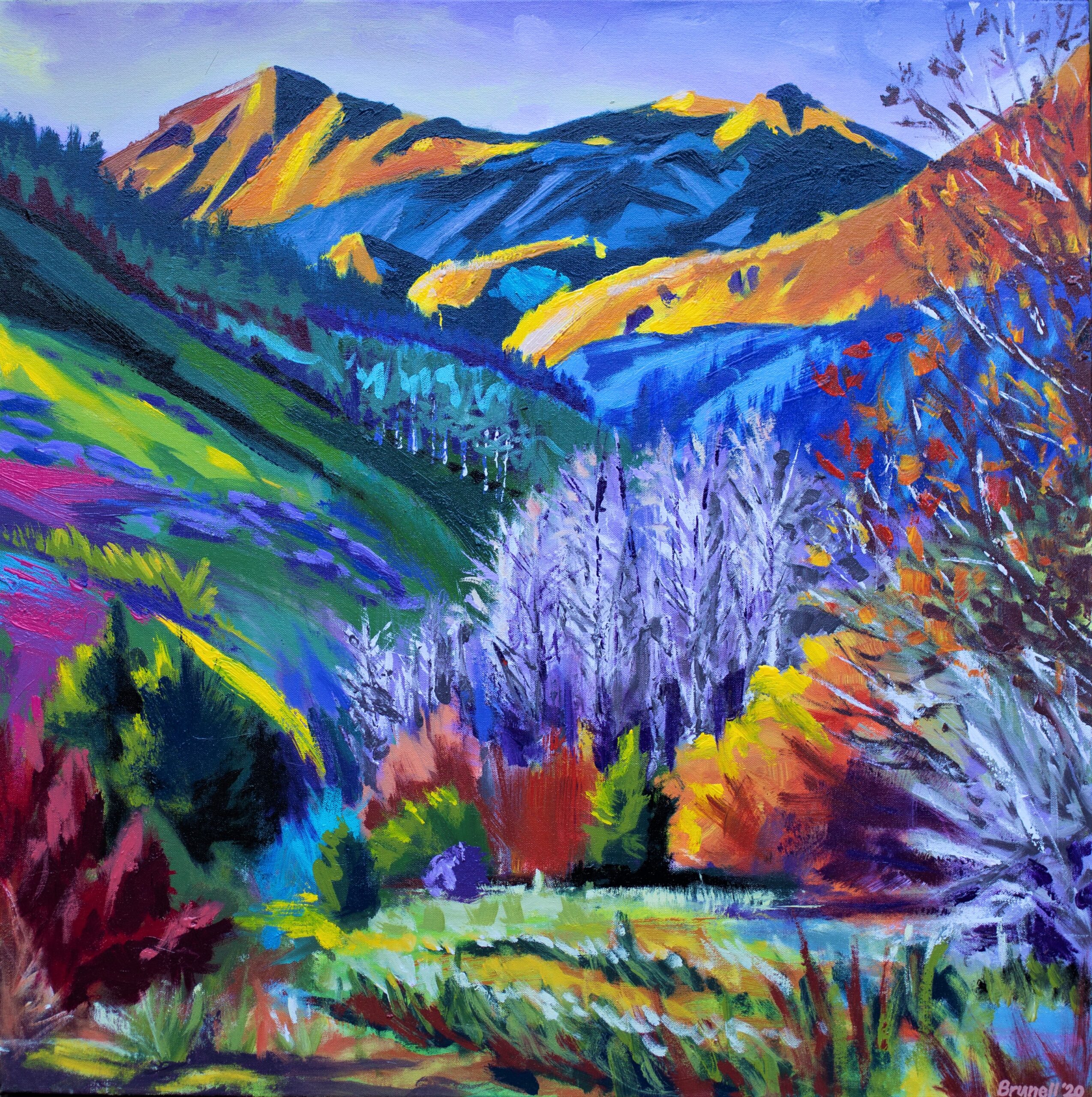 Past Exhibition:
MEMORIES: A NELSON CHILDHOOD
Saturday 20 June – Saturday 18 July 2020
Opening Preview: Friday 19 June, 5.30pm

Memory is not wholly reliable data (ask any defense lawyer!) Nonetheless it's what we've been left with in order to make sense of ourselves and our world. Memories define us. They are narratives that connect the present with the past, and enable us to have a place to stand, and a story to tell. This series, Memories: A Nelson Childhood depicts my recollections of happenings and landmarks from my youth. Each piece has its own story.
Solo Exhibition: Fred Brunell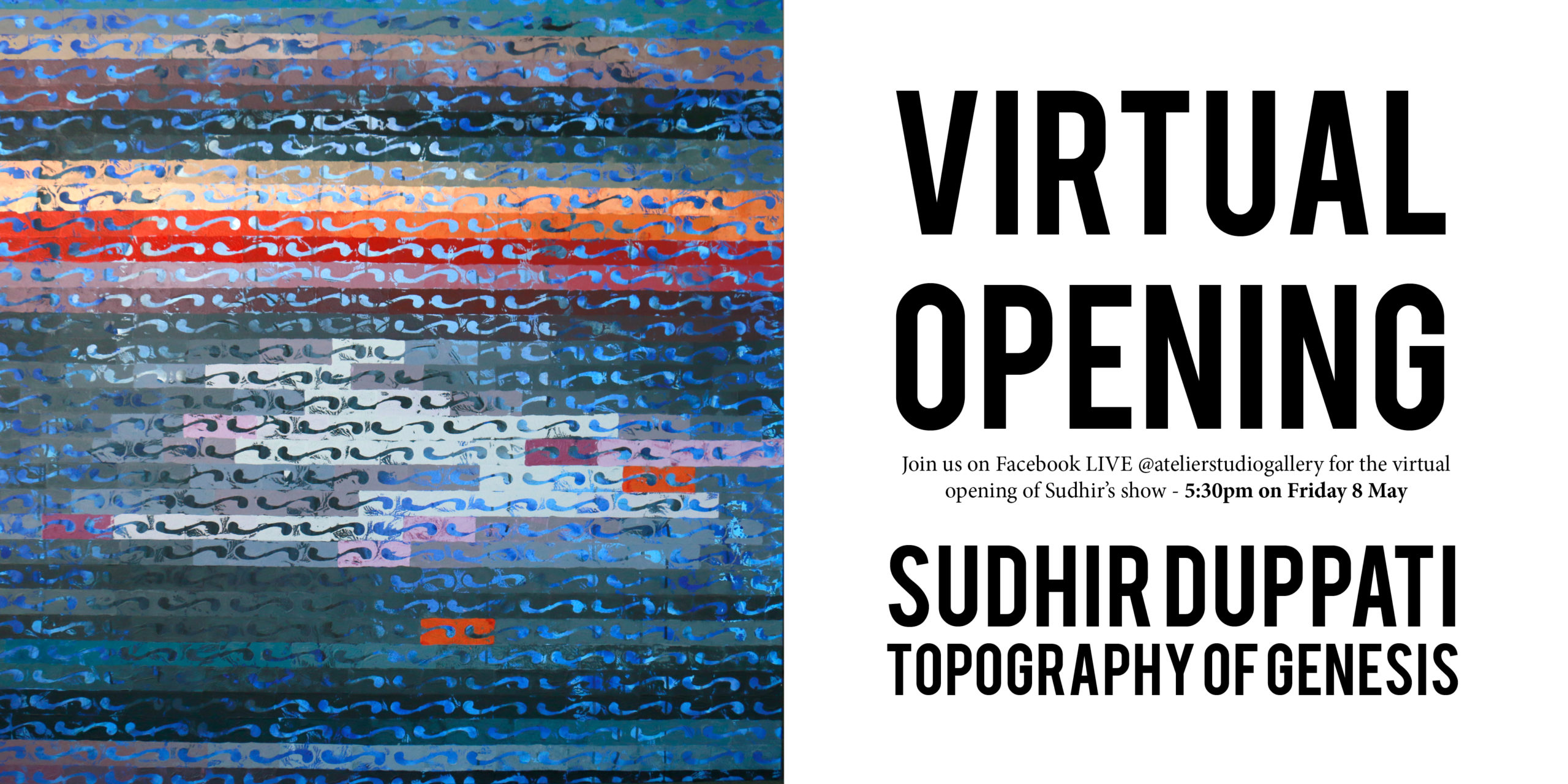 Past Exhibition:
TOPOGRAPHY OF GENESIS
9 May – 13 June 2020

'Topography of Genesis' is a series of paintings that explores the idea of evolution of Life. It attempts to map the dynamics of the biometric forms in the process of creation. Duppati comments, "as an artist I believe that every form has the potential to expand itself into an infinite mark that connects both physically and spiritually with every other existing form within and beyond our human consciousness. The aspect of imagining the 'Infinite in Divine' and connecting to it in a metaphorical sense using the medium of paint is something that fascinates me".
Solo Exhibition: Sudhir Duppati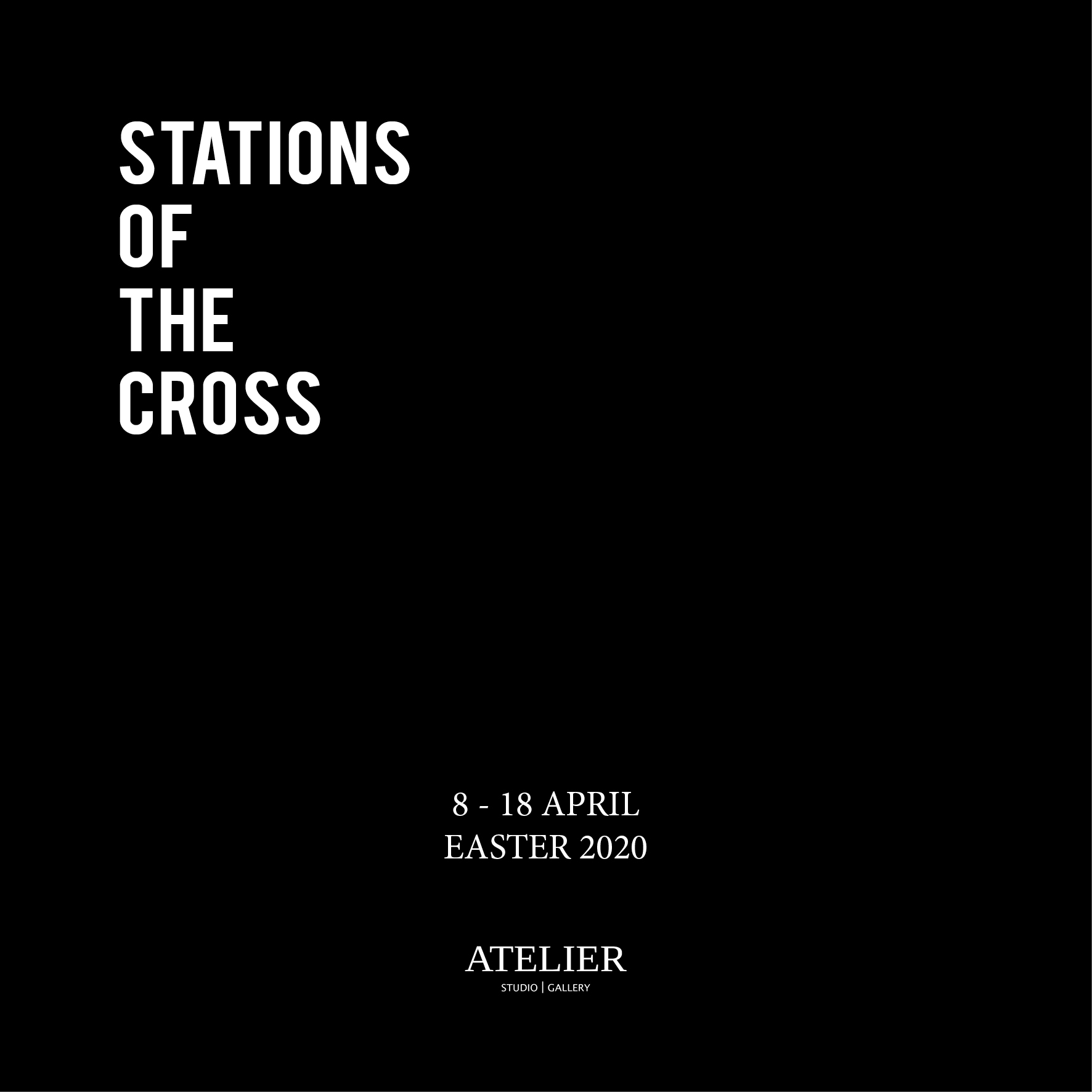 Past Exhibition:
Stations of the Cross
8 – 18 April (Easter 2020)

One of the special exhibitions that we are running this year is a group show held over the Easter period from Wednesday 8 April – Saturday 18 April 2020, where 14 artists are invited to exhibit one work in response to one of the 14 Stations of the Cross.
The Stations of the Cross has a deep history and connection across within contemporary art. Artists such as Barnett Newman, Ralph Hotere and Colin McCahon have explored this theme in their work as an access point to consider the humanity and divinity of Christ.
The 14 Stations of the Cross is the lead up and journey of Christ to the Crucifixion. It is a poignant and topical theme for the Easter period and while this tradition has been responded to in many different ways over the years, we believe contemporary artists of faith will bring a fresh voice to this story.
Group Exhibition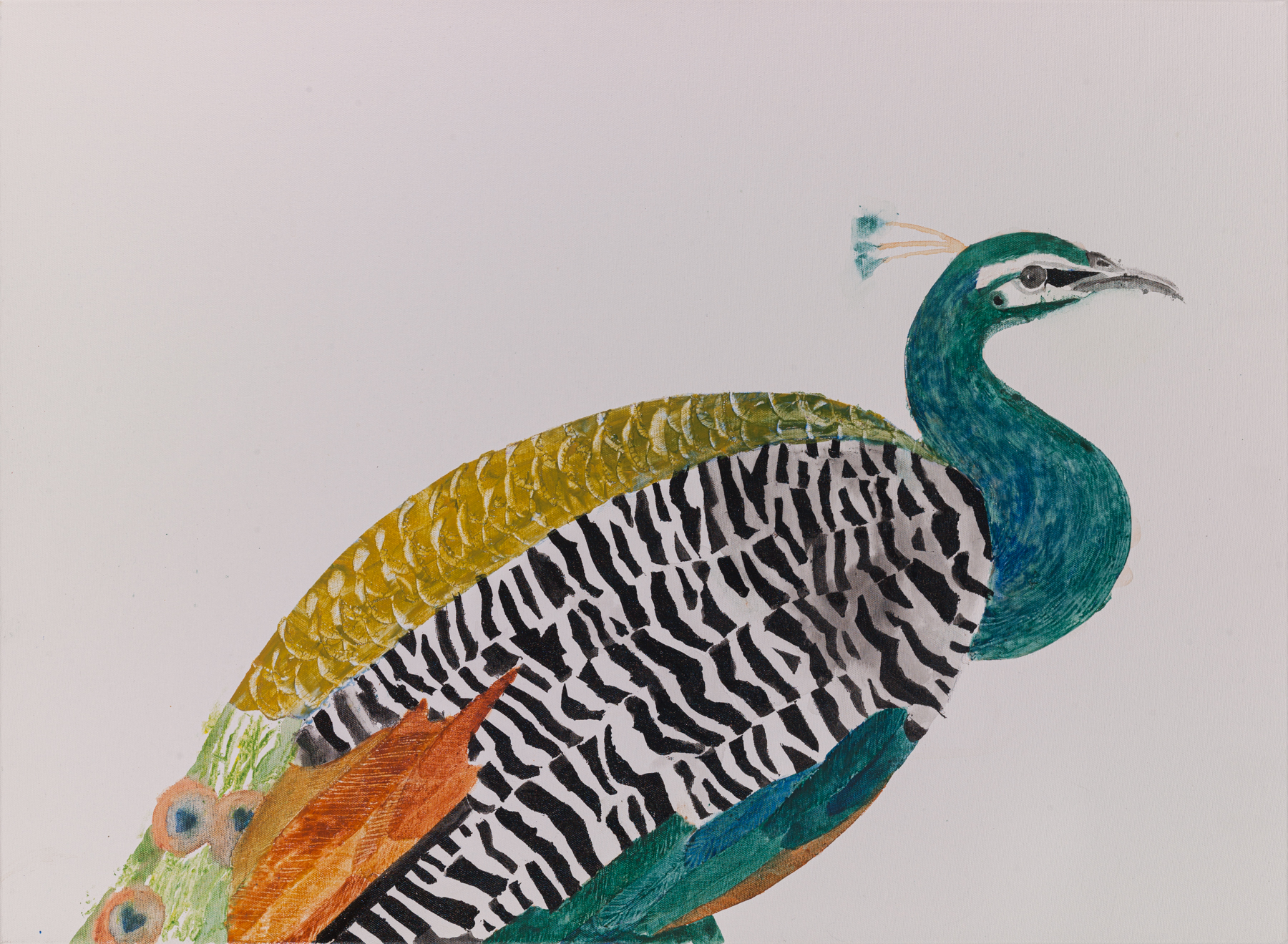 Past Exhibition:
Jessica Crothall 2020 – Signs & Symbols
22 February – 4 April 2020
Opening Preview: 5:30pm Friday 21 February

This solo exhibition of new work by Jessica Crothall explores the signs and symbols of life and resurrection through expressive, colourful, and dynamic paintings referencing the motif and mystery of the peacock.
Solo Exhibition: Jessica Crothall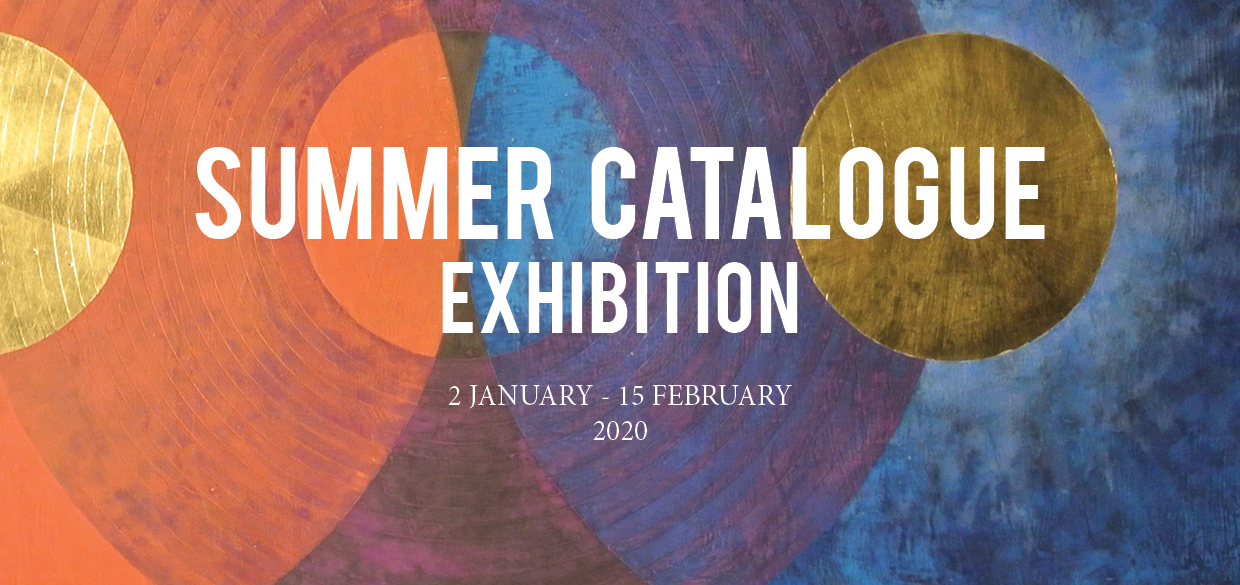 Past Exhibition:
Summer Catalogue Exhibition
2 January to 16 February 2020

Our Summer Catalogue Show will feature a rotation of works we currently hold in our stockroom from the many talented artists that we represent. This show will be a great opportunity to revisit some of your favourite pieces and a good chance to view other works that you may not have seen before. All the works in this exhibition will be for sale and available to take with you when purchased.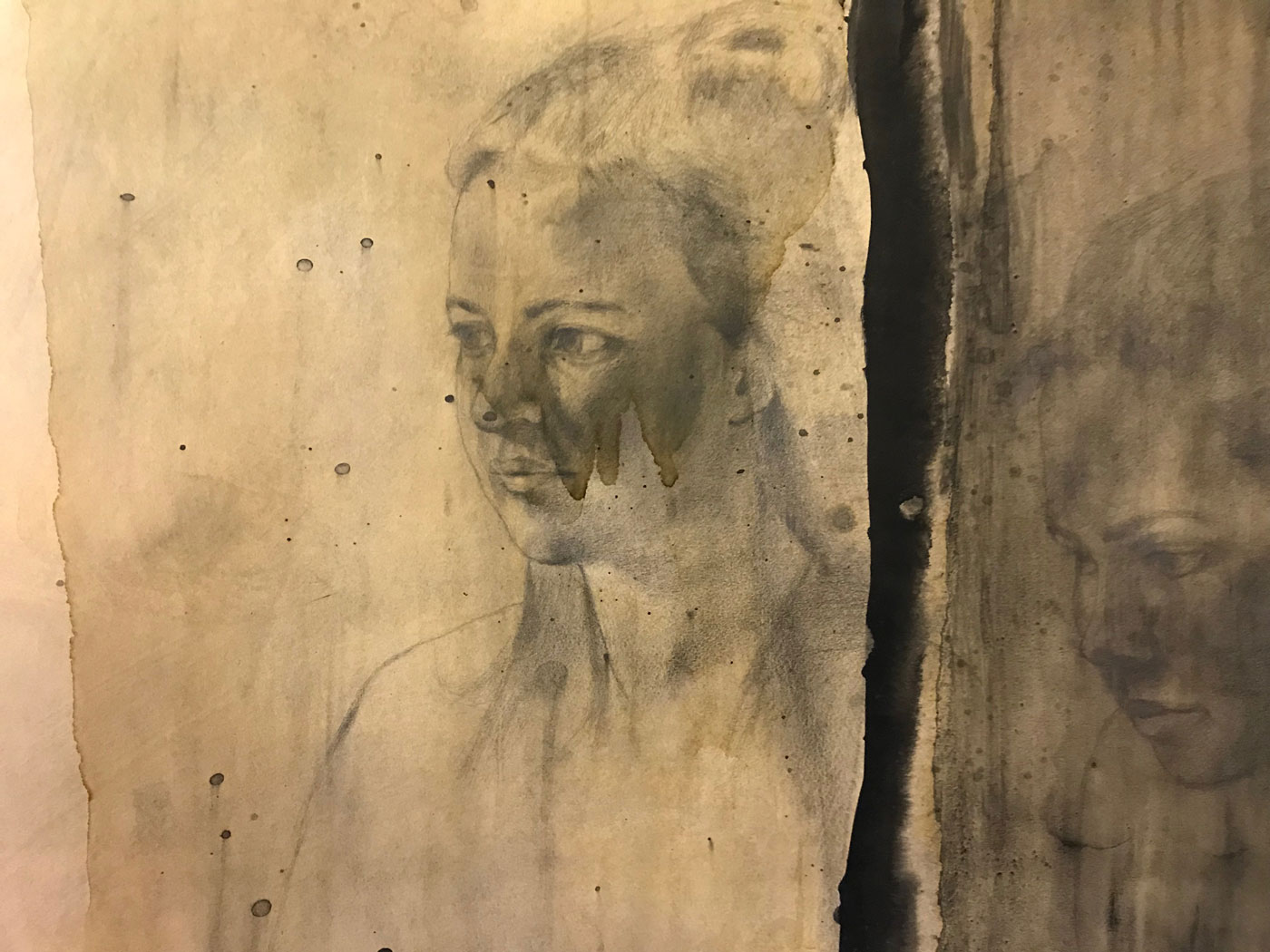 Past Exhibition:
SPECULUM HUMANAE DEI
22 November to 28 December 2019
Opening Preview: Thursday 21 November, 5:30 p.m.
Speculum Humanae Dei, loosely translated as the Human Mirror of God, is a body of work that explores the vulnerability of human relationships and connectedness through large, metaphoric figurative drawings. This work seeks to draw attention to our need for mercy, compassion, and forgiveness in how we relate to one another and how, at times, the clearest glimpse we may see of God is reflected through the humans around us.
Solo Exhibition: David James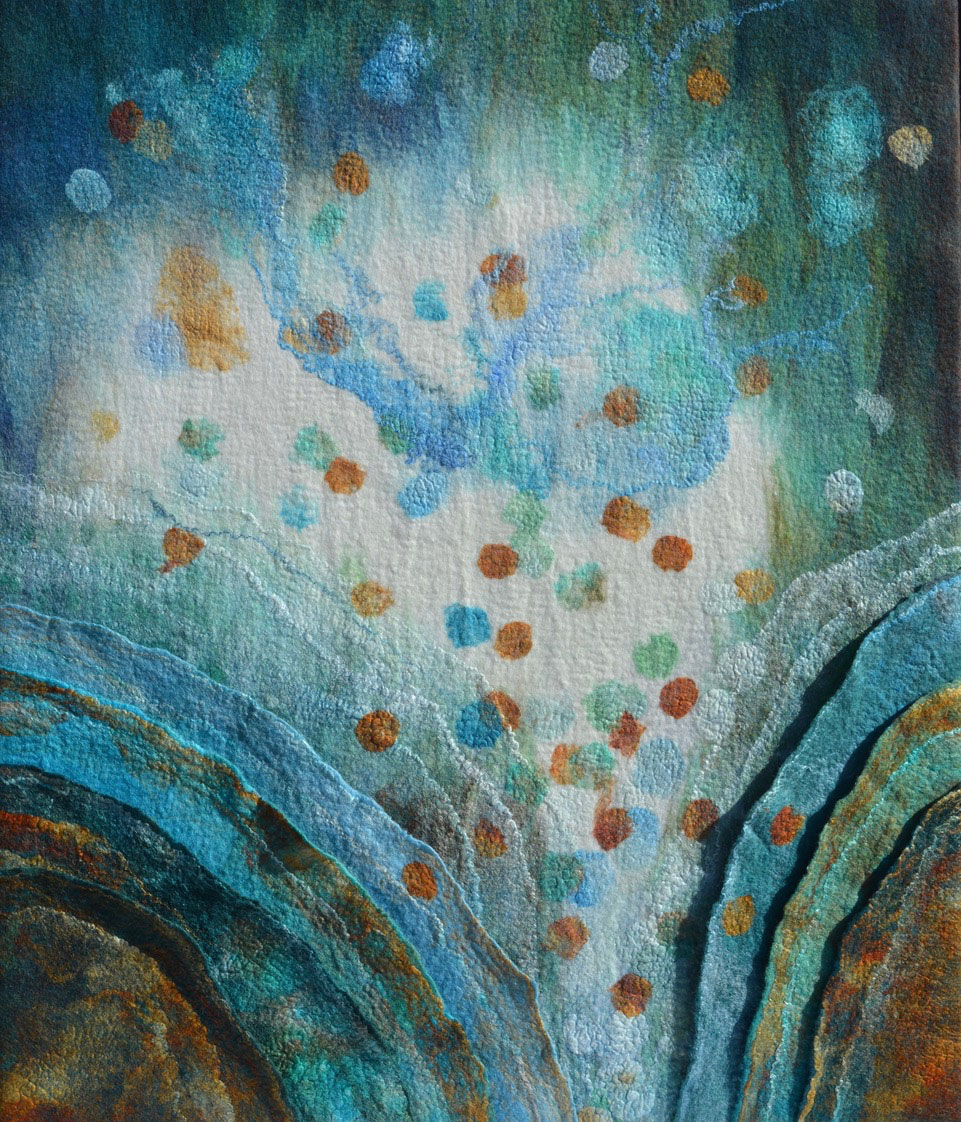 Past Exhibition:
CARETAKERS
Saturday 21 September – Saturday 2 November 2019
Opening Preview: Friday 20 September, 5:30 p.m.
From Here to There  is informed by ideas regarding the territory between light and dark, creation and decay, arrival and departure.
Solo Exhibition: Caroline Burton
Past Exhibition:
From Here to There
Saturday 3 August – Saturday 14 September
Opening Preview: Friday 2 August, 5:30 p.m.
From Here to There  is informed by ideas regarding the territory between light and dark, creation and decay, arrival and departure.
Solo Exhibition: Simon Hunter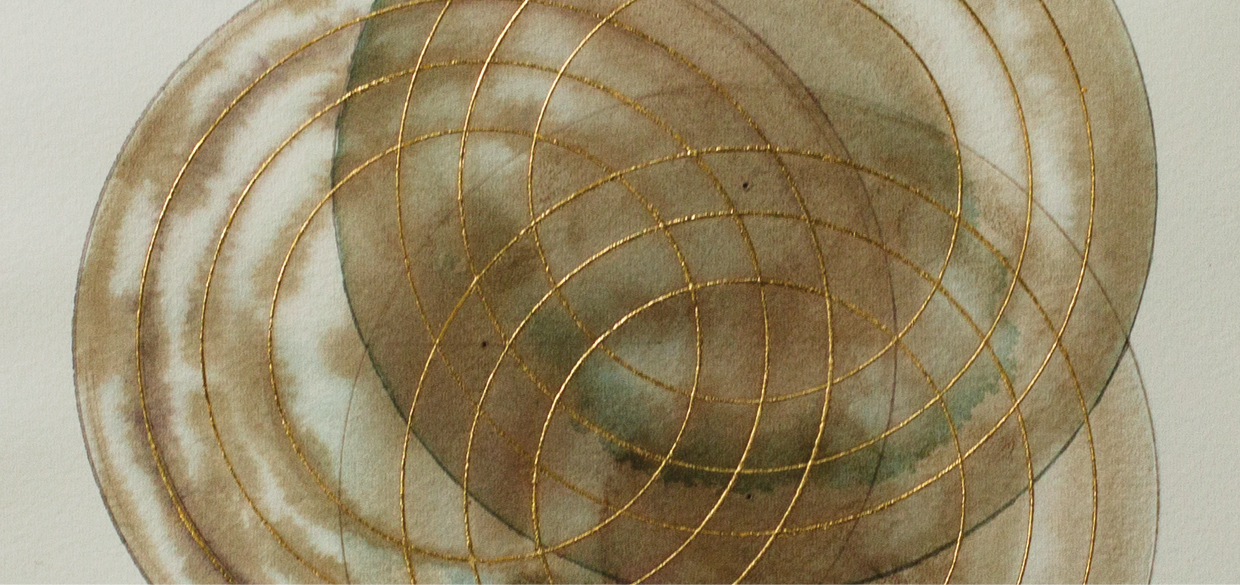 Past Exhibition:
Origins
Saturday 15 June – Saturday 27 July 2019
Opening Preview: Friday 14 June, 5:30 p.m.

In pursuit of wisdom we seek answers to the questions – where am I, where am I going, where have I come from? In our present condition, we do not remember ourselves, as our day by day relationship with nature is fragmented; and, our future condition is precarious with the extinction level threats of climate change. To resolve this existential crisis perhaps we take a closer look at where we have come from?
Solo Exhibition: Gaylene Barnes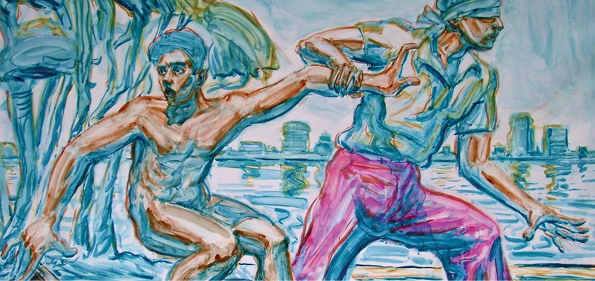 Past Exhibition:
FAITH – and the inner world of Raukawa
Saturday 27 April to Saturday 8 June 2019
In FAITH – and the inner world of Raukawa, Andrew Panoho (Nga Puhi) leads us on a spiritual journey that engages with the inner world and ancient history of the Raukawa region (Nelson, Marlborough and the West Coast). Raukawa is the Maori name given to the top half of the South Island. In this exhibition, Panoho records, narrates and celebrates this journey through the use of transparent oils and watercolour that both echo and 'translate' the hidden work of restoring healthy spiritual foundations to the region. For Panoho, this exhibition acts as one small chapter in a corporate book of Faith, that is daily being written by many nameless, passionate souls.
Solo Exhibition: Andrew Panoho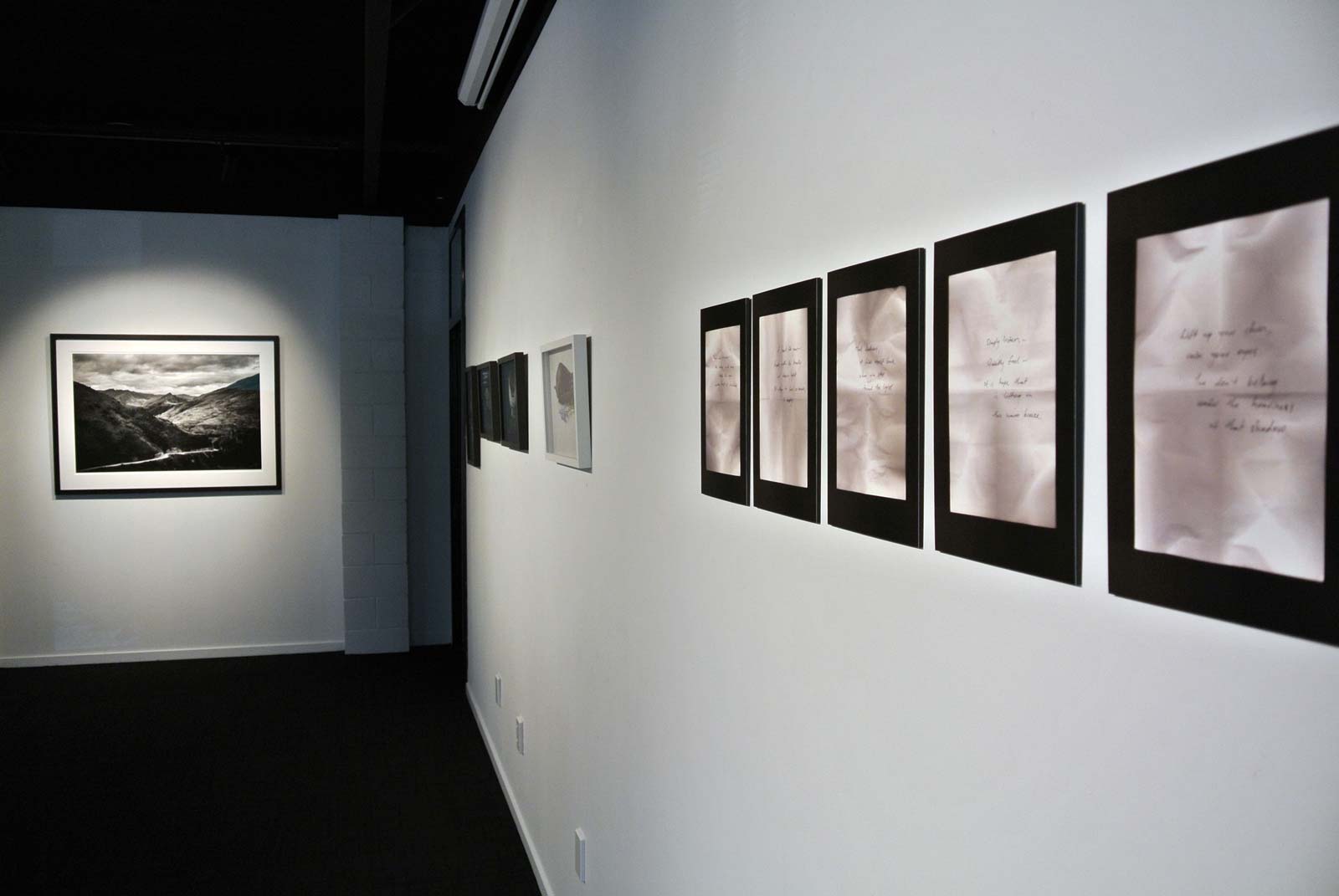 Past Exhibition:
WHEN THE LIGHT COMES
Saturday 2 March – Saturday 13 April 2019
The gallery was transformed by the deep tonal qualities of the beautiful photographic images on show, and we were privileged to exhibit contemporary artists that utilise photography as a means to engage with both the dark and light of life. You could find vanitas inspired works, meditative and reflective images, metaphorical landscapes, and conceptual pieces. It was a great show to spend some time with and had beautiful works for you to purchase and enjoy.
ARTISTS: Tim Williams, Karen Sewell, Fiona Lees, and David James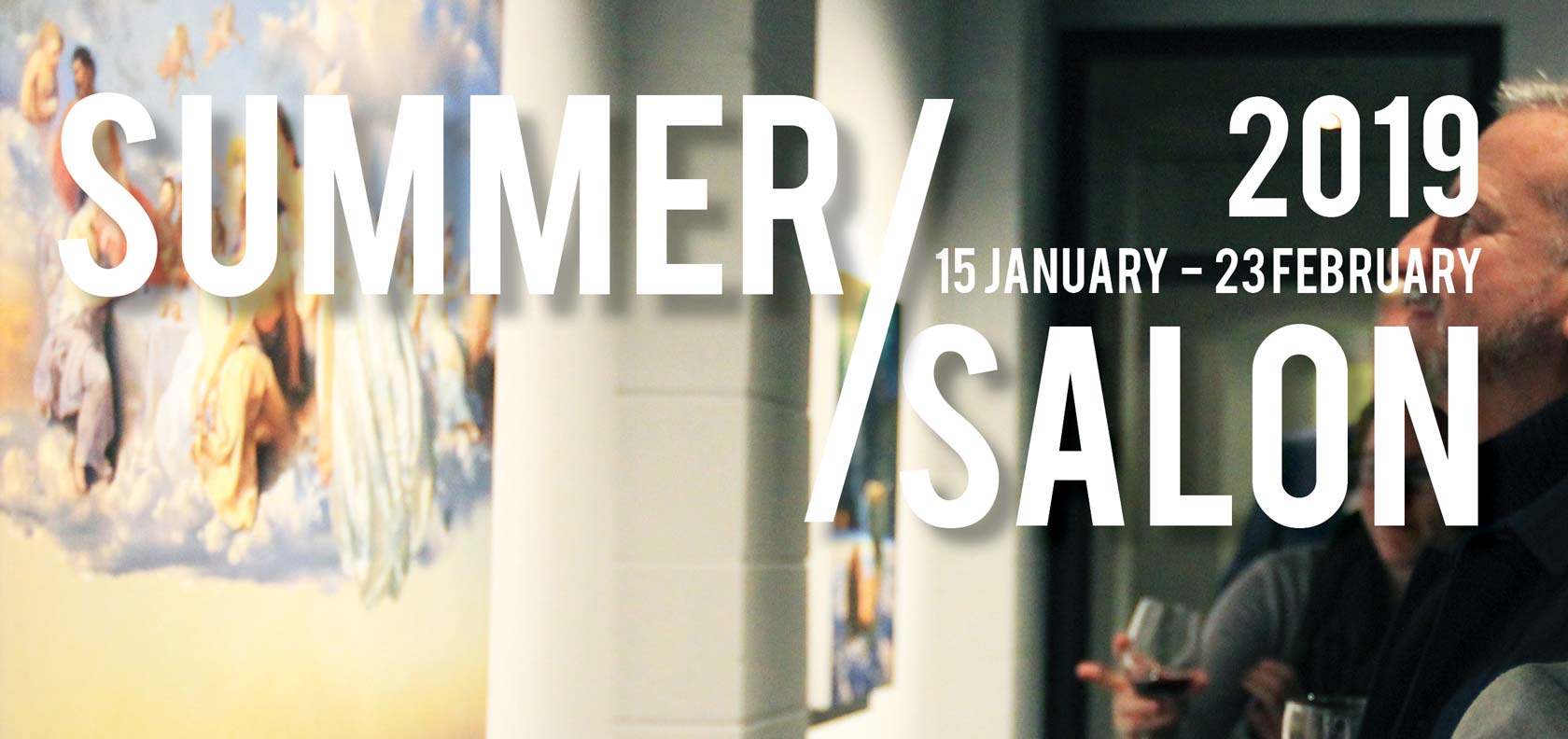 Past Exhibition:
SUMMER SALON
15th of January to the 23rd of February 2019
Our first exhibition for 2019 was a showcase of work from our stock room. This exhibition was eclectic, exciting, and engaging as we presented work from multiple artists that we represent. Featuring some of your favourites previously exhibited at ATELIER and new work that we have had the privilege to bring to the public since our launch.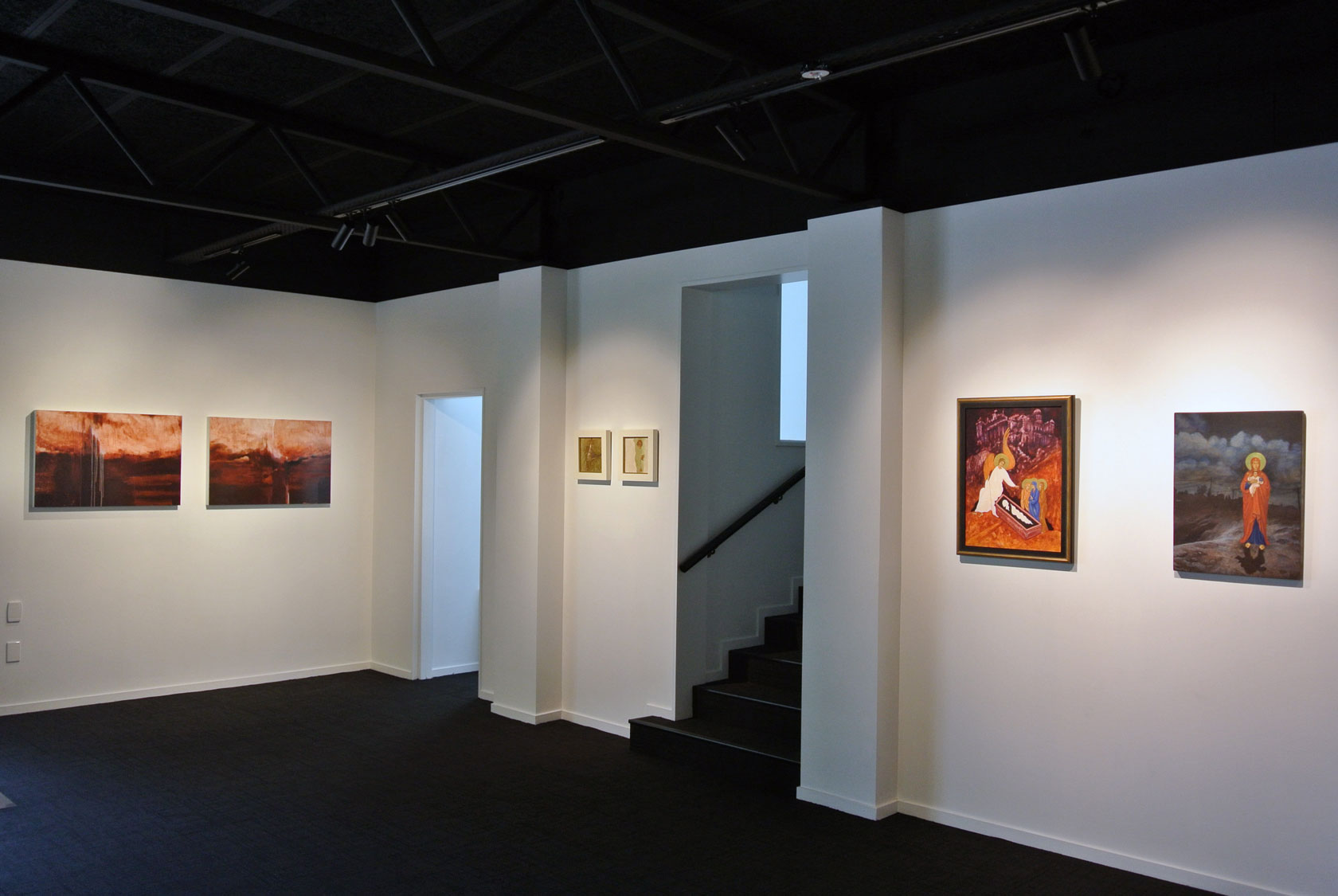 Past Exhibition:
DOWNSCALE
24th of November to the 22nd of December 2018
Small is the new big, they say! From the tiny-house movement to micro-gardens, painted miniatures to lower case text, beautiful things come in small sizes! In this group exhibition, a diverse retinue of contemporary artists from throughout New Zealand present small-scale works in a big way! Sculpture, painting, drawing, photography, and more meet together in a small, but by no means little show!
Featuring: Krystee Craig, Symen Hunter, Amanda Watson, Fiona Lees, Caroline Burton, Gaylene A. Barnes, Greta Greenwood, Darryn George, Leilani Frangipani, and David James.
Past Exhibition:
THE ESSENTIAL MARK
20th of October to the 17th of November 2018
Drawing is observational, expressive, conceptual, part of a process to something more, and the finished work in itself. Drawing is explorative, revealing, and at times highly personal. In this exhibition, The Essential Mark, we have the opportunity to present drawings and works on paper from over 15 different artists from throughout New Zealand. You will find a variety of approaches to drawing and a variety of subject matter, and in all, you will have the opportunity to enjoy the uniqueness of the artist's sensibilities toward their essential mark.
Group Exhibition: Drawings and Works on Paper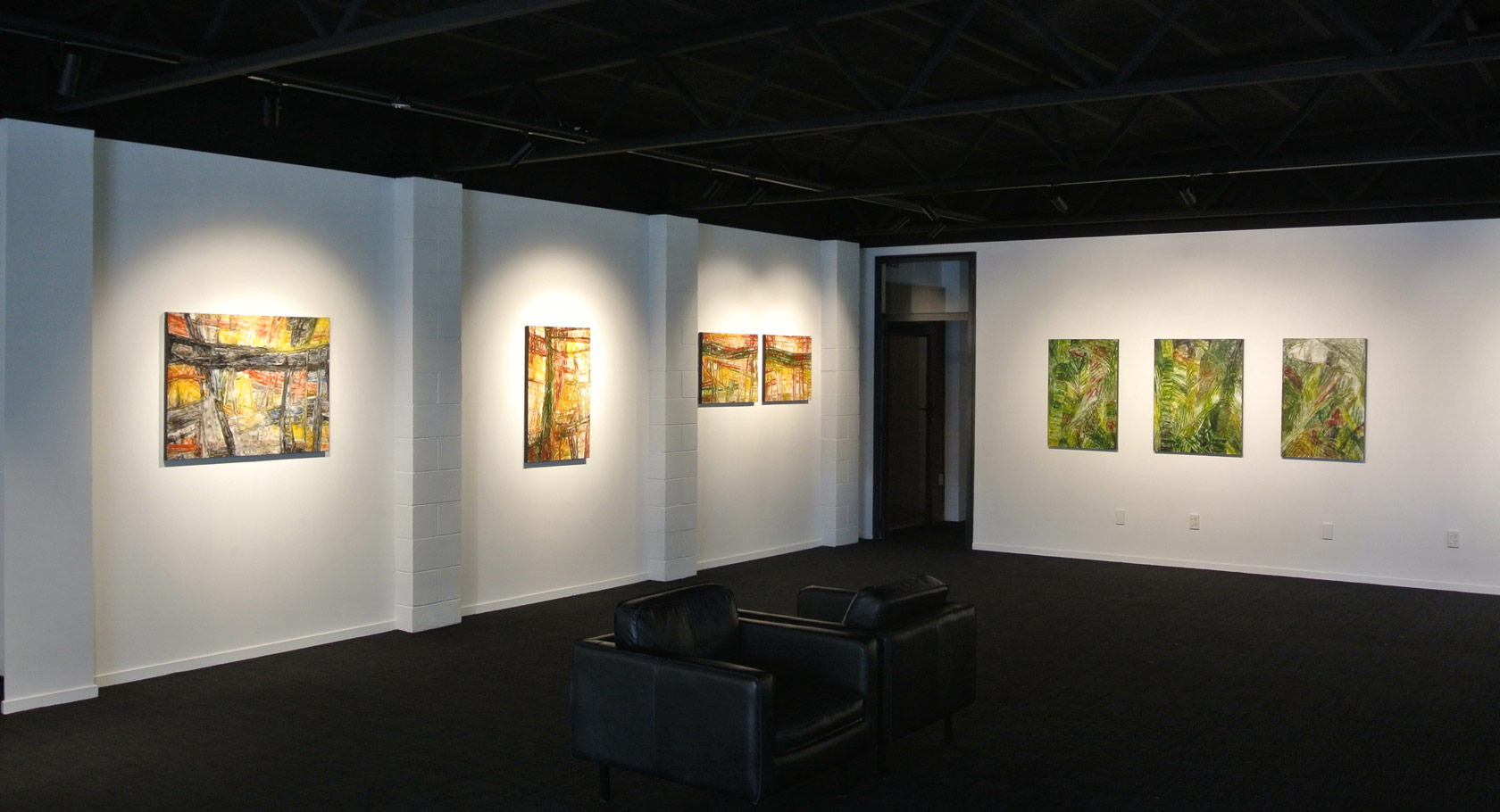 Past Exhibition:
PUNAKAIKI: GATES AND JOURNEYS
15th of September to the 13th of October 2018
In Punakaiki: Gates and Journeys, Jessica Crothall presents a highly personalised way of visually responding to the land, through layering textures and abstracting shapes and colours of the West Coast rainforests, making them a symbol not only of Punakaiki but also the land of Aotearoa as a whole.
Solo Exhibition: Jessica Crothall

Past Exhibition:
SONG OF ALL SONGS
11th of August to 8th of September 2018
The series of work Song of all Songs explores the complexity and mystery of love, desire, and beauty expressed through the rawness and transparency of real relationship.
Song of all Songs touches on the human desire for connection – connection with one another, and connection with the divine – and in return, it reveals also the heart of the divine to connect with humanity.
Solo Exhibition: David James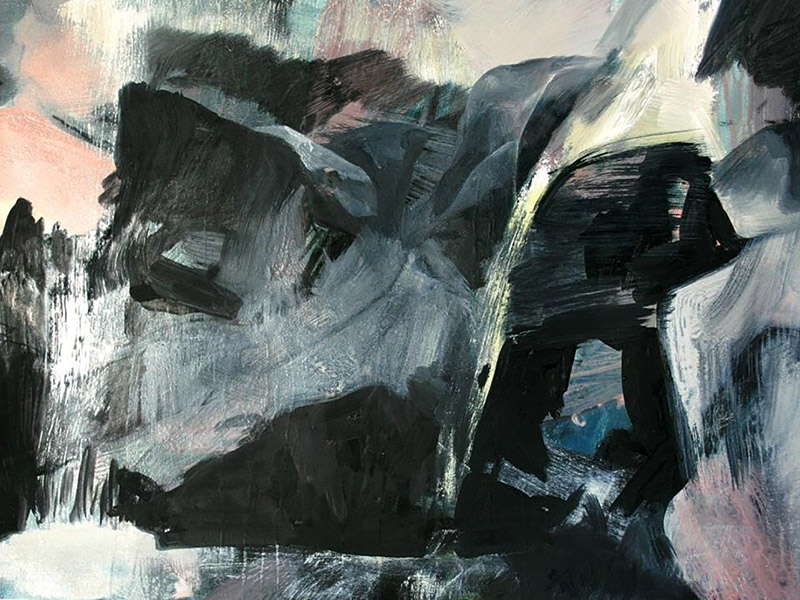 Past Exhibition:
PAINTERLY
7th of July to 4th of August 2018
5 Women Painters – Exploring the Painted Surface
Featuring: Amanda Watson, Erin O'Malley, Jill Smith, Jessica Crothall and Arwen Flowers.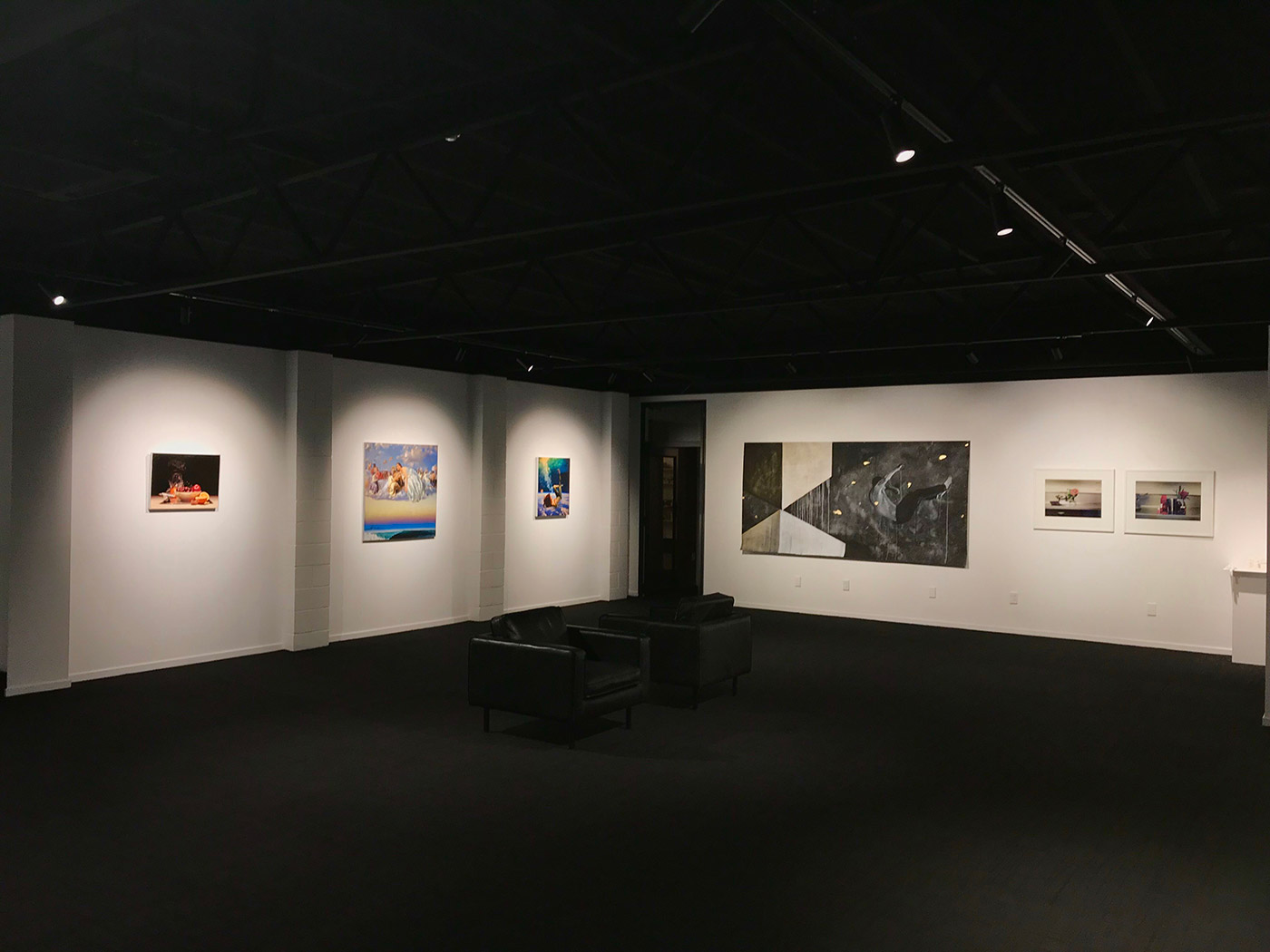 Past Exhibition:
Quality Of Life
2nd of June to 30th of June 2018
Featuring: Darryn George, Kees Bruin, Amanda Watson, Fiona Lees, Symen Hunter, and David James. (ATELIER Inaugural Exhibition)
ATELIER Studio|Gallery
OPEN HOURS:
Tuesday to Friday 10:00 a.m. – 5:00 p.m.
Saturday 10:00 a.m. – 1:00 p.m.
Also, open by appointment.
ADDRESS:
329 Trafalgar Square,
Nelson 7010, New Zealand
PHONE:
(Gallery Manager)
021 166 8327