Kahikatea - Moss and Mist
Current Exhibition:
Jessica Crothall
Exhibition Dates: 26 August – 27 September 2023
View All Exhibitions
Kahikatea, is a coniferous tree endemic to New Zealand. A podocarp, it is the tallest tree of Aotearoa, gaining heights of up to 60 metres over a life span of 600 years. These majestic trees thrive in heavy rainfall areas and grow well on swampy land. Formerly widespread throughout Aotearoa in lowland areas, there are particularly magnificent stands remaining in South Westland, near Haast, on the West Coast of the South Island, Te Wai Pounamu. 
In her latest series of paintings, Jessica Crothall moves away from earlier techniques to better respond to the Kahikatea rain forest. In reference to the way fungal plants and moss hang from the Kahikatea branches, Crothall adopts a dripping approach in applying the watered-down acrylic paints, similar to the way one might use Indian or Japanese inks. In this process, water is also generously poured on to the canvases, and various versions of the scenes are painted to capture the essence of a typical rainforest with heavy downpours.
Interestingly, Kahikatea can support entire ecosystems on their trunks and branches. A scientist once found 28 different plants living on one tree – lianas (twining and climbing plants like supplejack, kiekie and our native passionfruit and native jasmine). Kahikatea trees also manage to stand upright in the soft wet soils by intertwining their roots. For Māori, this unique growth pattern is seen as a symbol of strength in unity. Crothall's paintings respond to this concept, reflecting on our current times of increasing extreme weather events, cyclones, storms, and heavy rainfalls, how important it is that we are there for one another. As the Kahikatea, we cannot stand alone, we need the presence of others to sustain us and hold each other up.
Artist: Jessica Crothall
Exhibition Dates: 26 August – 27 September 2023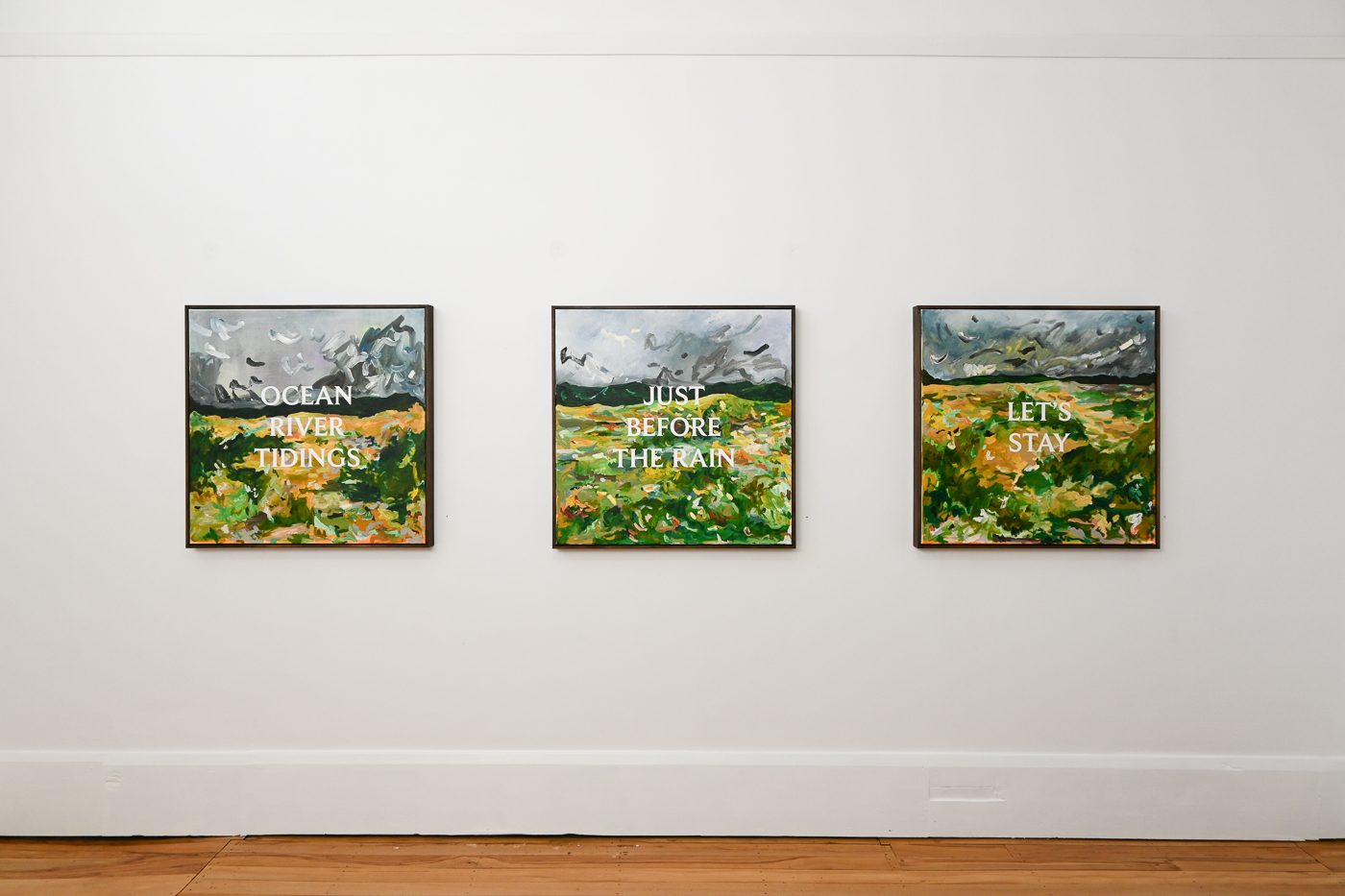 Past Exhibition:
TRAVEL LIGHT
Exhibition Dates: 15 July – 19 August 2023
This exhibition, the first for the artist in Whakatū Nelson, explores time and place and attempts to tap into a universal connection of memory and location.
This is undoubtedly a show at home in New Zealand. While these memories could be shared beyond our shores, there is a particular Aotearoa feel to their sentiment and imagery that locate them firmly in this whenua and on these islands. The short phrases or three-word stories hold more potency in them than what first appears. Each holds a world of experience or movement, growth, or history. They are meant to provoke further reading and contemplation as to how they are connected to us the viewer or the world around us.
These works provide more questions than answers as is the usual outcome of Elliot's practice. His poetry and painting sit in the liminal spaces of abstraction towards a kind of solid meditation. Each painting is designed to linger in your mind or echo in your memory and work slowly in a process of contemplation and reflection. Each work captures moments in time that are often fleeting or mundane yet in retrospect are often the true makers of passing time. These are collective concepts that weave us together, distinct yet similar in our collective journeys through the world.
Artist: Elliot Collins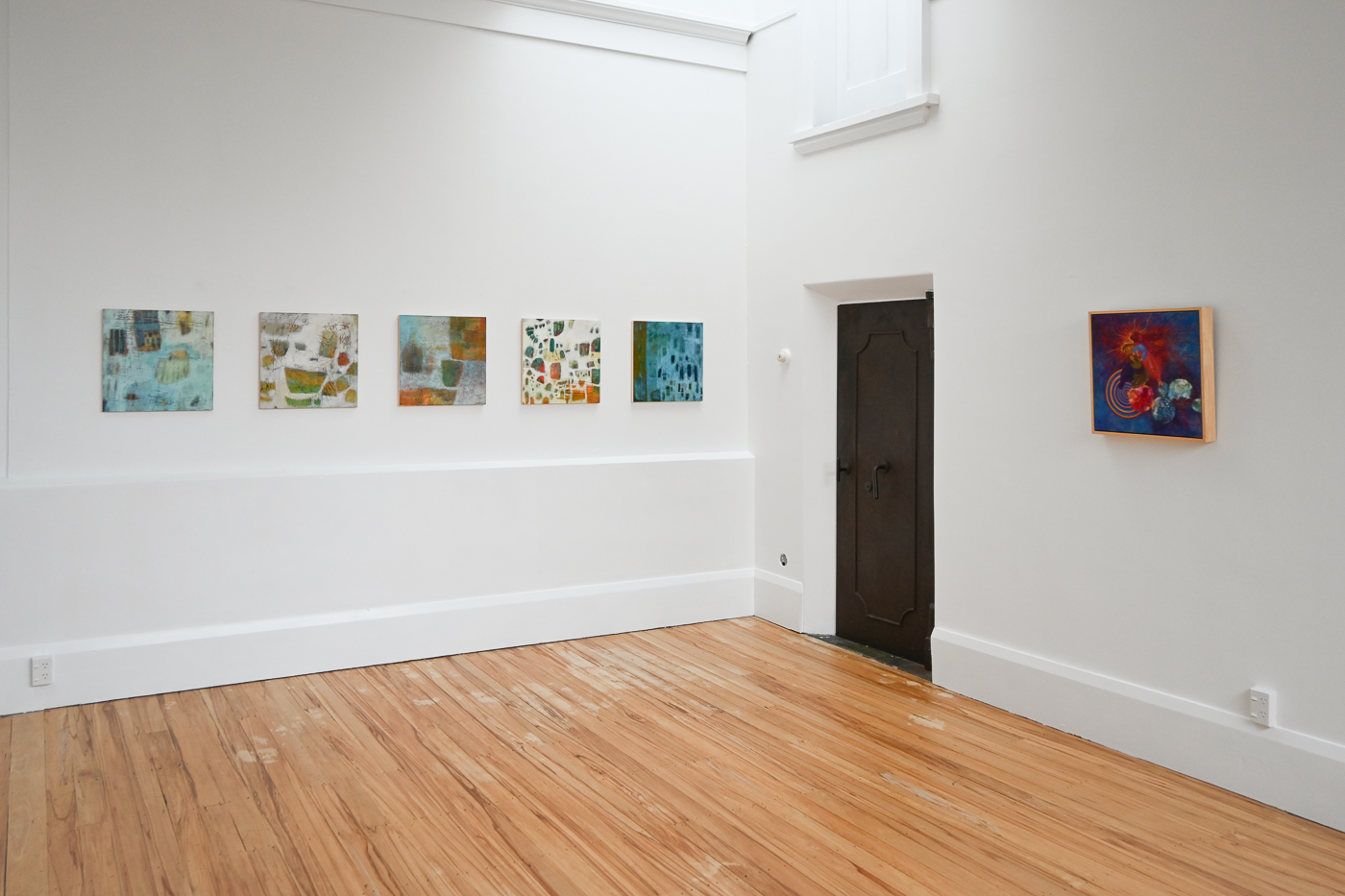 Past Exhibition:
CHRISTINE HUNTER, R. SAWAN WHITE, GAYLENE BARNES
Exhibition Dates: 6 May – 8 June 2023
It is a real privilege to be able to show recent work by three outstanding artists, Christine Hunter, R. Sawan White, and Gaylene Barnes. This selection of work complements each other, and finds connections in their differences. Plant forms, skin tones, the ethereal and cosmic, delicate colour glazes, sgraffito – yet, these three women artists lead us to think about our humanness, our place, our connection, and our responsibility. The work is interesting, challenging, and at the same time, beautiful.
Artist: Christine Hunter, R. Sawan White, Gaylene Barnes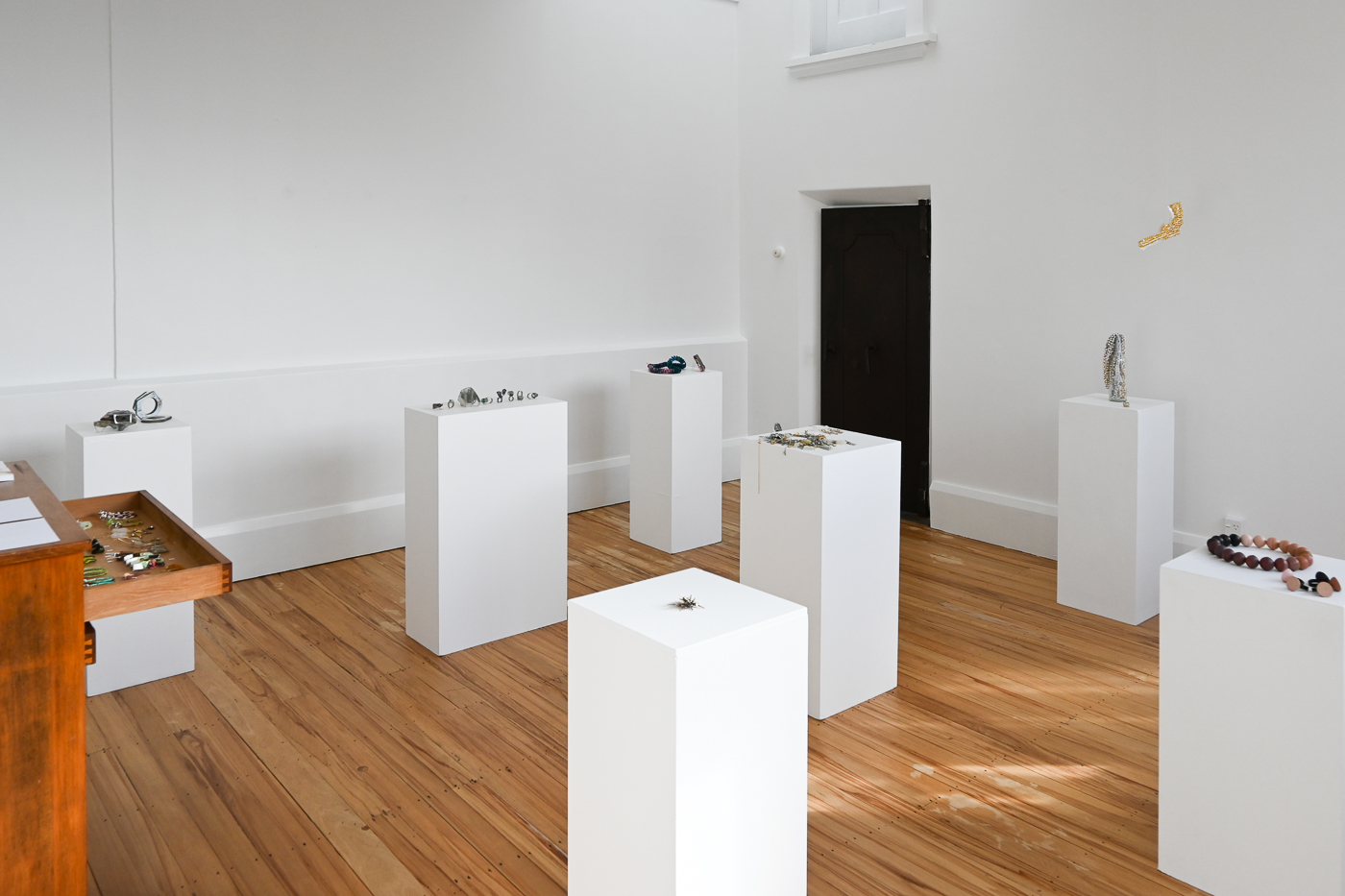 Past Exhibition:
Guacha
Exhibition Dates: 13 – 29 April 2023
We are very excited to present a solo show by contemporary jeweller, Maca Bernal.  Guacha, explores alternative ideas of value by capitalising on the bonds between jewellery and wearer, propounding jewellery as a wearable form of archive, or using it as a platform to make sociopolitical statements.
As part of the Nelson Jewellery Week and the Slowly, Slowly event on Thursday 13 April, we are opening Guacha from 5:30pm til late.  Join us to see Macarena's newest works and also take part in the unmissable Link Experience also happening on the same evening.
Artist: Maca Bernal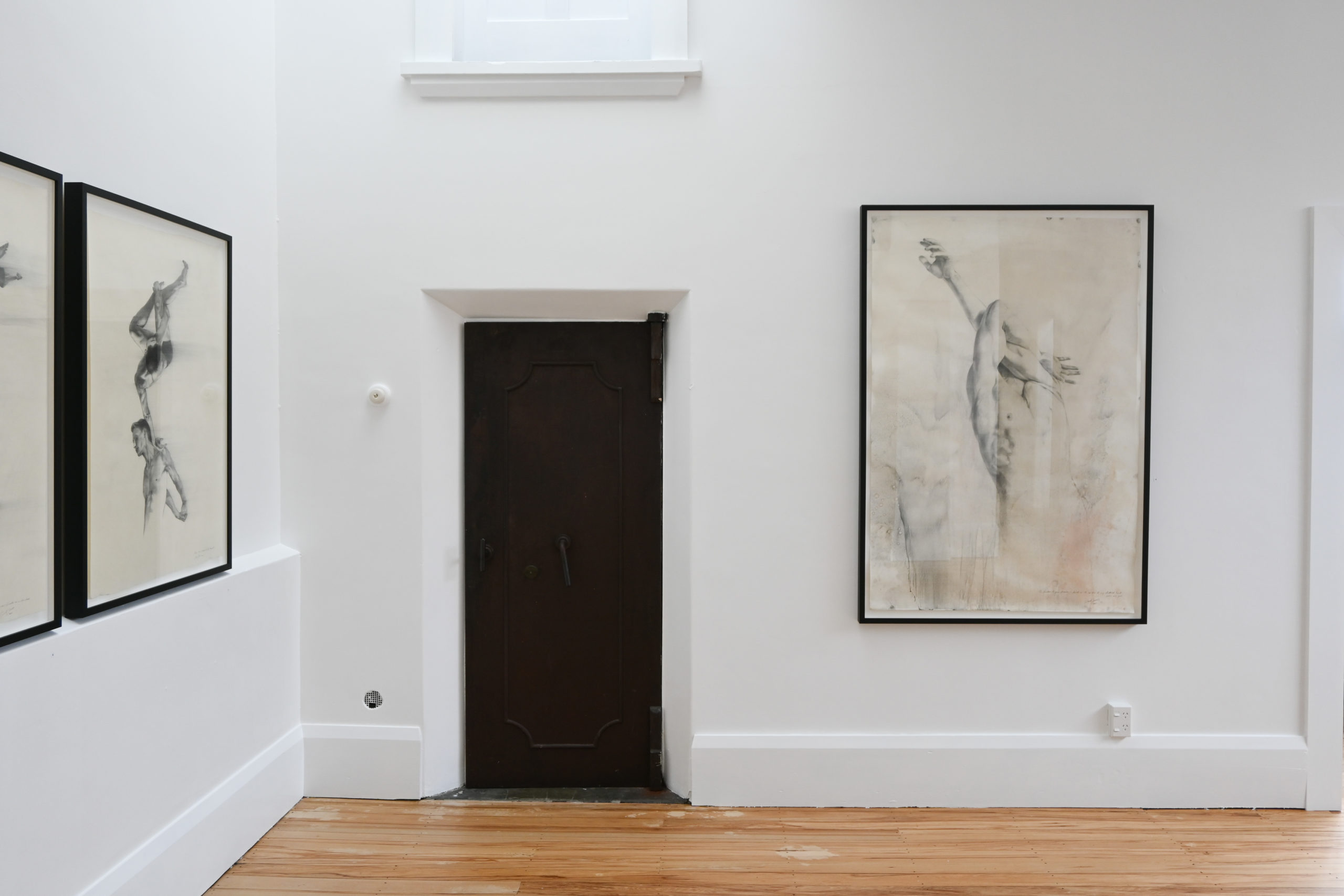 Past Exhibition:
The Figure Drawings
Exhibition Dates: 25 February –  1 April 2023
Seduced by the simplicity of working with just pencil and paper, David James, over the past few years, has produced a vast body of work based on the human figure. This exhibition brings together drawings from different years and from multiple series, to present in one place a survey of his figurative works called, The Figure Drawings. In this show, framed and unframed drawings sit together, and new, previously un-exhibited work is made available to the public.
David has been fascinated by the fragility and resilience of being human, and as a keen observer of people he comments, "my greatest interest has become to explore the complexities of our humanity in relationship to one another. For me, responding to the figure is an optimal way to convey human empathy. Presenting drawings that span multiple years in one exhibition, also begins to create a type of autobiography – we get to see where I was at a particular time".
Artist: David James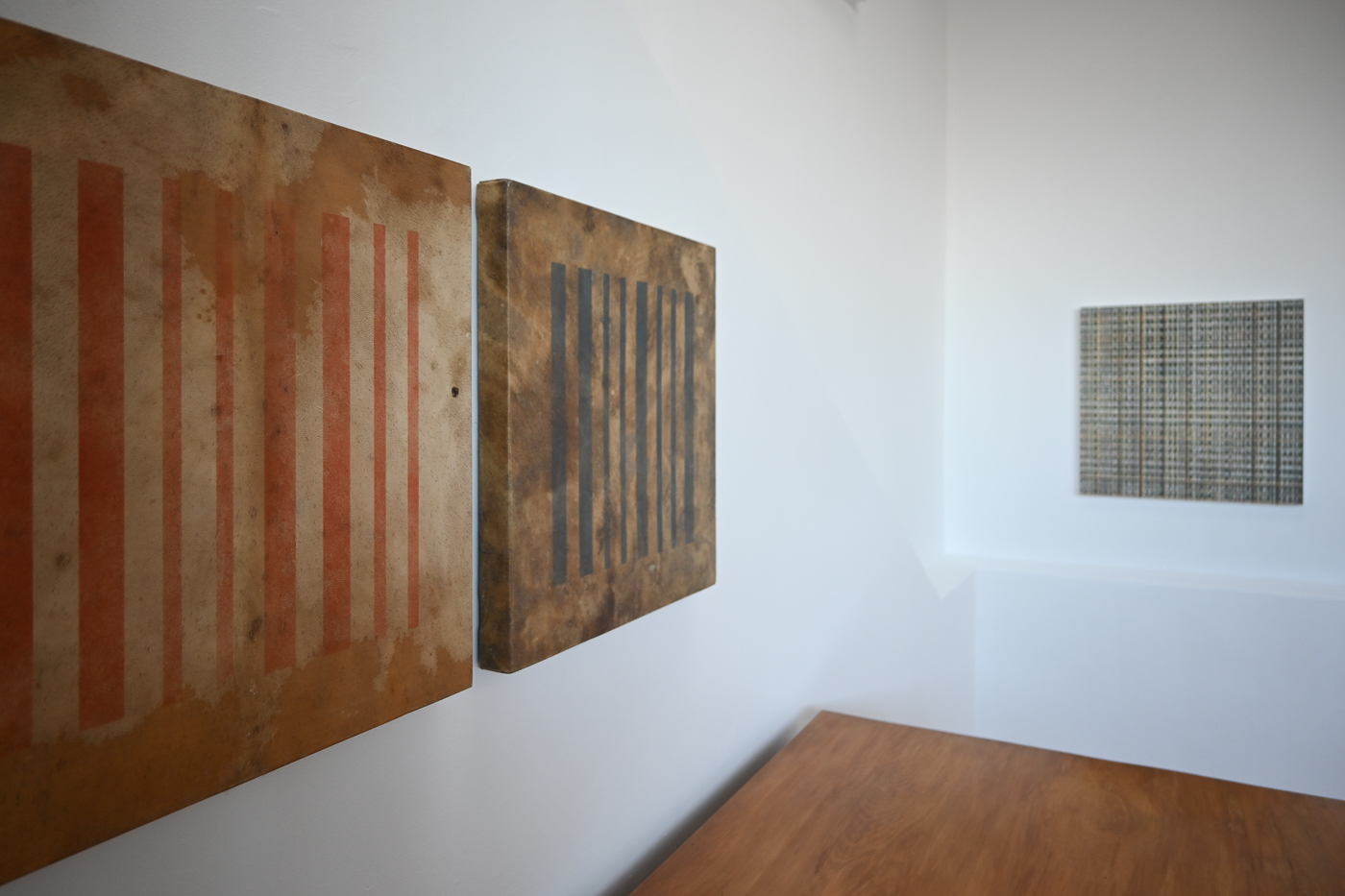 Past Exhibition:
Elemental
Exhibition Dates: 14 January –  18 February 2023
Simon Hunter's new body of work, Elemental, extends his investigation into abstraction through sequential layers of paint, print, and spray paint. The surfaces that are developed are rich, they vibrate optically with colour, binary code, and both negative and positive spaces and shapes. Yet overall, these works provide an opportunity for quiet contemplation and reflection on the process of things both physical and metaphysical. In Elemental, these reflections not only speak to Hunter's working process, but also to the intrinsic processes of life.
Artist: Simon Hunter
Past Exhibition:
Generations
Exhibition Dates: 28 October –  26 November 2022
The repetitive cycles and rhythms of the botanical world replicate the rhythms of human life. Knowledge passed between generations shows us that plants can sustain us and heal us.  Equally however, properties within them can also harm us. The myriad of forms that exist can be overwhelmingly beautiful to the senses but can also be repulsive or dangerous.  Like us they can become diseased, age, and die.  And yet, as we do, they hold within the possibility of renewal and regeneration.
This current body of work, Generations, explores the symbiosis occurring between humanity and botanical forms. Where, deeper than just biology, runs the historical, cultural, and spiritual interconnections that these two lifeforms share.
Artist: Christine Hunter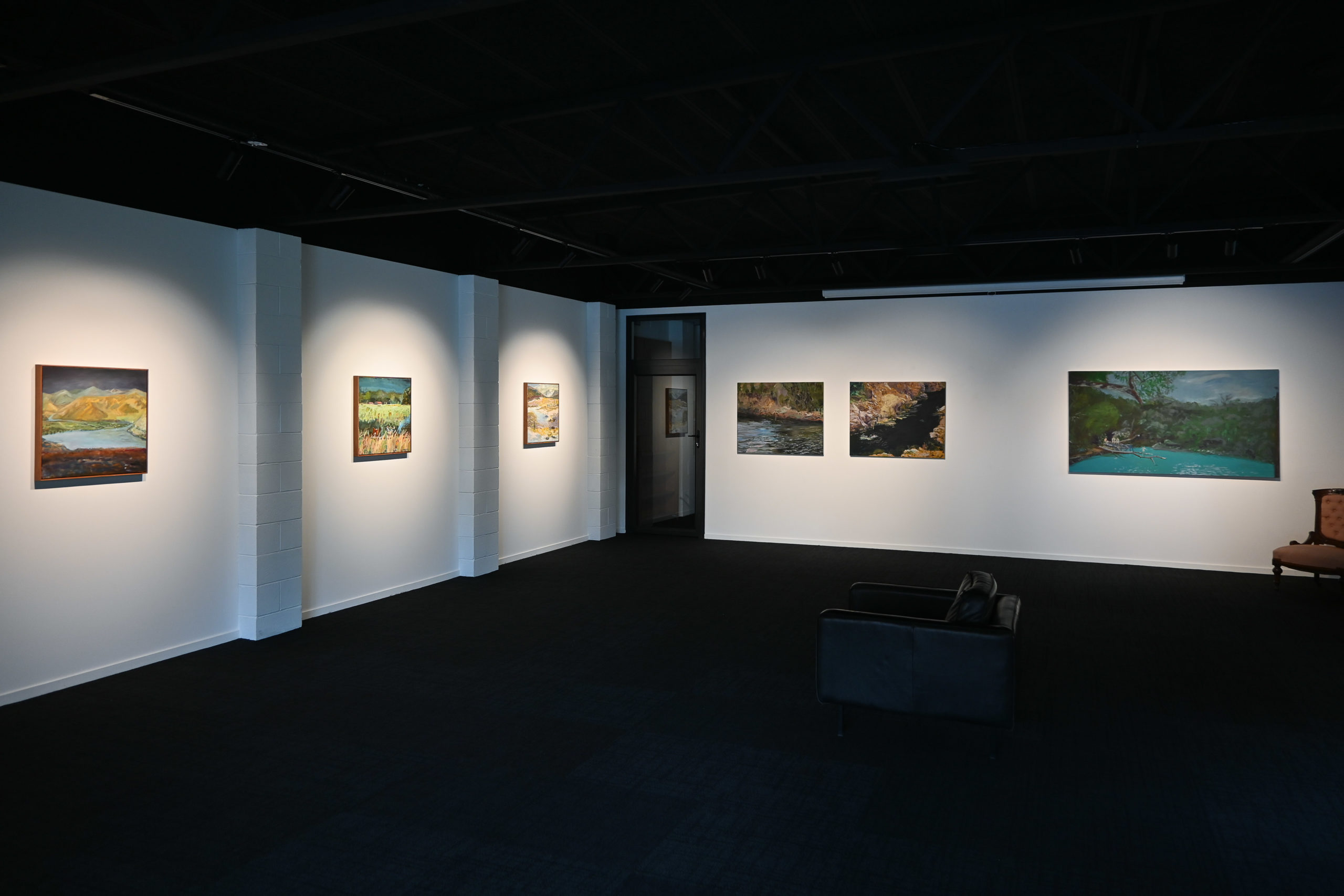 Past Exhibition:
Resurgence
Exhibition Dates: 24 September –  22 October 2022
After many years of absence, Tim and Tracy traveled NZ's South Island in the summer of 2019. Recollecting their familial connections with Nelson, Richmond, and Westport, revisiting haunts from their time living in Canterbury and venturing into places they wished they'd been to. That trip revived their romance with their own country.
Resurgence features a selection of recent paintings by Tracy and Tim that celebrate this sentimental trip.
Sometimes idyllic, sometimes disquieting in their sensation, together Tim and Tracy's paintings re-see familiar subjects of pastoral and water scenes. Some paintings invoke the sultry languor of late summer, while in others an invigorating cool light excites an otherwise benign scene.
Light glistens and sumptuous colour illuminates these scenes, sensualising figures and objects. The texture of the works vary from dripping, heavily spread pigment to canvases softened and dulled by scumbling.
Both artists like to work from a selection of source photos and draw out their substance and then unsettle or reduce our recovery of the representation, to use the vocabulary and possibilities of painting to iterate what can be imagined or invented.
 Tim and Tracy Croucher live and work in Kirikiriroa/Hamilton. They both have family connections with the Nelson region as Tracy was born there and Tim's grandfather came from Richmond. They have exhibited their paintings in a range of solo and group shows in New Zealand and overseas since studying painting at the University of Canterbury in the 1980s. Tim and Tracy have been painting practically back-to-back in the same house for nearly 40 years, though this is only their third exhibition together.
Artists: Tim & Tracy Croucher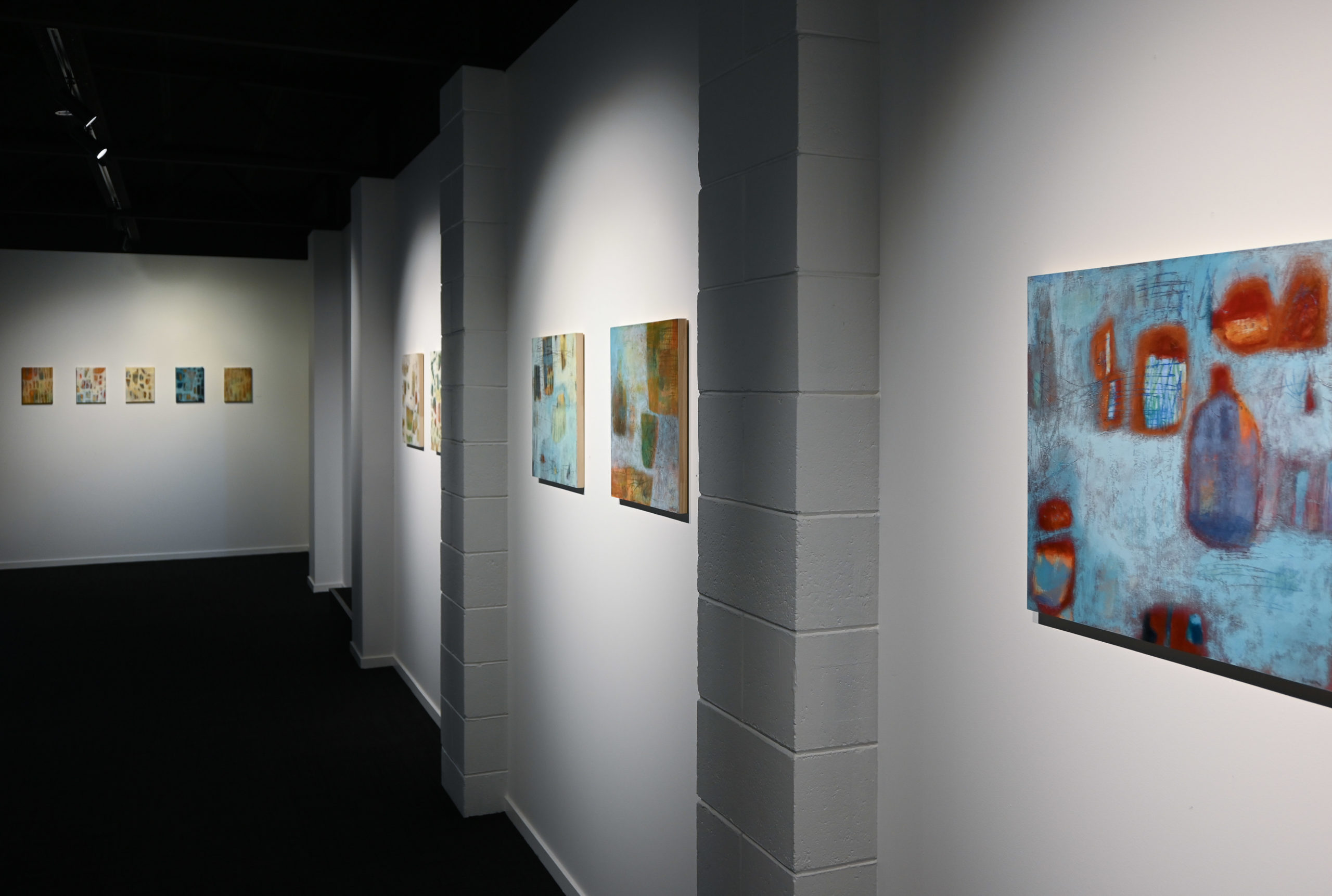 Past Exhibition:
Holding Seconds
Exhibition Dates: 20 August – 17 September 2022
The past two years have been an exercise in revaluating perspectives – on life, on work, on time, on relationships – but mostly on ourselves. Throughout the shifting patterns of lockdowns, releases, and quarantines, normal everyday surroundings and relationships began to change. The simplest of daily rituals such as going to work or school changed, overlayed with a new context. How we related to others was a roller coaster of solidarity and suspicion. And how we responded in our own lives was a complex web of fear and hope, grief and relief.
 
What emerged as most interesting to me as an artist was how we discreetly shifted our categorization of time and priority. We've all seen the memes poking fun at how long 2020 felt – days felt like weeks and weeks felt like years. The changed context of our behaviours affected the experience of the passage of time; which in turn affected our relationships with our surroundings. Things of high priority pre-pandemic find themselves cast aside in a world of social distancing, while rarely-noticed elements floated to the top.
 
In this body of work I sought to capture small increments of these complex moments. These paintings explore the overlapping of self and society, the small daily interactions against the backdrop of the chaotic world stage.
Artist: R. Sawan White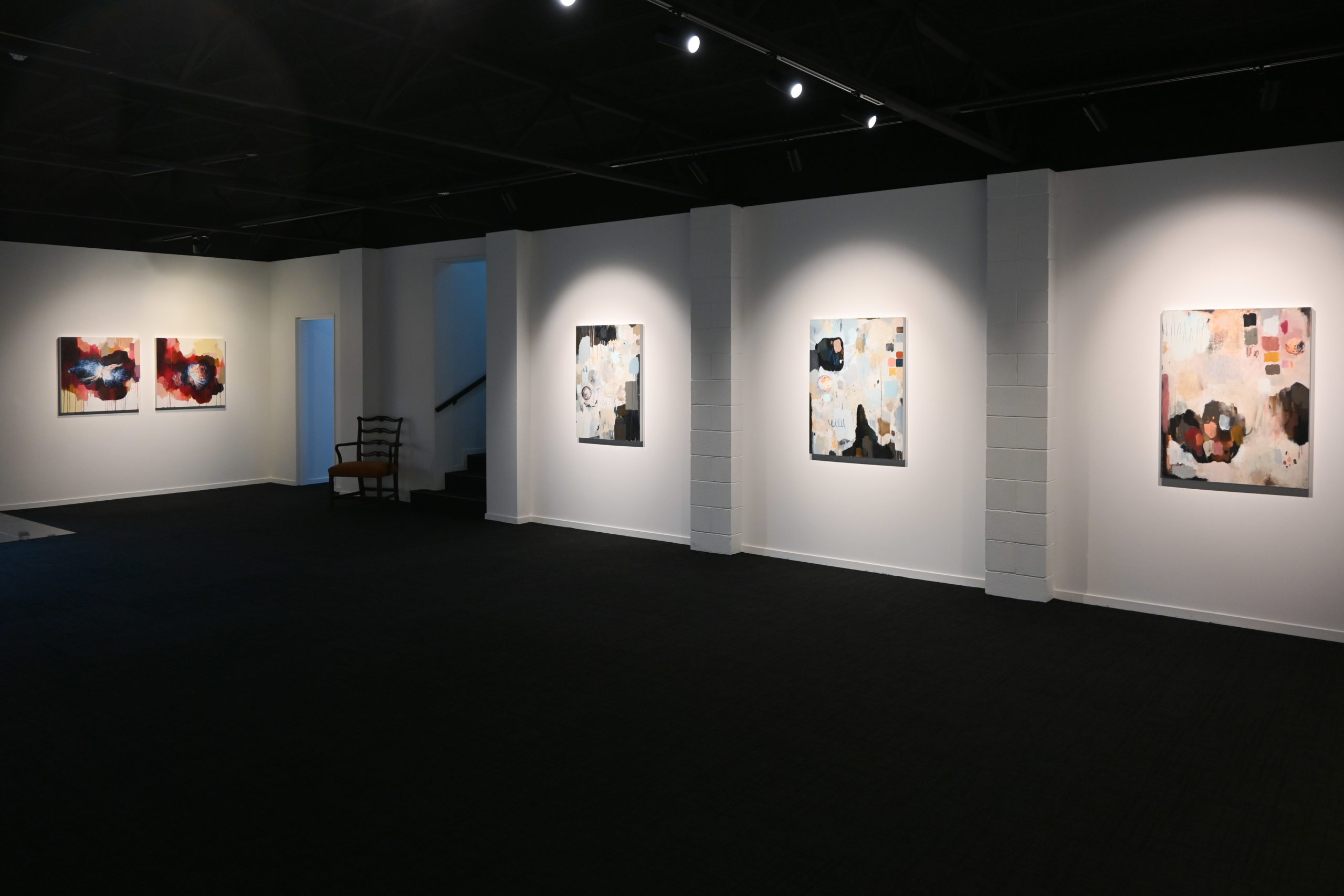 Past Exhibition:
Spaciousness
Exhibition Dates: 16 July – 13 August 2022
Trust is employed to the genius of painting as Emma Marie tunes in to listen to the works whispering voice, adding and subtracting layers by intuitive prompts. An internal SPACIOUSNESS is needed. The abstract forms explode from the palette, expanding out with imbued intention. Abandoned is the preconceived idea of concept, each work emerges during the making and stories materialise, as if from nowhere. This is a processed based way of working, each brushstroke captures thoughts and feelings from the NOW, enabling encounters of the inner kind … her work could be thought of as a self reflective tool perhaps, for artist and viewer alike.
Artist: Emma Marie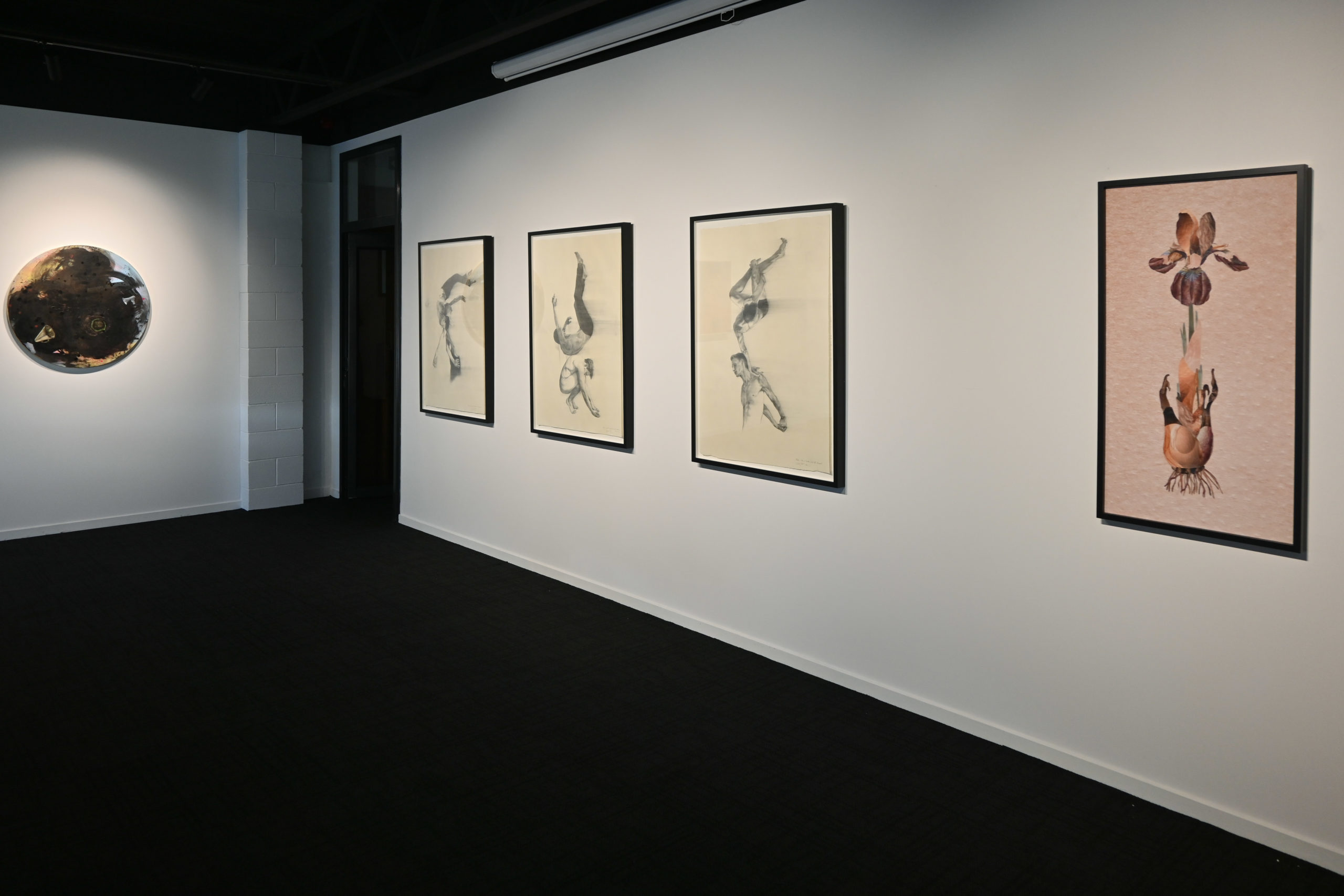 Past Exhibition:
Revisit: Figurative
Exhibition Dates: 10 June – 9 July 2022
Each artist represented in this group show demonstrates diverse approaches to working figuratively – be that through their choice of subject matter, media, or conceptual concerns. In essence, figurative artworks hold strong references to the real world and particularly the human figure. The work in this show invites the viewer to explore metaphor and poetic tropes, symbolism, iconography, and implied narratives. 
Artists: Gaylene Barnes, Christine Hunter, Rebecca Barclay-Clist, David James, and Fiona Lees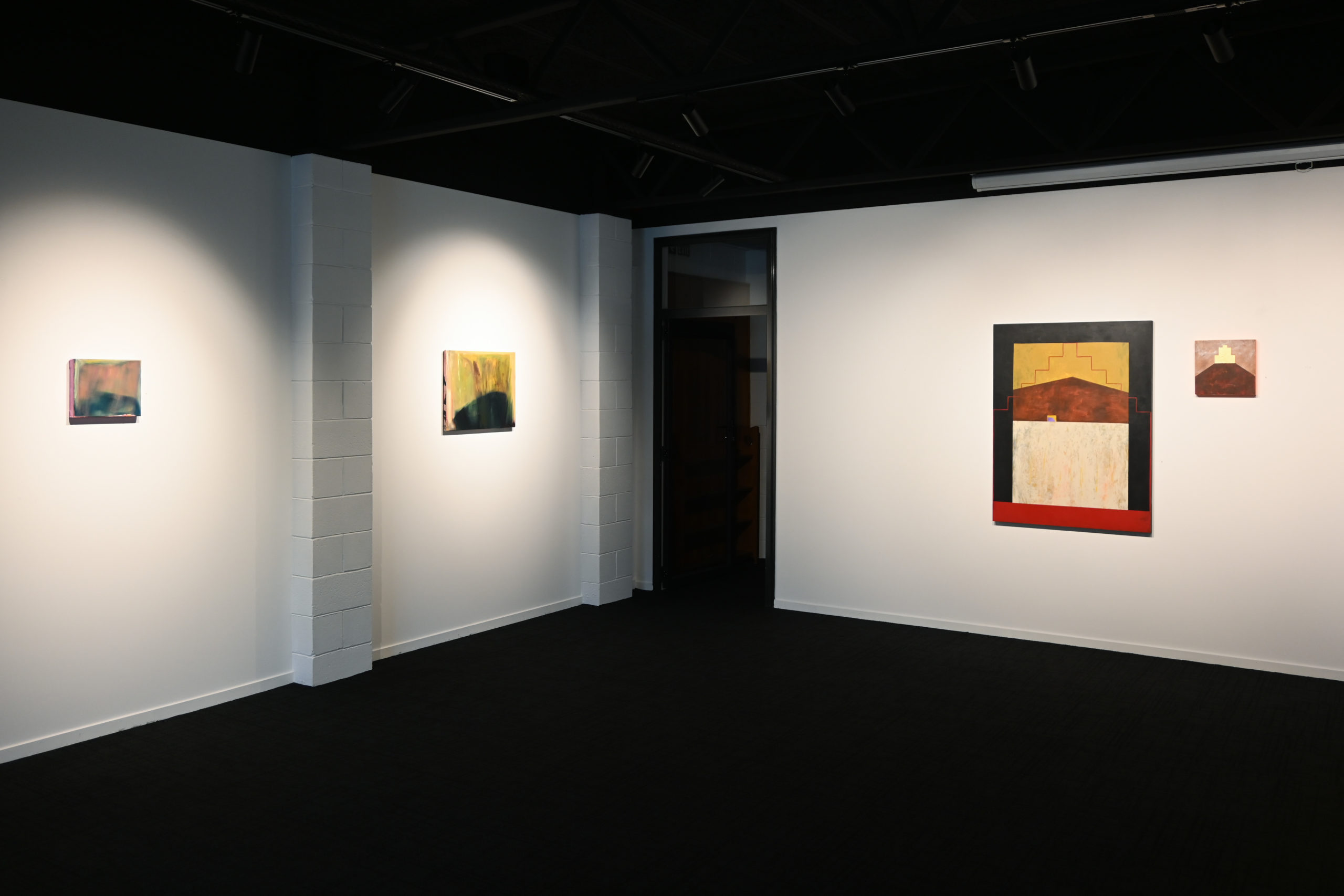 Past Exhibition:
AMANDA WATSON & REBECCA BARCLAY-CLIST
Exhibition Dates: 7 May – 4 June 2022
Two-Person Show with Amanda Watson & Rebecca Barclay-Clist
Current works by Amanda Watson draw inspiration from her experiences in and with environments, and in this instance, the sunlight catching the waterfalls on Taranaki Maunga. Rebecca Barclay-Clist is focusing on internalising spaces and considering their relevance, she is reflecting on how our concept of a meeting place has shifted during the past few years.
Artists: Amand Watson & Rebecca Barclay-Clist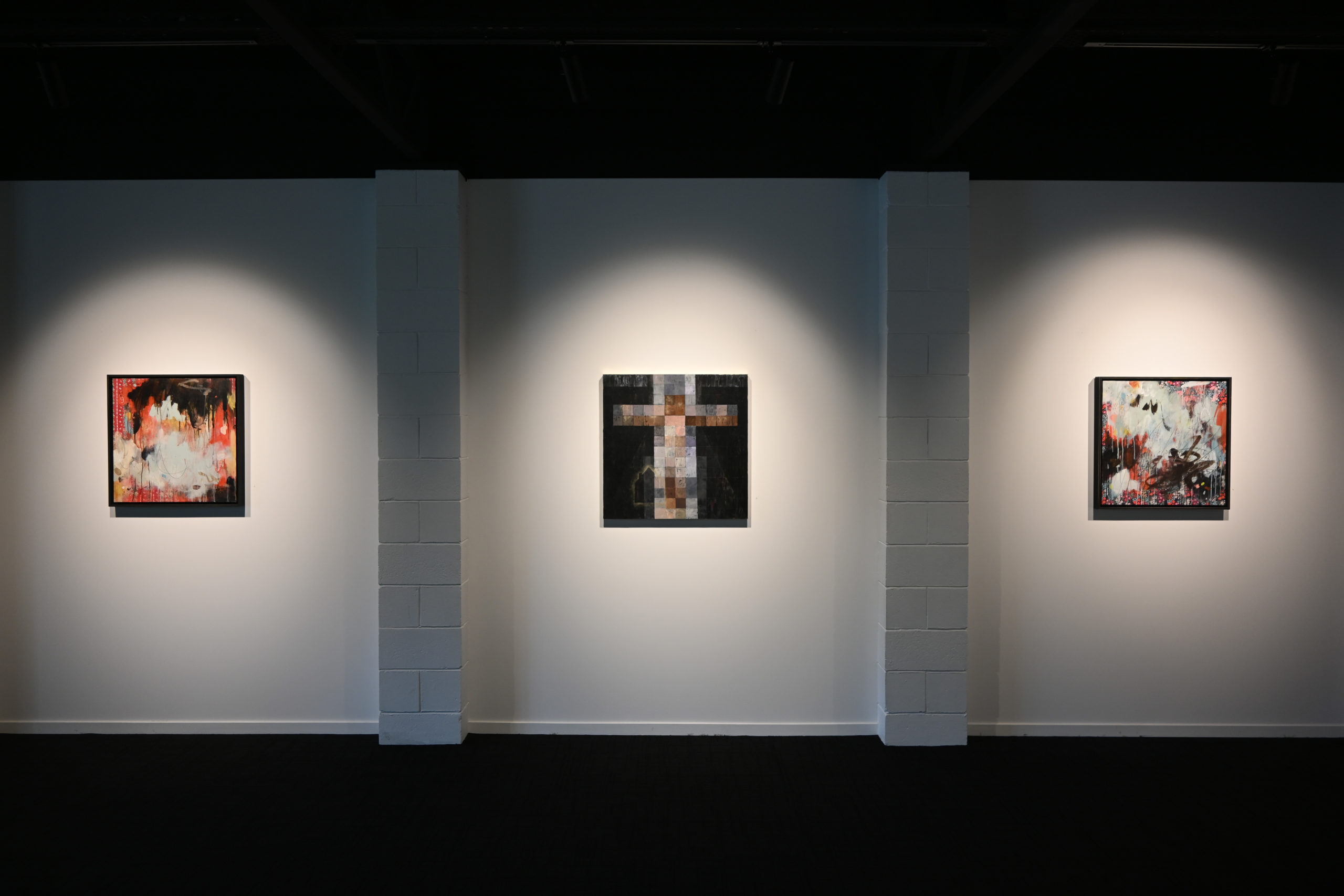 Past Exhibition:
REVISIT: Abstraction
Exhibition Dates: 26 March – 23 April 2022
REVISIT: Abstraction brings together a selection of artists working in diverse modes of abstraction. The artworks in this show explore ideas surrounding the revealing and concealing of physical and metaphorical layers, bringing poignant questions to light in an abstract and meditative way.
This wonderful group show opens Saturday 26 March and runs until Saturday 23 April. There will be no in-person opening but we will LIVESTREAM the exhibition on our Instagram and Facebook pages on Thursday 31 March at 7:00pm. Grab a glass of wine, sit back, and enjoy as we broadcast the exhibition live with gallery director, David James.
Artists: Simon Hunter, Emma Marie, Caroline Burton, Rebecca Barclay-Clist, Jessica Crothall, and Darryn George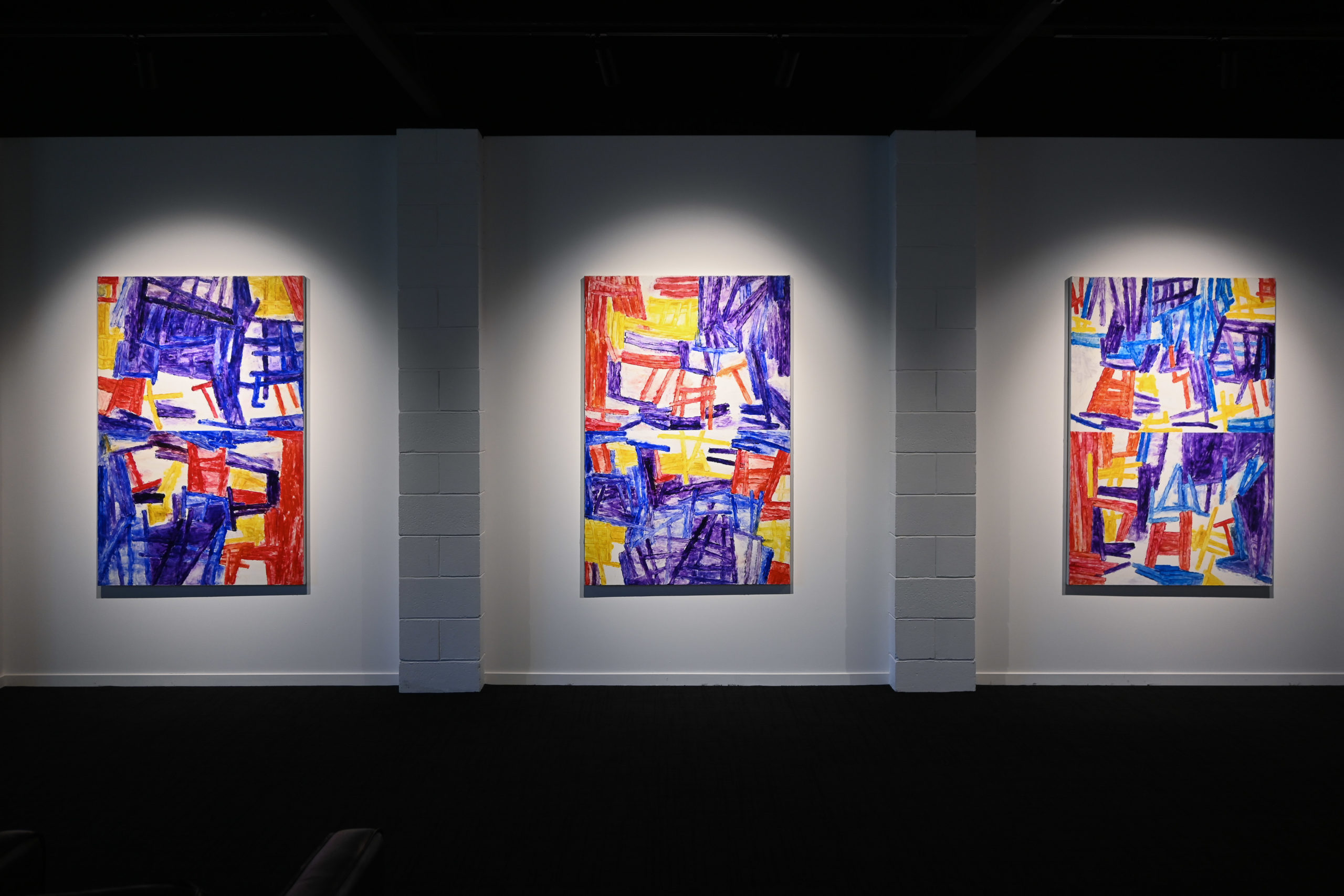 Past Exhibition:
Rods and Poles
Exhibition Dates: 19 February – 19 March 2022
The works in this series are forged out of the artist's experiences of the Christchurch earthquakes in 2010|2011. While they function symbolically, they also explore the joy of colour and line. Jessica combines vibrant colour with dynamically moving grids, which at times creates the sense of three-dimensional space, distance, and a multi-levelled pictorial space.
In Jessica's words, "these works are exercises in using lines crossing one another, overlapping and going off into infinite space. They are part of a greater whole."
Artist: Jessica Crothall
Past Exhibition:
Psalm
Exhibition Dates: 15 January – 12 February 2022
A Psalm is an outpouring of emotion in sacred song or poetry. In this series of works, Psalm relates to the exploration of inner feeling and emotion presented as visual, figurative 'poems' – the inner world given skin. This work expresses the struggle, the tension, the awkwardness, and the challenge to balance and carry our own inner world. And, in extension, how we may also carry that world in others.
Artist: David James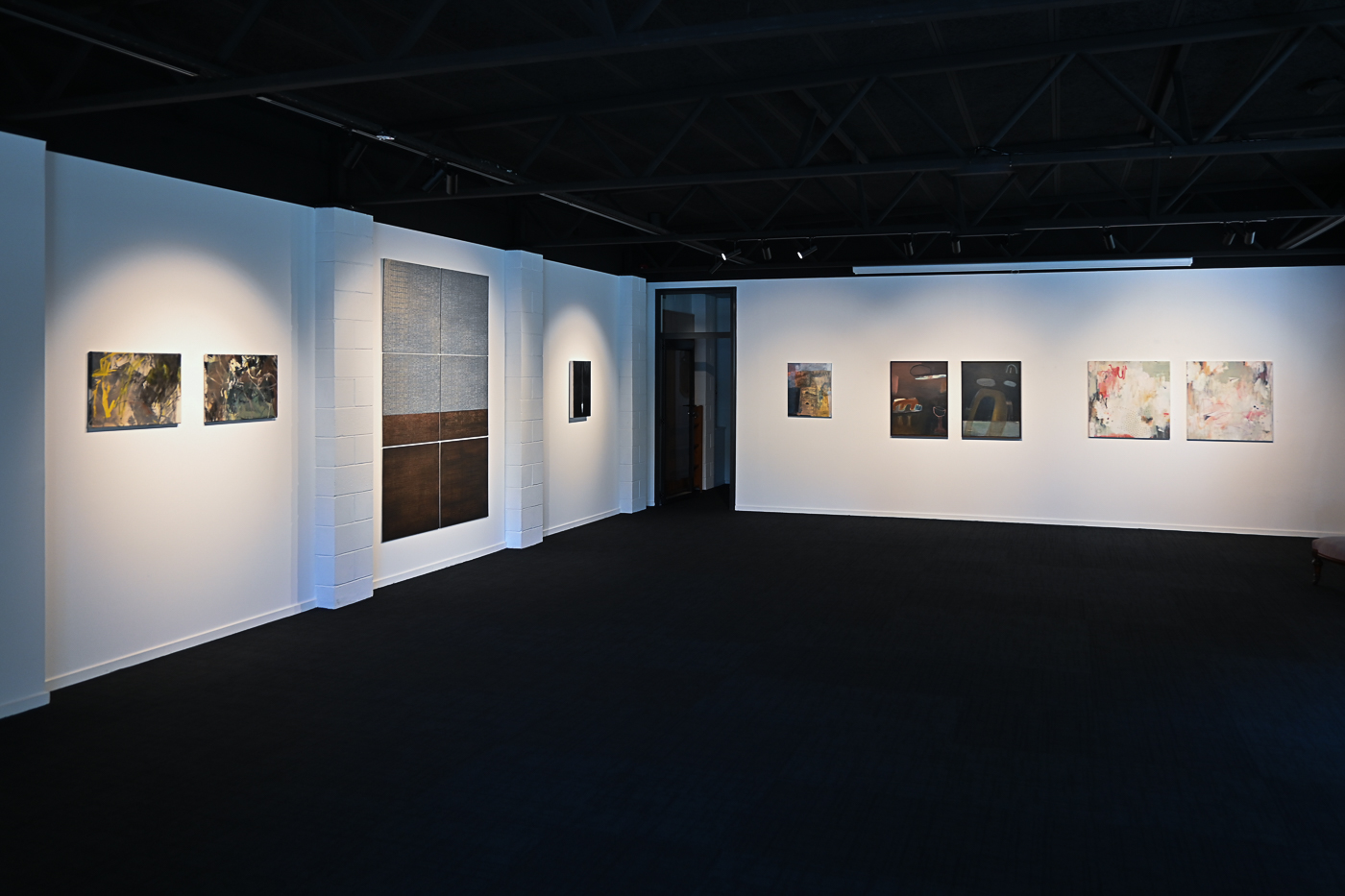 Past Exhibition:
SUMMER CATALOGUE
Exhibition Dates: 20 November – 22 December 2021
With the end of 2021 fast approaching we are excited to present our last show of the year, Summer Catalogue Exhibition 2021. This exhibition is a handpicked mix of many of our favourite artworks exhibited throughout 2021 and prior.
Group Show: Amanda Watson, David James, Emma Marie, R. Sawan White, Rebecca Barclay-Clist, Simon Hunter, Mary Spacapan, Caroline Burton, Gaylene Barnes, Christine Hunter, Sudhir Duppati, Erin O'Malley, and Fiona Lees.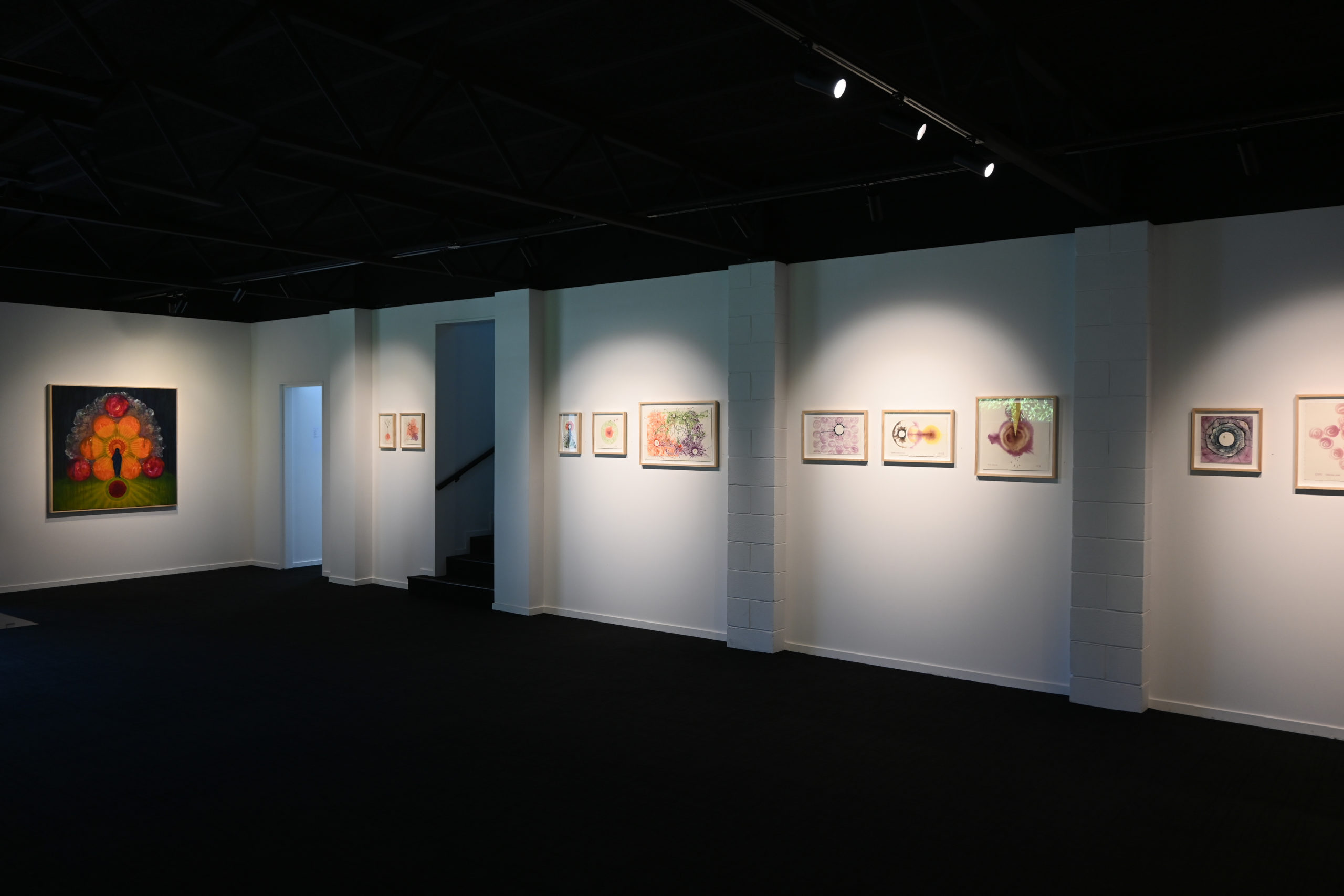 Past Exhibition:
FILAMENTS
Exhibition Dates: 16 October – 13 November 2021
We warmly invite you to view the solo show, Filaments, by Christchurch artist and filmmaker Gaylene Barnes.
We 'learn to feel the path of the filament to God. It is a blue wash in a golden flower …'
This series features two threads of work that were created across time and space from each other. The watercolour works on paper were made in January 2020 at a 'Silence, Awareness, Existence' artist residency at Arteles Creative Centre in Finland, and the egg tempera icon paintings were created a year later while back home in New Zealand.
Artist: Gaylene Barnes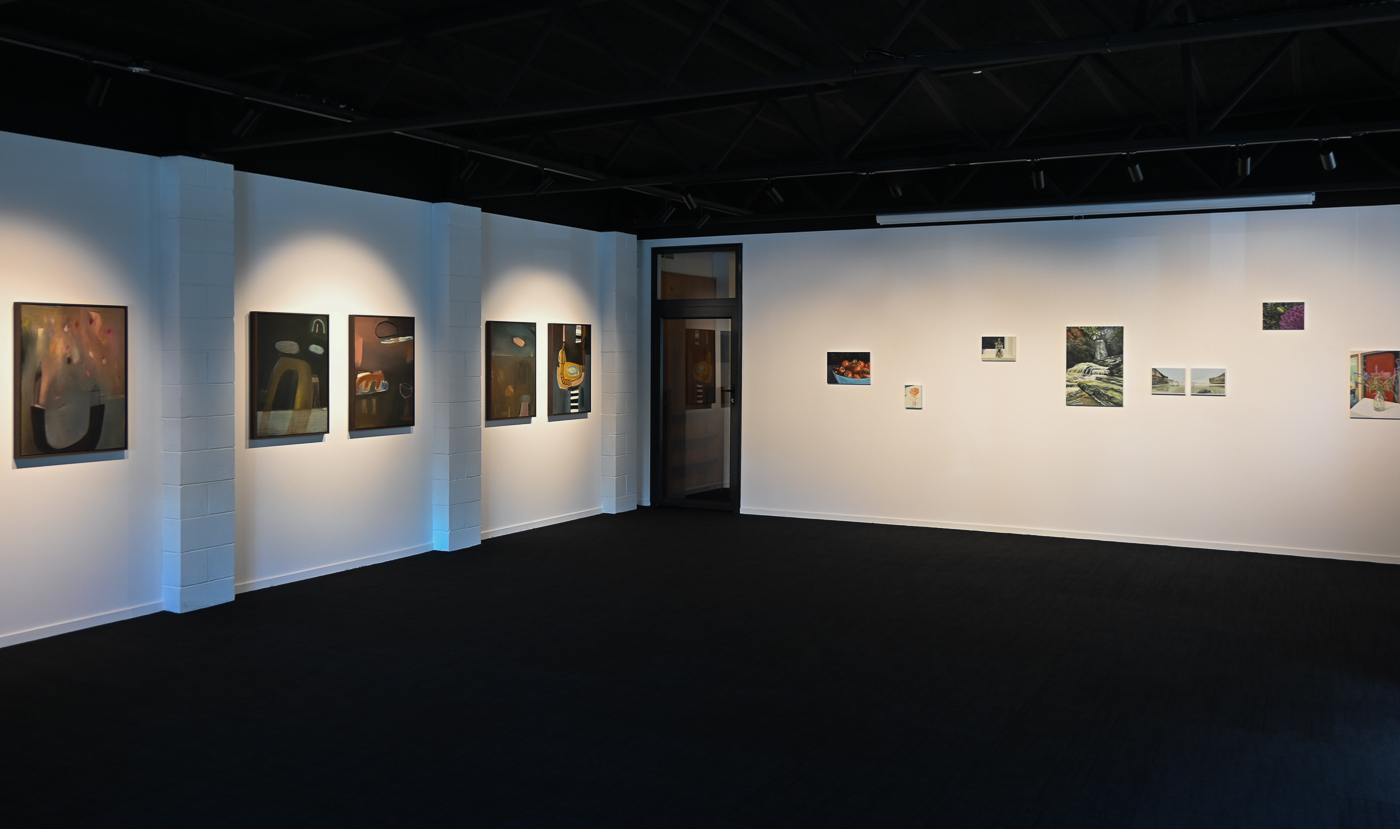 Past Exhibition:
O'Malley & Lees
Exhibition Dates: 9 September – 9 October 2021
You are warmly invited to the virtual exhibition opening our next two-person show, featuring new work by Erin O'Malley and Fiona Lees.
These two artists present exquisite painterly works – O'Malley in her signature non-representational approach and master control of colour, and Lees working in the subtleties of the figurative tradition rewriting past stories for the present.
Come and see this beautiful work LIVE on Facebook or on our Instagram page at 7:00pm, Thursday 9 September.
Sit back and enjoy as we broadcast the exhibition live with gallery director, David James.
All work is for sale and the gallery will be open to the public under Level 2 conditions on Friday 10 September.
Livestream Virtual Opening Thursday 9 September, 7:00pm via Facebook or Instagram
Artists: Erin O'Malley and Fiona Lees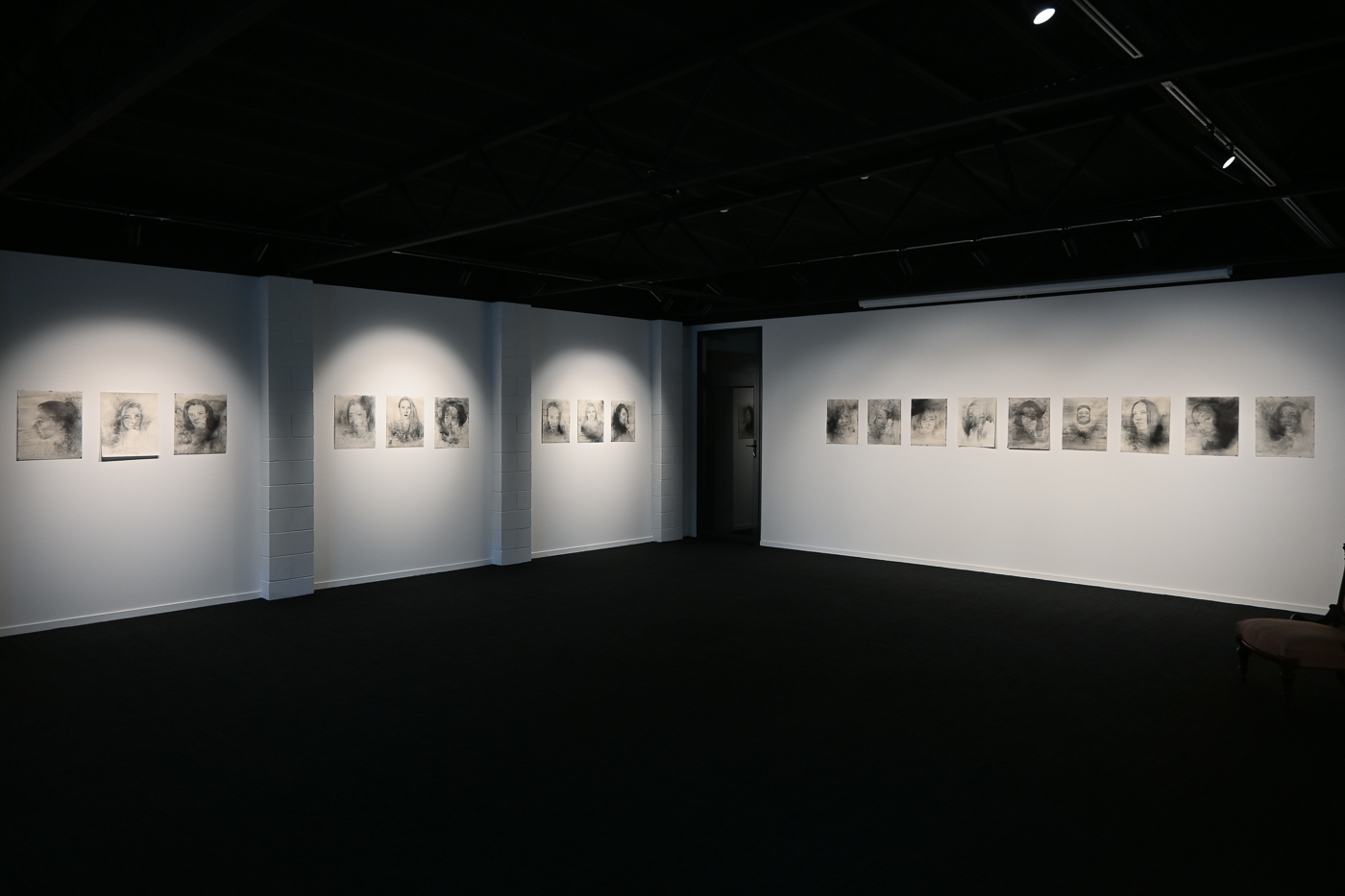 Past Exhibition:
21 FACES
Exhibition Dates: 7 August – 4 September 2021
21 FACES is a drawing project mediated via social media channels TikTok and Instagram. In collaboration with 21 people throughout the world, David has created a series of enigmatic images that highlight the individuality of each participant, and also the interconnectedness of our global community.
Join us for a live virtual opening by following:
@davidrossjames on TikTok or @atelierstudiogallery on Instagram
LIVE Virtual Opening: Saturday 7 August at 1:00pm NZ time
Artist: David James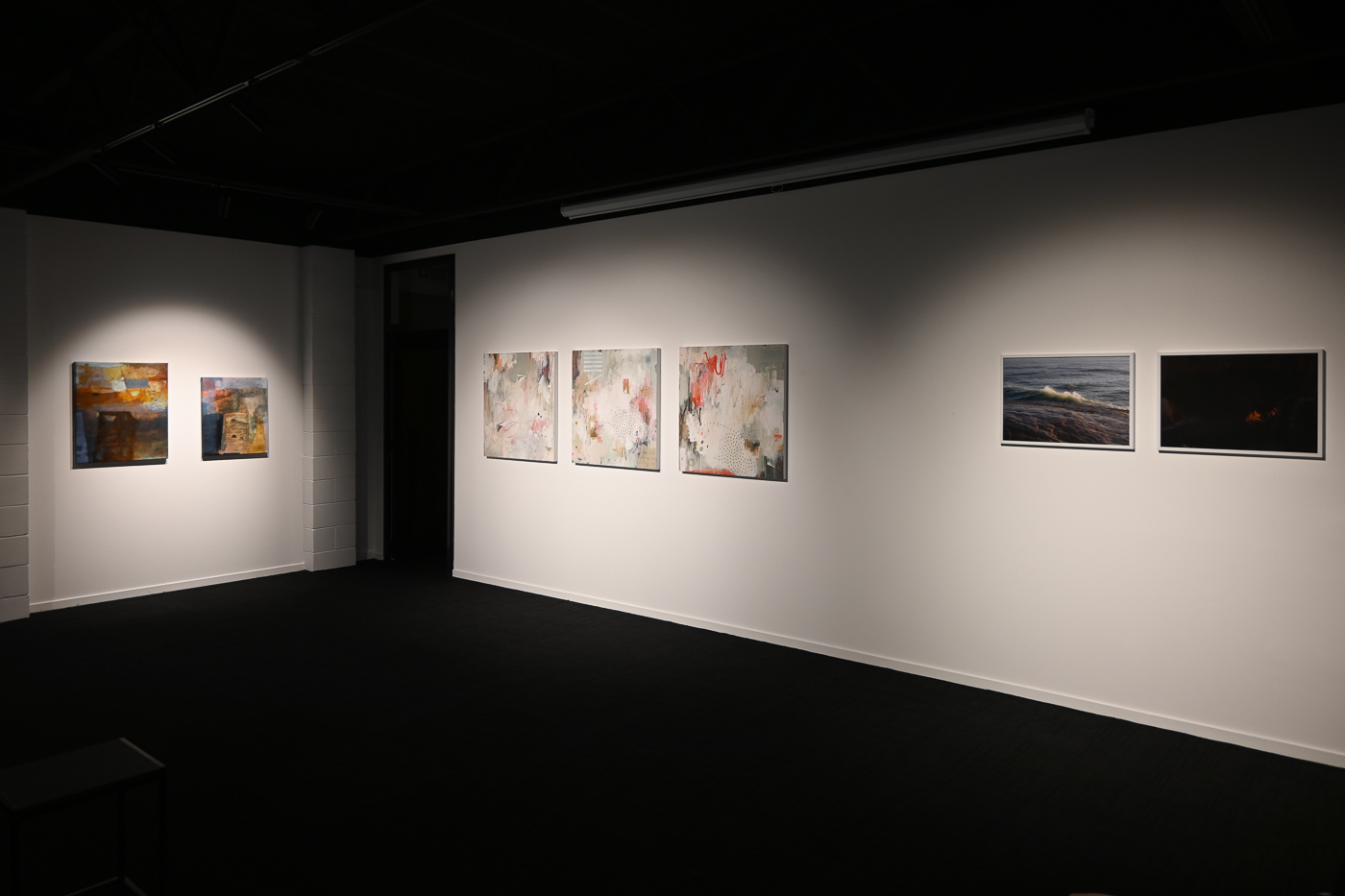 Past Exhibition:
ALIVE – an exhibition of hope for the human race
Exhibition Dates: Saturday 3 July – Saturday 31 July
Hope – it's a four-letter word that whispers, one day things will become better. Yet, in a world dominated by stories of tragedy, misery, and pain, an act of hope counters this prevailing tide with images and stories that value life itself.
This exhibition fuses the concepts of beauty and hope to create an experience that values life and the resilience of humanity. Experiencing beauty, whether in images, music, or even a sunset, has the powerful potential to move our hearts to hope and energize us to act upon it.
Group Show: Emma Marie, Mary Spacapan, Christine Hunter, R. Sawan White, Caroline Burton, Tracy Croucher, Nadia Downing.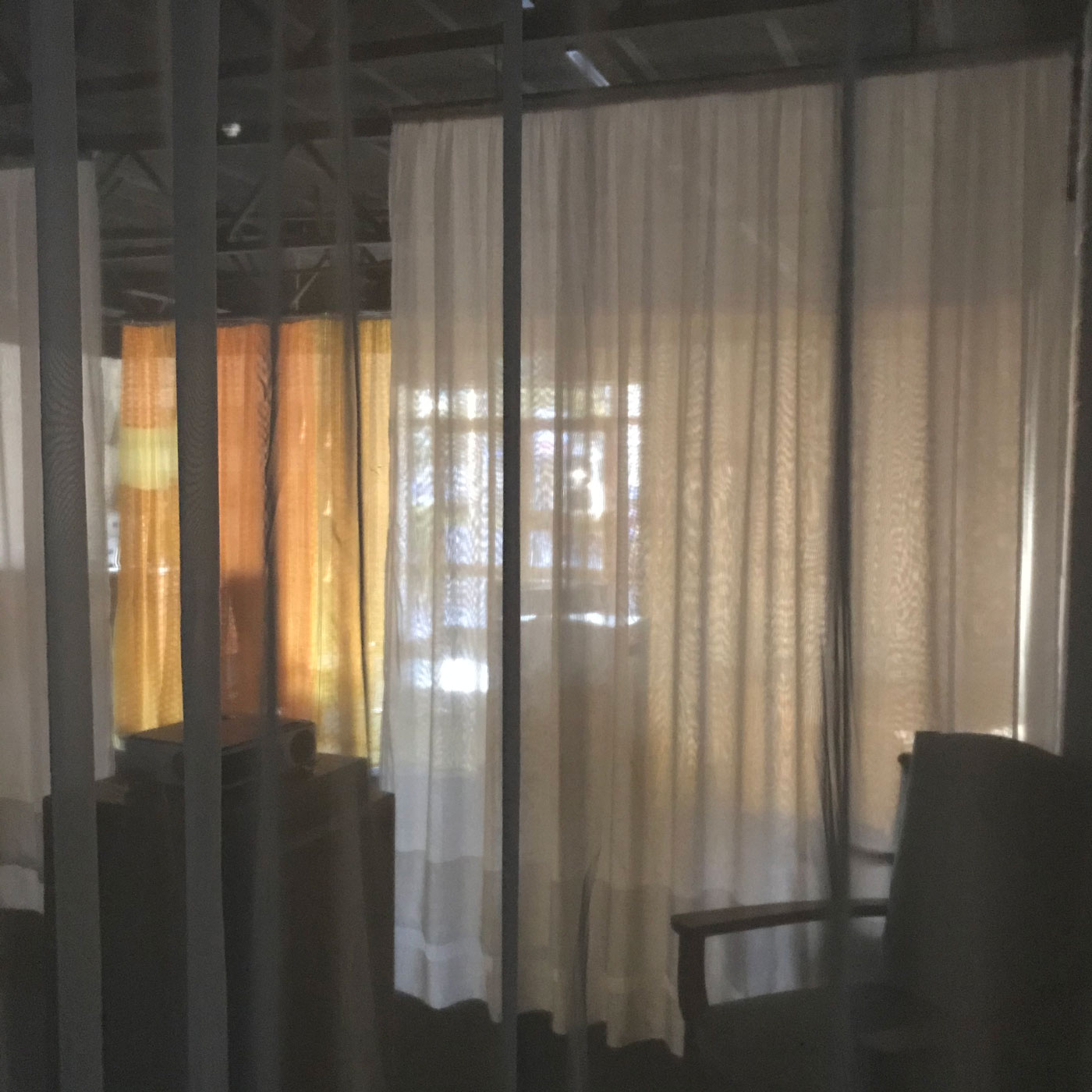 Past Exhibition:
WAITING, WITHIN THE NETS
Opening Preview: Friday 28 May 5:30pm
Exhibition Dates: Saturday 29 May – Saturday 26 May
April Hay's new work WAITING,WITHIN THE NETS, transforms the physical gallery space to open up our imagination and memories to imaginings, narratives and evocations of past experiences.
Solo Exhibition: April Hay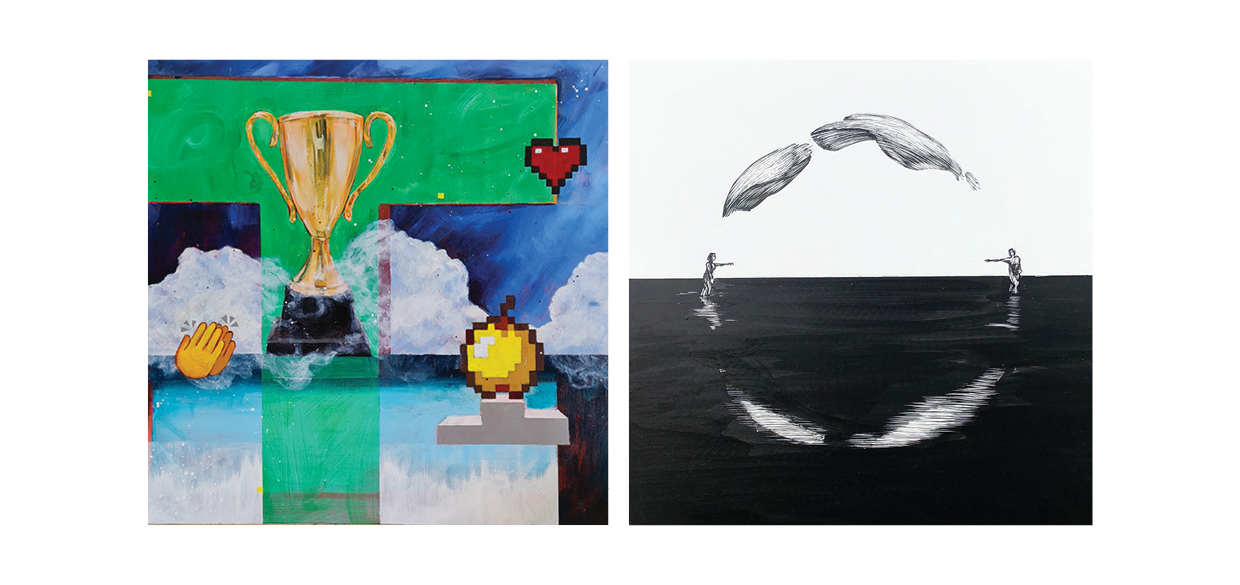 Past Exhibition:
TONY DOWNING & REBECCA BARCLAY-CLIST
Opening Preview: Friday 26 March 5:30pm
Exhibition Dates: Saturday 27 March – Saturday 24 April
Artists' Floortalk: Saturday 27 March 11:00am
New work by Tony Downing and Rebecca Barclay-Clist that both powerfully explore metaphor and symbolism to present images that make us stop, think, and feel, as their stories unfold in our minds and imagination.
Two-person Show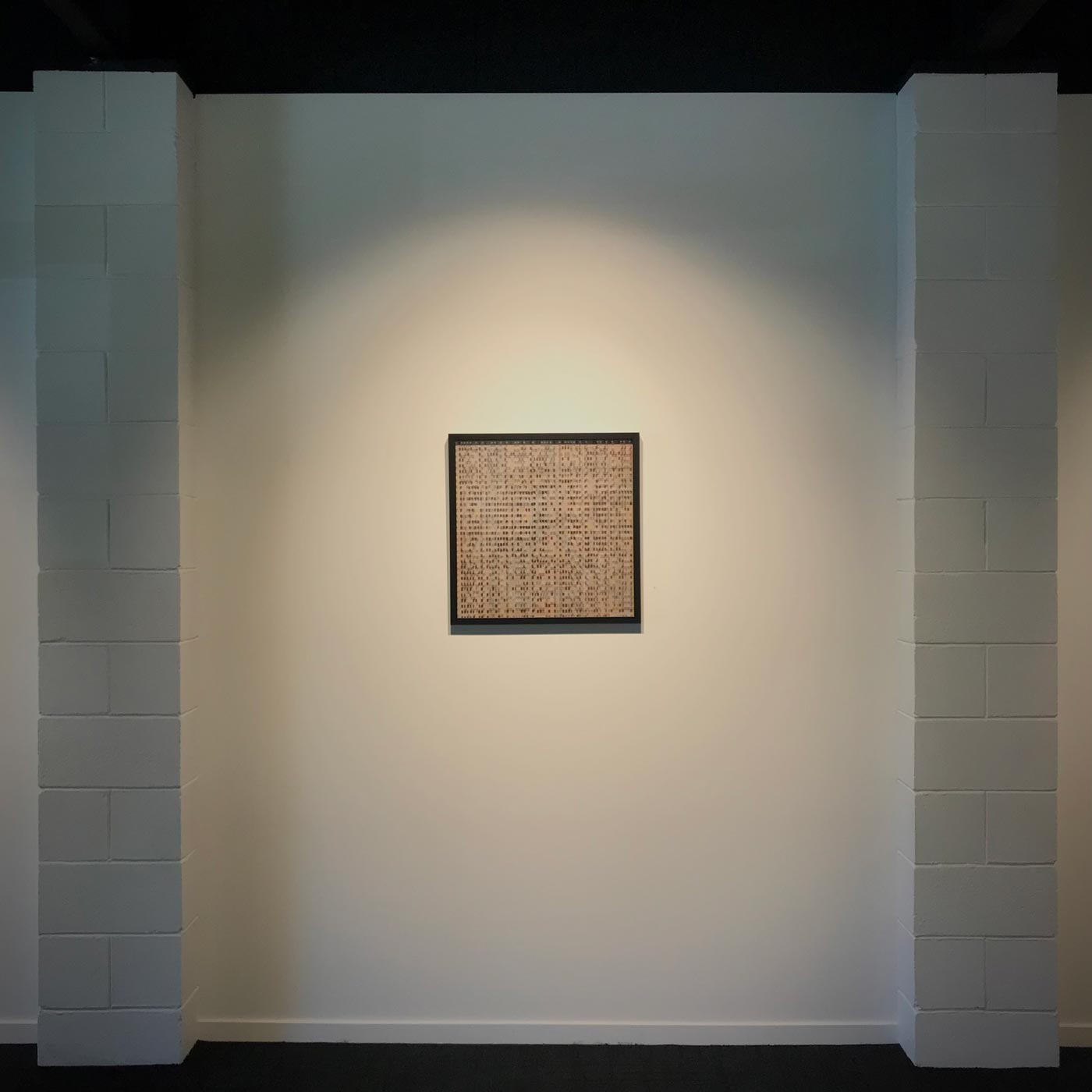 Past Exhibition:
In This Moment
Opening Preview: Friday 19 February 5:30pm
Exhibition Dates: Saturday 20 February – Saturday 20 March 2021

Simon Hunter is a Nelson based artist. His art practice uses a multi- media approach to create artwork that explores layers, traces and histories both in the physicality of the work and the ideas he engages with.
"Layers of images, words and memories etch themselves upon the soul and embed themselves within the spirit. Each succession seems to cover and hide those that went before, and yet, they are not gone-not one has been erased, they lie dormant waiting to be revealed again".
Solo Exhibition: Simon Hunter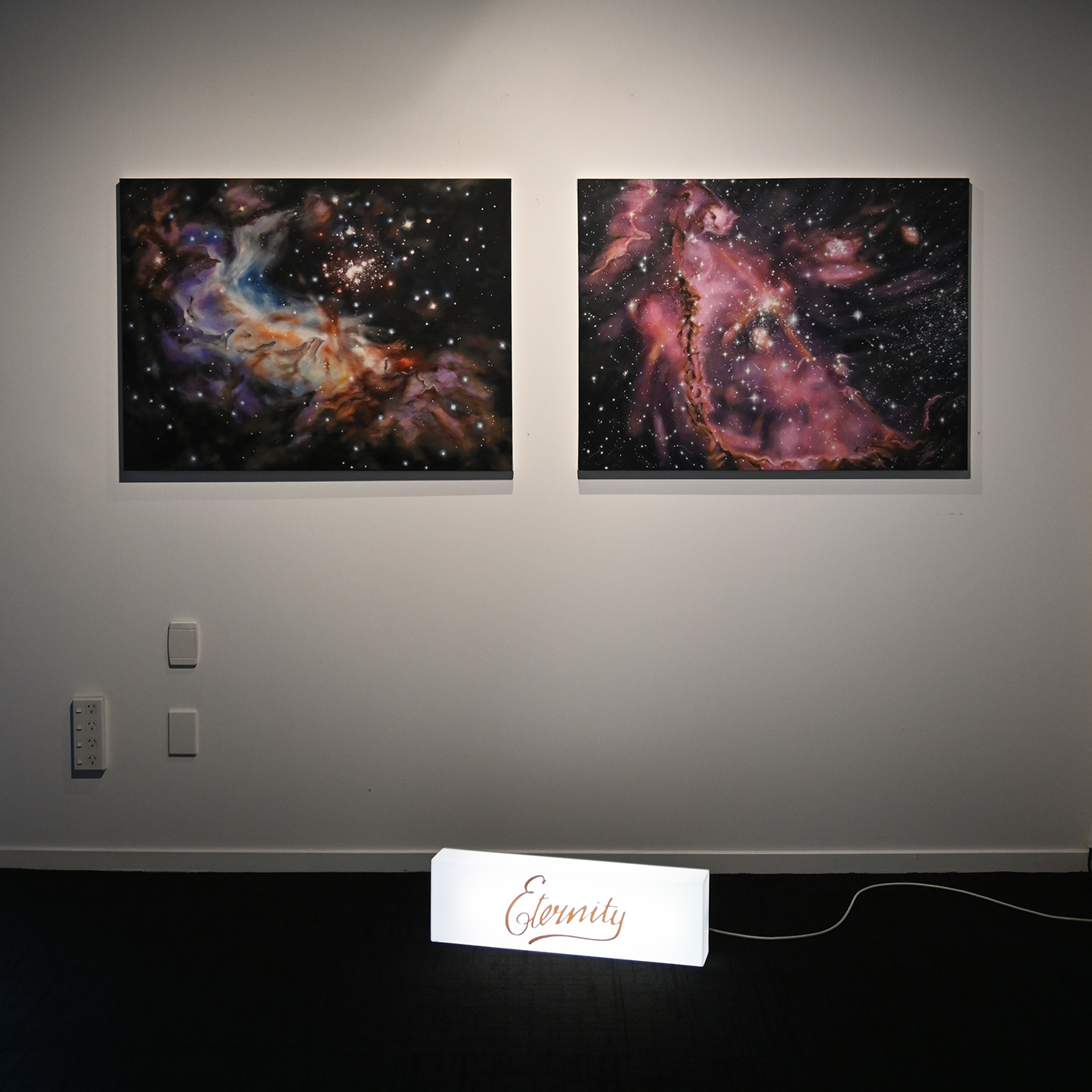 Past Exhibition:
IMAGE + TEXT
Opening Preview: Friday 27 November 5:30pm
Exhibition Dates: 28 November – 23 December 2020
Artists' Floortalk: Saturday 28 November 11:30am

The combination of Image and Text has been a powerful union throughout the history of art – one that has been used to define and subvert conventions throughout the ages. From the scribbles and scribing of pre-historic cave paintings or ancient Egyptian hieroglyphics, to Simone Martini's lavish Annunciation or Barbara Kruger's epic maxim's, 'text as image' and 'image as text' leads a viewer into an experience of art that communicates through the hazy meld of the pictorial and the linguistic.
Does the image define the text? Or, does the text redefine the image? What do we 'read' first, the image or the text? What holds dominance?
In this group exhibition, eleven artists explore the combination of image and text within their work. From stop-motion animation to video, and painting to installation, this exhibition presents a powerful selection of contemporary art by artists from throughout New Zealand.
Group Exhibition: Sudhir Duppati + Fiona Lees + Simon Hunter + Tony Downing + Rebecca Barclay-Clist + Matthew Walters + Elisabeth Kumaran + Rob Ah Chong + David James + Emma Marie + AViD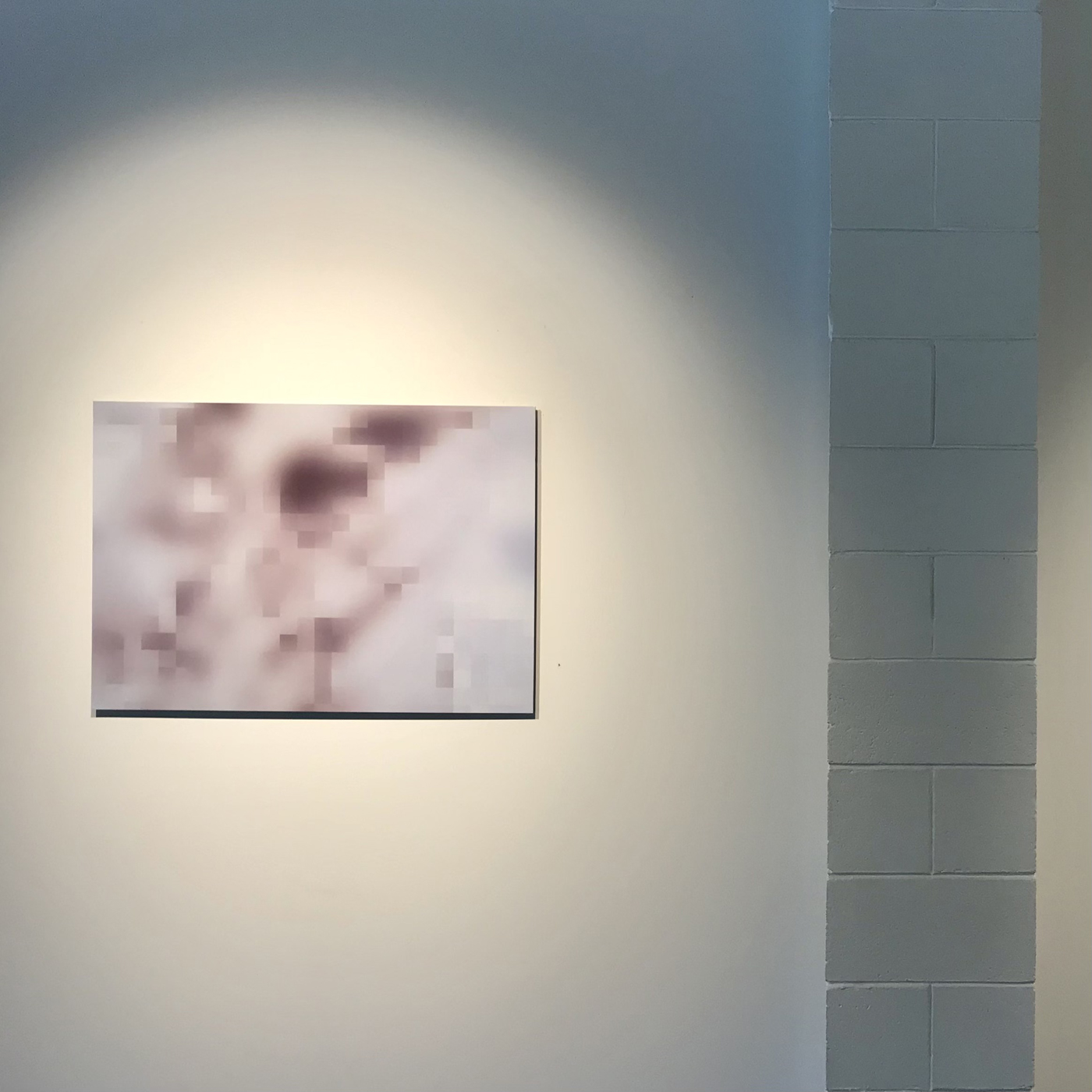 Past Exhibition:
The Feed
Opening Preview: Thursday 1 October 5:30pm
Exhibition Dates: Friday 2 October – Saturday 31 October 2020
Artists' Floortalk: Thursday 22 October 12:15pm

Exploring ideas of perspective, information, knowledge and epistemology, Walters various modes of drawing and painting denote old methods with contemporary issues of the human condition. Walters present a significant new body of work and selected works from his back catalogue yet to be shown.
Solo Exhibition: Matt Walters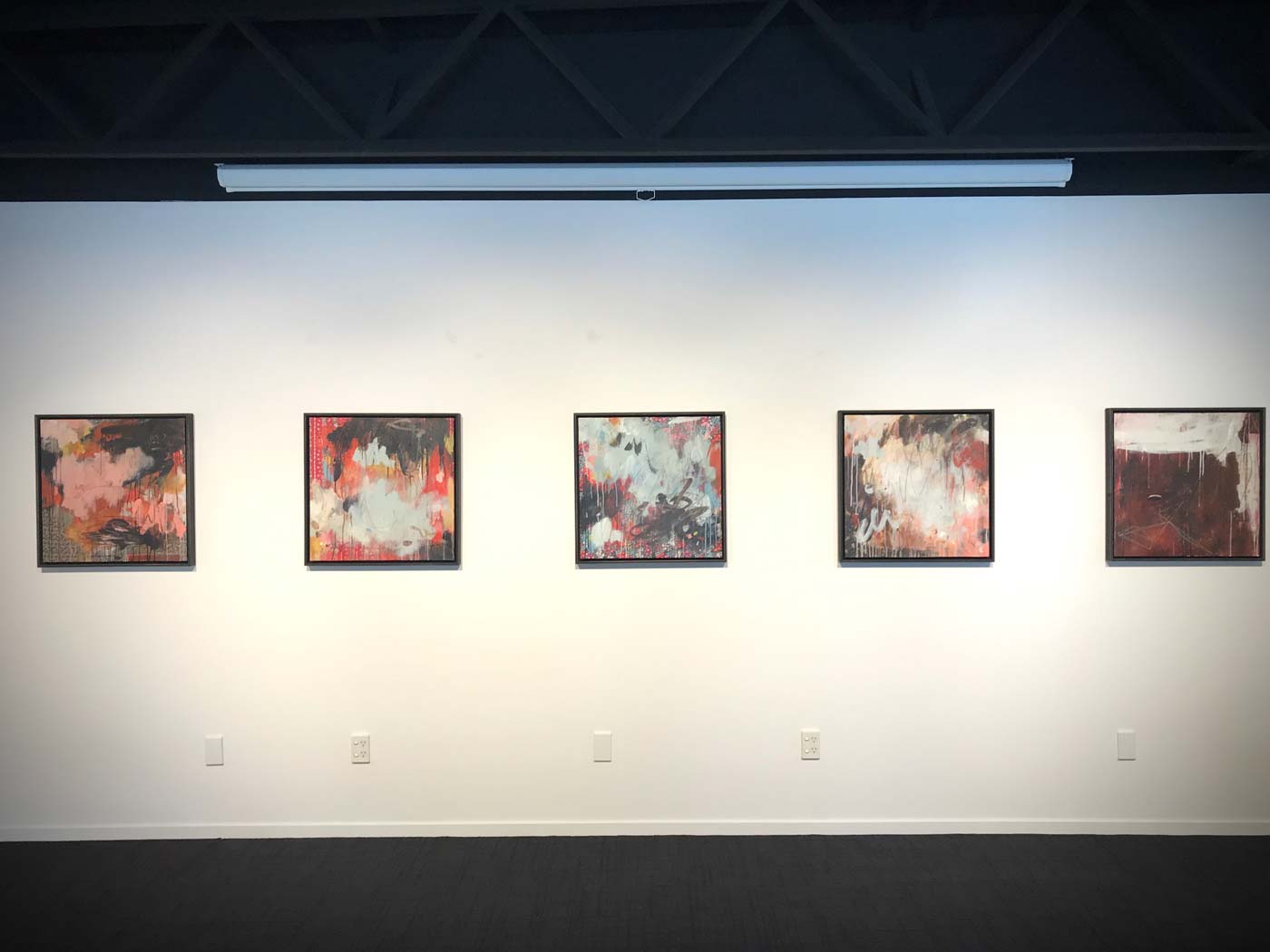 Past Exhibition:
NOWNESS
Opening Preview: Friday 28 August
Exhibition Dates: Saturday 29 August – Saturday 26 September 2020

Emma Marie views her paintings as captured moments of space and time where thoughts and emotions emerge into physical form … and what Eckhart Tolle would describe as N.O.W.N.E.S.S. These works are created from a meditative state of play, in a call and response manner, each colour and mark builds on what is there and always seeks to achieve balance and harmony. Her painting process can be likened to the designing of one's life; building up the layers, scratching back, reworking, risking, and realisation.
Solo Exhibition: Emma Marie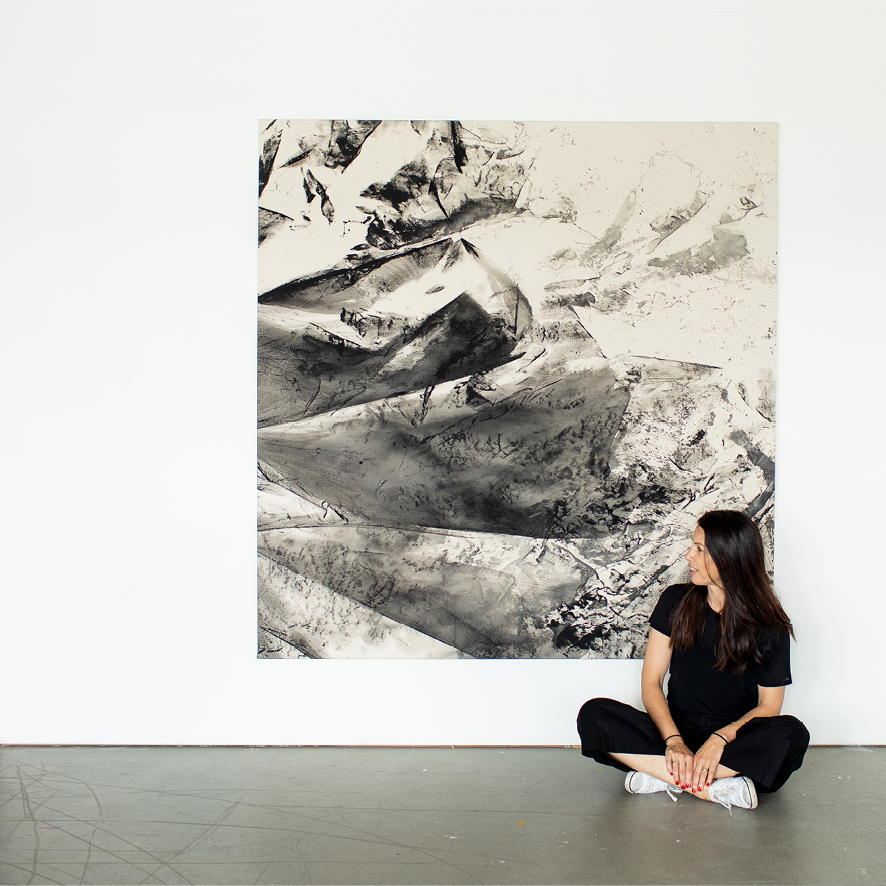 Past Exhibition:
Painting Encounters and Revelations
Opening Preview: Friday 24 July, 5.30pm
Exhibition Dates: Saturday 25 July – Saturday 22 August 2020
Floortalk: Saturday 25 July, 11:30am

Amamda Watson's practice explores the interaction between environments, painting materials and herself as an artist, as she works in and with places. Her paintings register encounters and experiences she has with the land and the studio environment, and presents experience of place in a holistic manner. The paintings have been made by 'wrapping' or 'covering' surfaces with large pieces of canvas, positioning them over and around masses of rock, parts of trees or organic matter on the ground, or bunched on the studio wall.
Solo Exhibition: Amamda Watson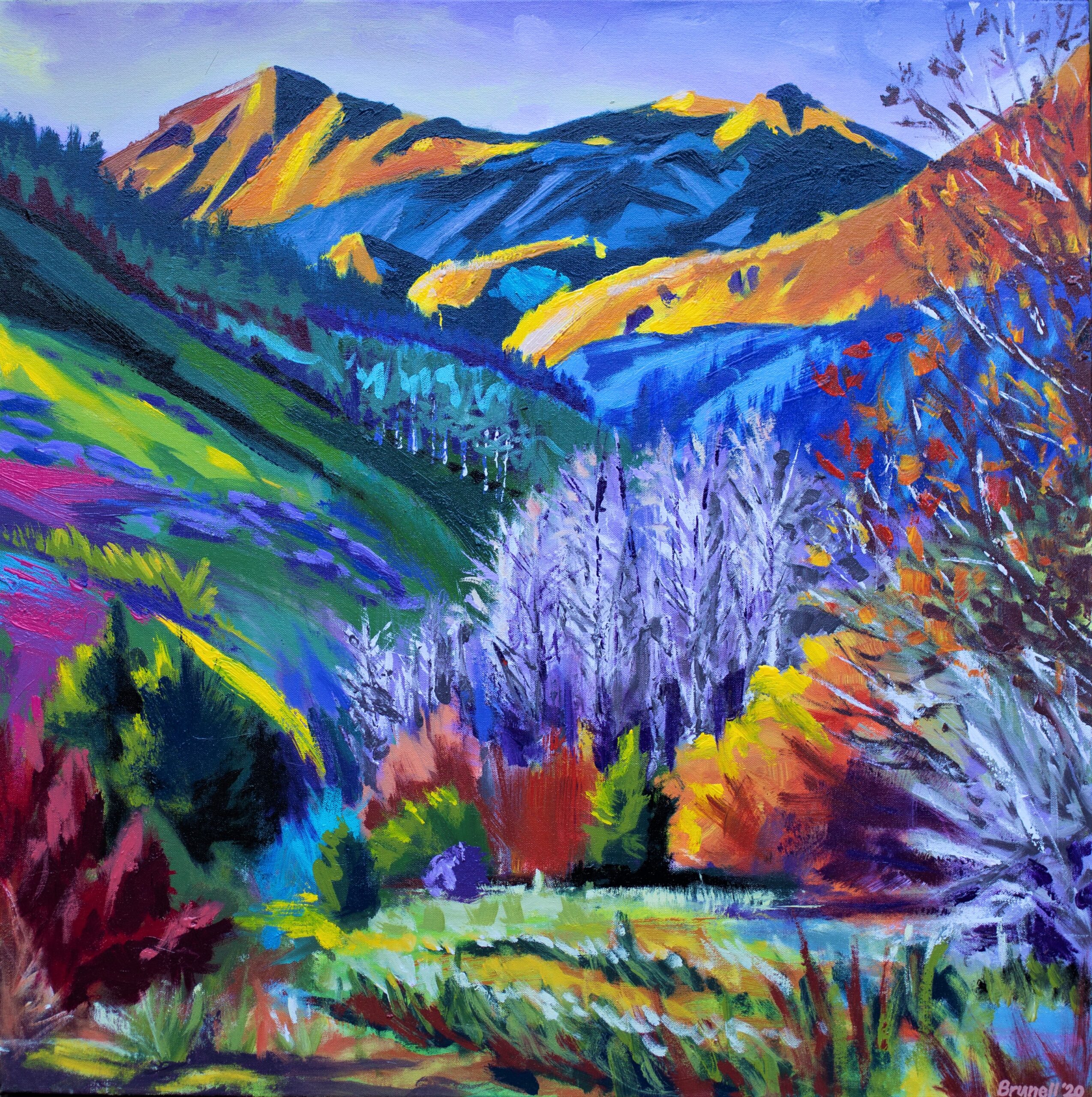 Past Exhibition:
MEMORIES: A NELSON CHILDHOOD
Saturday 20 June – Saturday 18 July 2020
Opening Preview: Friday 19 June, 5.30pm

Memory is not wholly reliable data (ask any defense lawyer!) Nonetheless it's what we've been left with in order to make sense of ourselves and our world. Memories define us. They are narratives that connect the present with the past, and enable us to have a place to stand, and a story to tell. This series, Memories: A Nelson Childhood depicts my recollections of happenings and landmarks from my youth. Each piece has its own story.
Solo Exhibition: Fred Brunell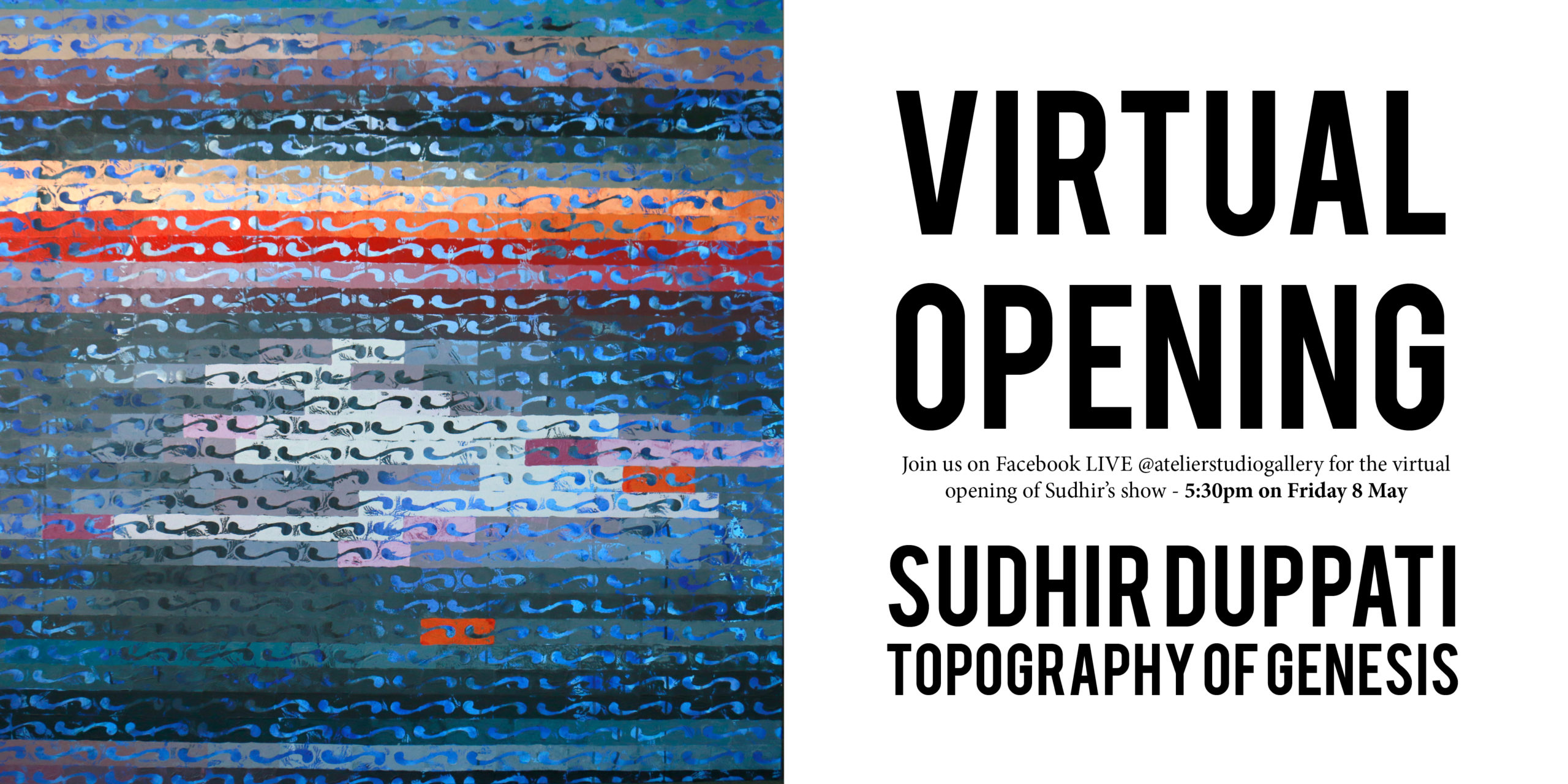 Past Exhibition:
TOPOGRAPHY OF GENESIS
9 May – 13 June 2020

'Topography of Genesis' is a series of paintings that explores the idea of evolution of Life. It attempts to map the dynamics of the biometric forms in the process of creation. Duppati comments, "as an artist I believe that every form has the potential to expand itself into an infinite mark that connects both physically and spiritually with every other existing form within and beyond our human consciousness. The aspect of imagining the 'Infinite in Divine' and connecting to it in a metaphorical sense using the medium of paint is something that fascinates me".
Solo Exhibition: Sudhir Duppati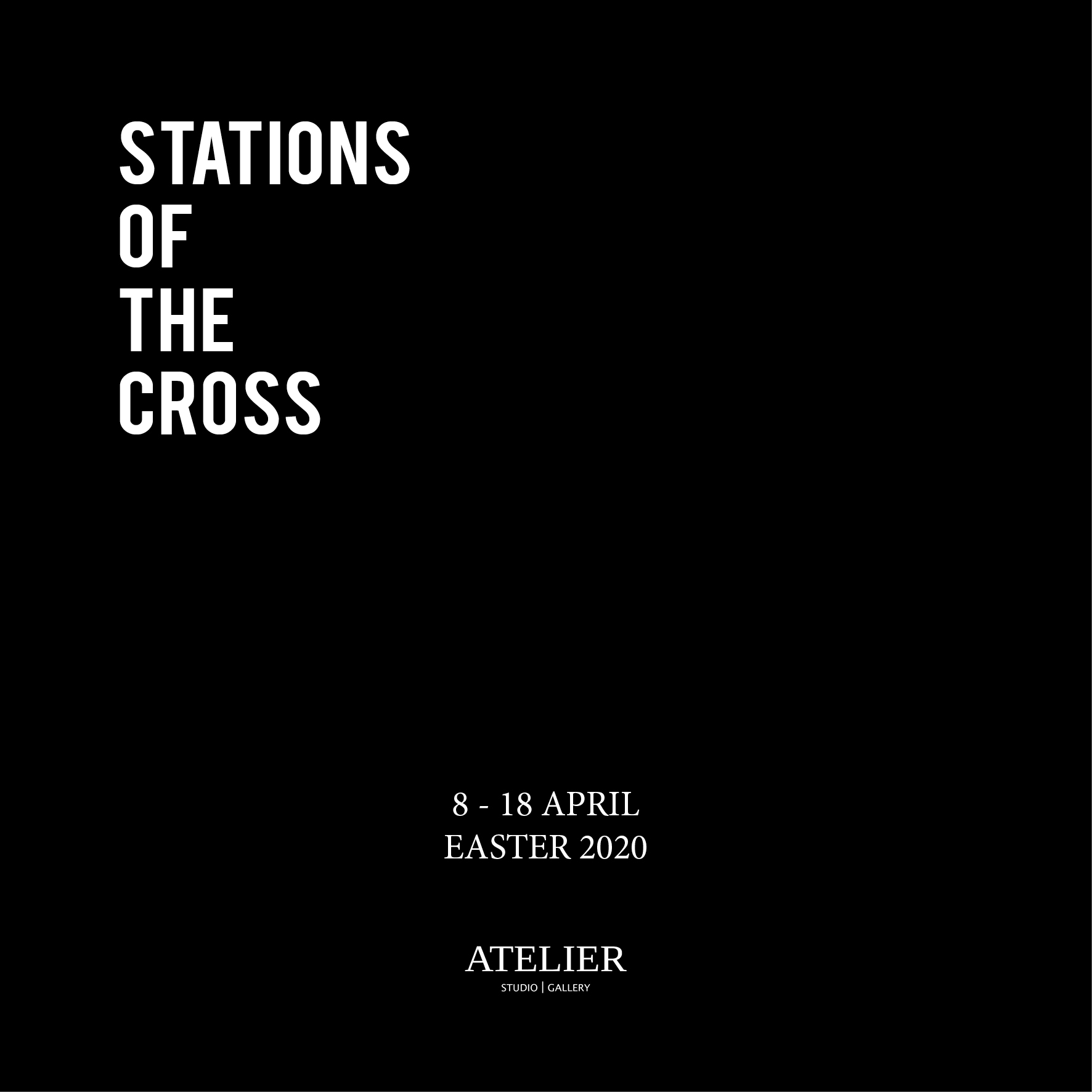 Past Exhibition:
Stations of the Cross
8 – 18 April (Easter 2020)

One of the special exhibitions that we are running this year is a group show held over the Easter period from Wednesday 8 April – Saturday 18 April 2020, where 14 artists are invited to exhibit one work in response to one of the 14 Stations of the Cross.
The Stations of the Cross has a deep history and connection across within contemporary art. Artists such as Barnett Newman, Ralph Hotere and Colin McCahon have explored this theme in their work as an access point to consider the humanity and divinity of Christ.
The 14 Stations of the Cross is the lead up and journey of Christ to the Crucifixion. It is a poignant and topical theme for the Easter period and while this tradition has been responded to in many different ways over the years, we believe contemporary artists of faith will bring a fresh voice to this story.
Group Exhibition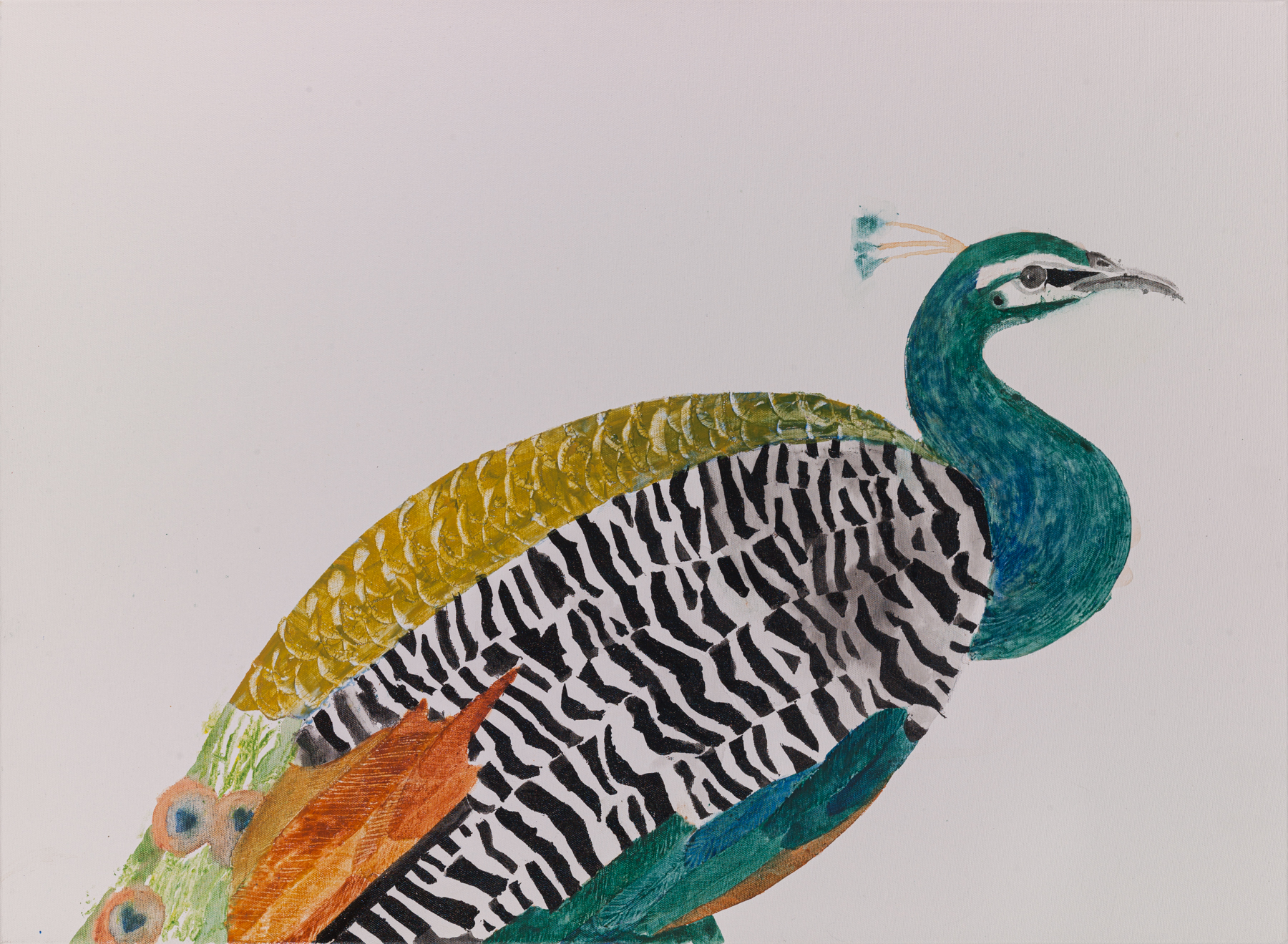 Past Exhibition:
Jessica Crothall 2020 – Signs & Symbols
22 February – 4 April 2020
Opening Preview: 5:30pm Friday 21 February

This solo exhibition of new work by Jessica Crothall explores the signs and symbols of life and resurrection through expressive, colourful, and dynamic paintings referencing the motif and mystery of the peacock.
Solo Exhibition: Jessica Crothall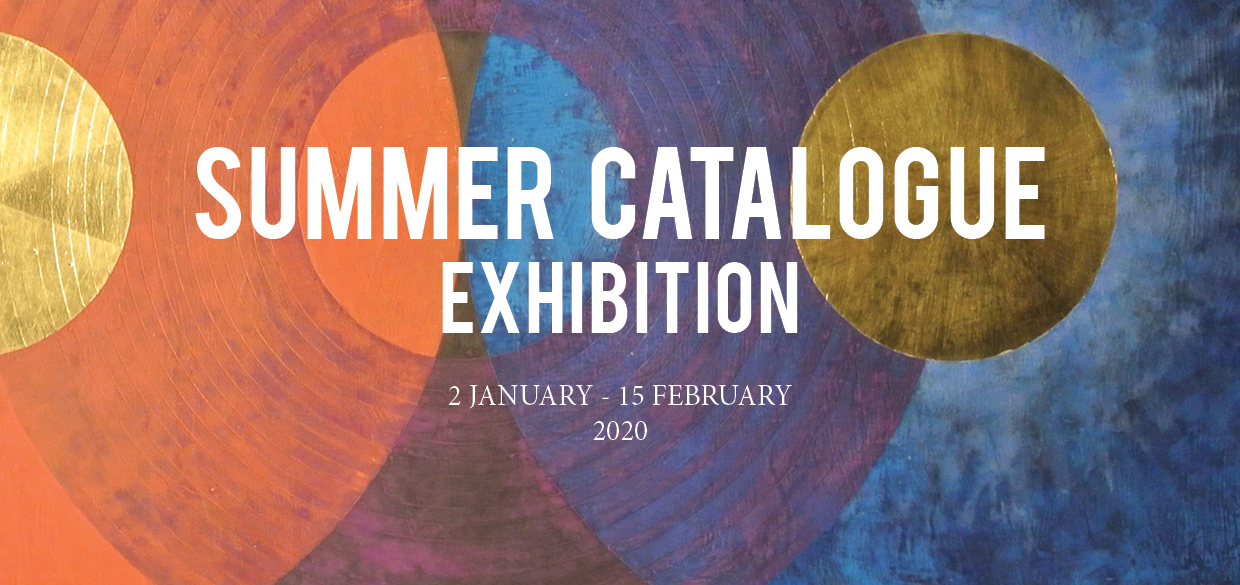 Past Exhibition:
Summer Catalogue Exhibition
2 January to 16 February 2020

Our Summer Catalogue Show will feature a rotation of works we currently hold in our stockroom from the many talented artists that we represent. This show will be a great opportunity to revisit some of your favourite pieces and a good chance to view other works that you may not have seen before. All the works in this exhibition will be for sale and available to take with you when purchased.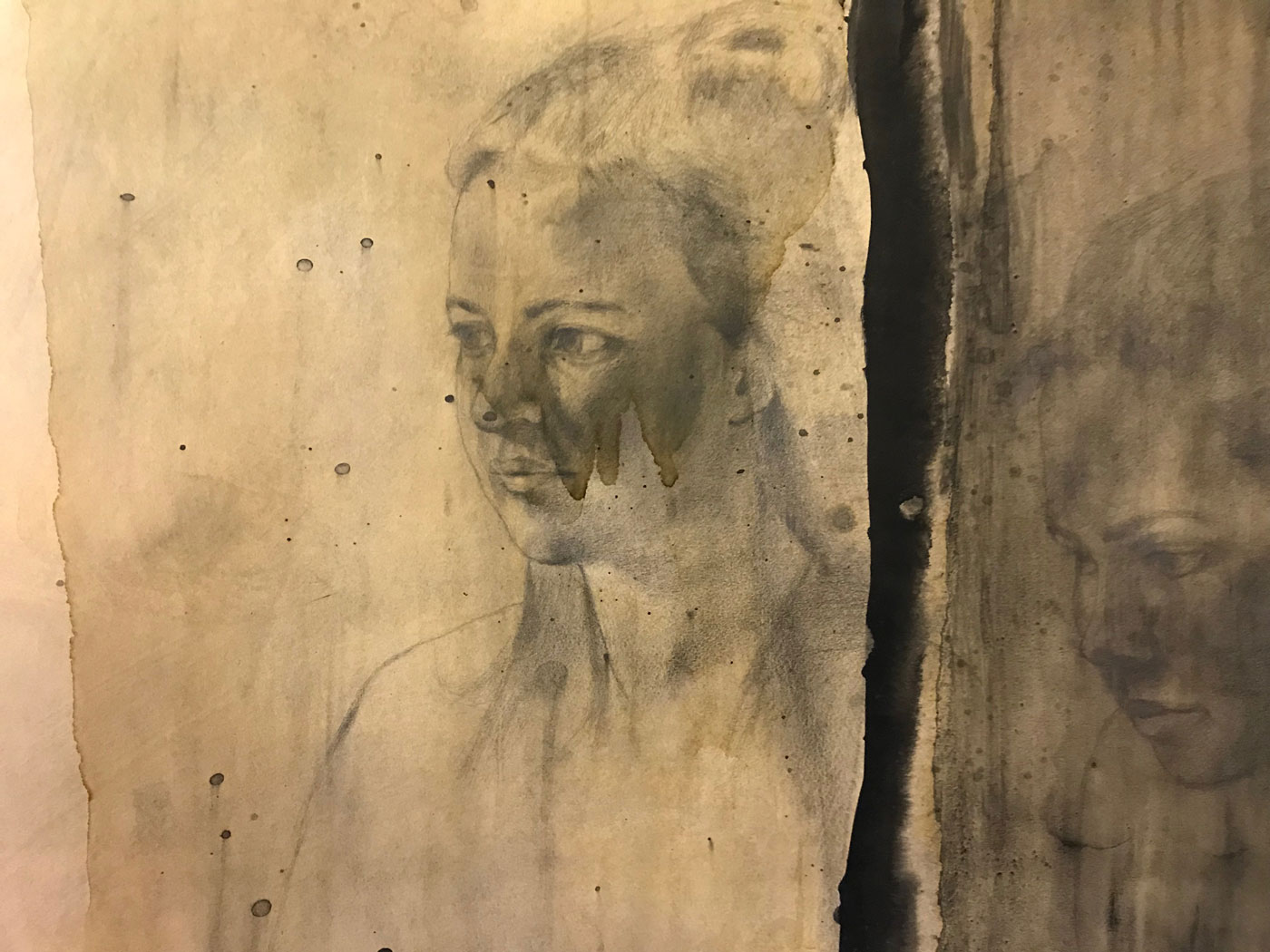 Past Exhibition:
SPECULUM HUMANAE DEI
22 November to 28 December 2019
Opening Preview: Thursday 21 November, 5:30 p.m.
Speculum Humanae Dei, loosely translated as the Human Mirror of God, is a body of work that explores the vulnerability of human relationships and connectedness through large, metaphoric figurative drawings. This work seeks to draw attention to our need for mercy, compassion, and forgiveness in how we relate to one another and how, at times, the clearest glimpse we may see of God is reflected through the humans around us.
Solo Exhibition: David James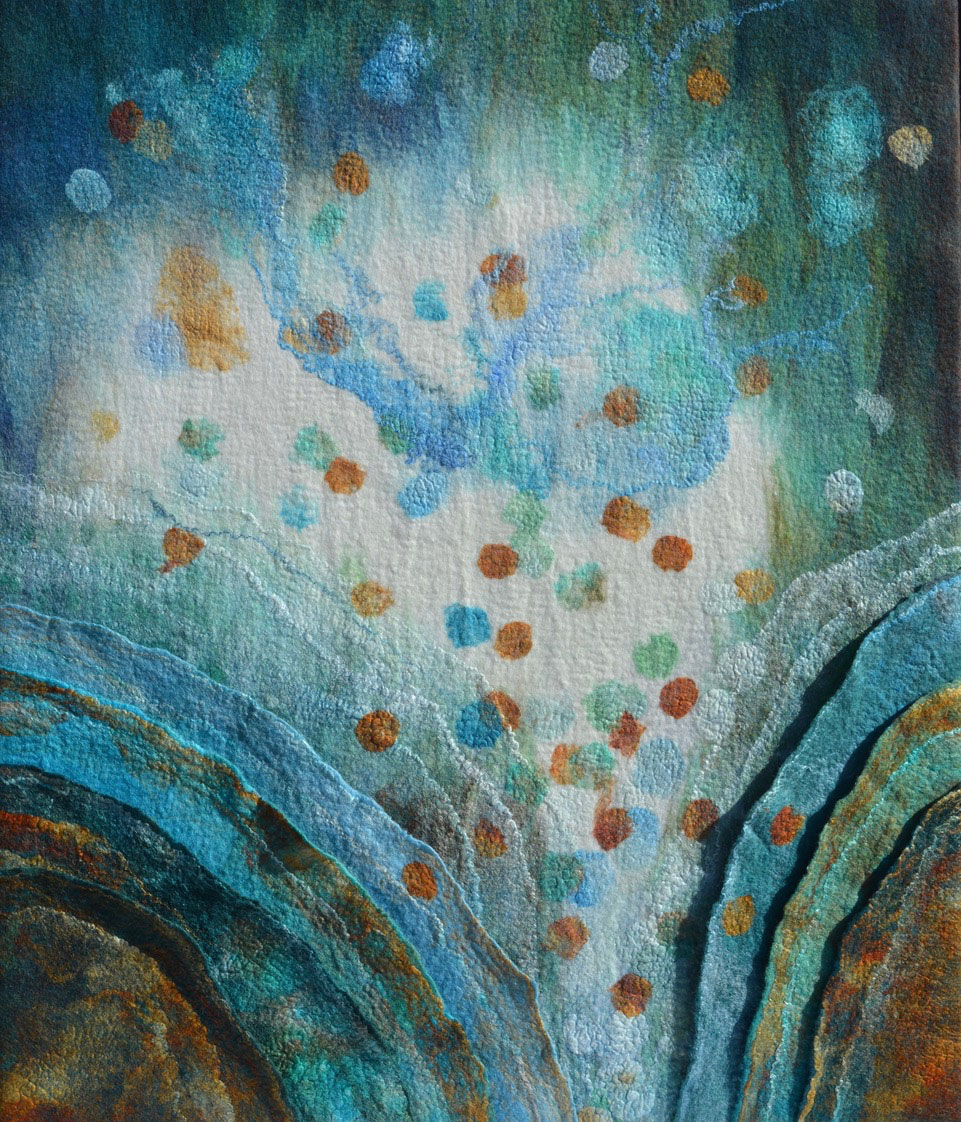 Past Exhibition:
CARETAKERS
Saturday 21 September – Saturday 2 November 2019
Opening Preview: Friday 20 September, 5:30 p.m.
From Here to There  is informed by ideas regarding the territory between light and dark, creation and decay, arrival and departure.
Solo Exhibition: Caroline Burton
Past Exhibition:
From Here to There
Saturday 3 August – Saturday 14 September
Opening Preview: Friday 2 August, 5:30 p.m.
From Here to There  is informed by ideas regarding the territory between light and dark, creation and decay, arrival and departure.
Solo Exhibition: Simon Hunter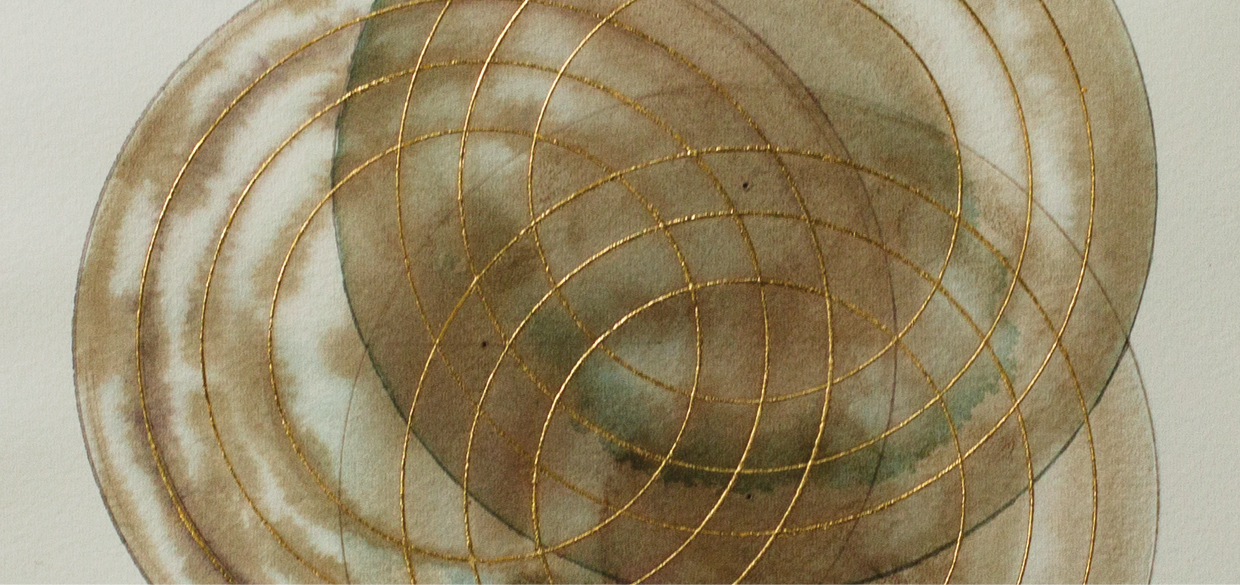 Past Exhibition:
Origins
Saturday 15 June – Saturday 27 July 2019
Opening Preview: Friday 14 June, 5:30 p.m.

In pursuit of wisdom we seek answers to the questions – where am I, where am I going, where have I come from? In our present condition, we do not remember ourselves, as our day by day relationship with nature is fragmented; and, our future condition is precarious with the extinction level threats of climate change. To resolve this existential crisis perhaps we take a closer look at where we have come from?
Solo Exhibition: Gaylene Barnes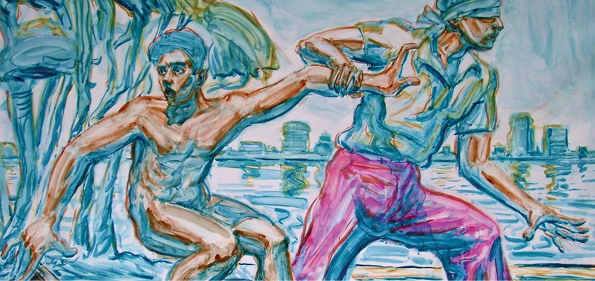 Past Exhibition:
FAITH – and the inner world of Raukawa
Saturday 27 April to Saturday 8 June 2019
In FAITH – and the inner world of Raukawa, Andrew Panoho (Nga Puhi) leads us on a spiritual journey that engages with the inner world and ancient history of the Raukawa region (Nelson, Marlborough and the West Coast). Raukawa is the Maori name given to the top half of the South Island. In this exhibition, Panoho records, narrates and celebrates this journey through the use of transparent oils and watercolour that both echo and 'translate' the hidden work of restoring healthy spiritual foundations to the region. For Panoho, this exhibition acts as one small chapter in a corporate book of Faith, that is daily being written by many nameless, passionate souls.
Solo Exhibition: Andrew Panoho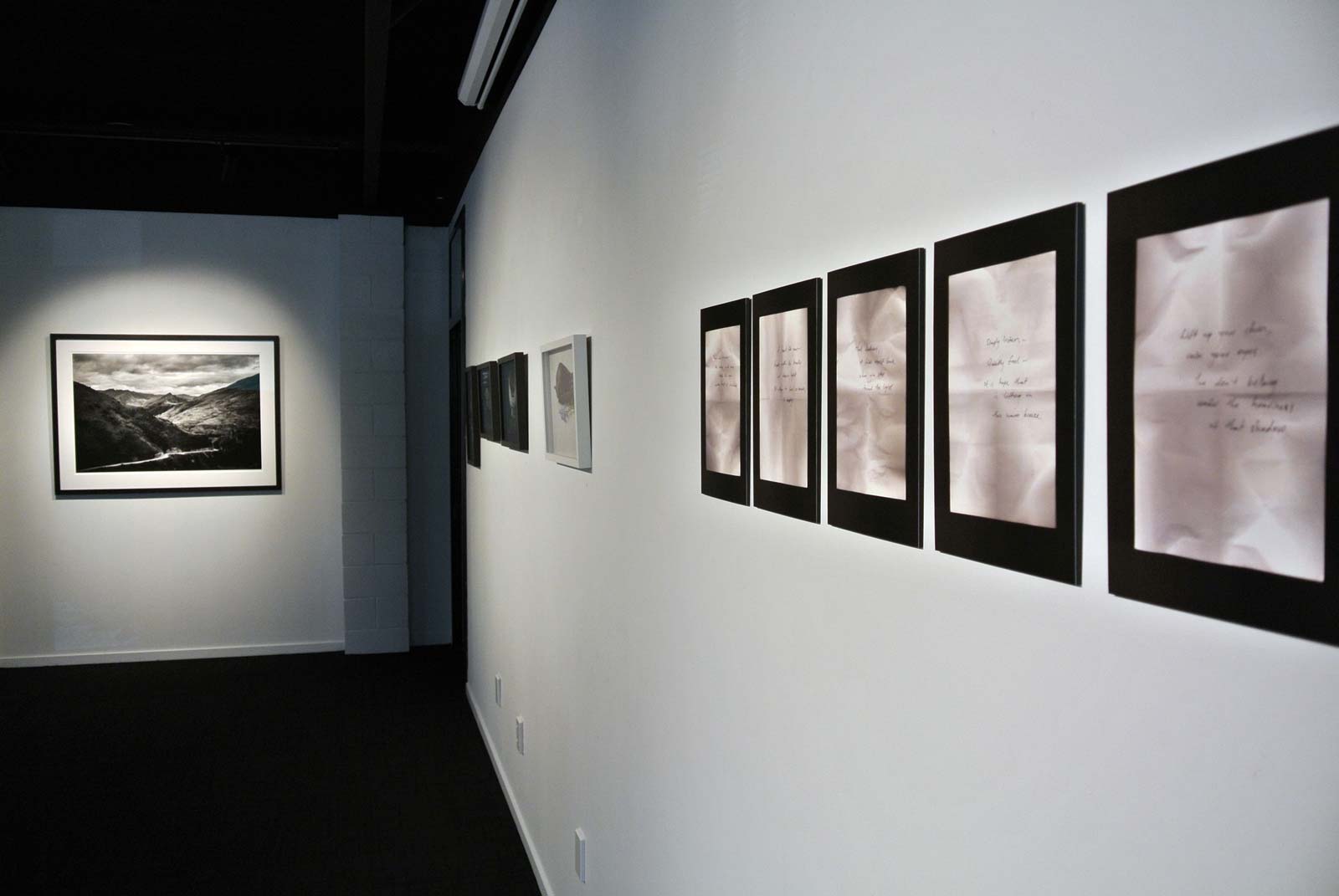 Past Exhibition:
WHEN THE LIGHT COMES
Saturday 2 March – Saturday 13 April 2019
The gallery was transformed by the deep tonal qualities of the beautiful photographic images on show, and we were privileged to exhibit contemporary artists that utilise photography as a means to engage with both the dark and light of life. You could find vanitas inspired works, meditative and reflective images, metaphorical landscapes, and conceptual pieces. It was a great show to spend some time with and had beautiful works for you to purchase and enjoy.
ARTISTS: Tim Williams, Karen Sewell, Fiona Lees, and David James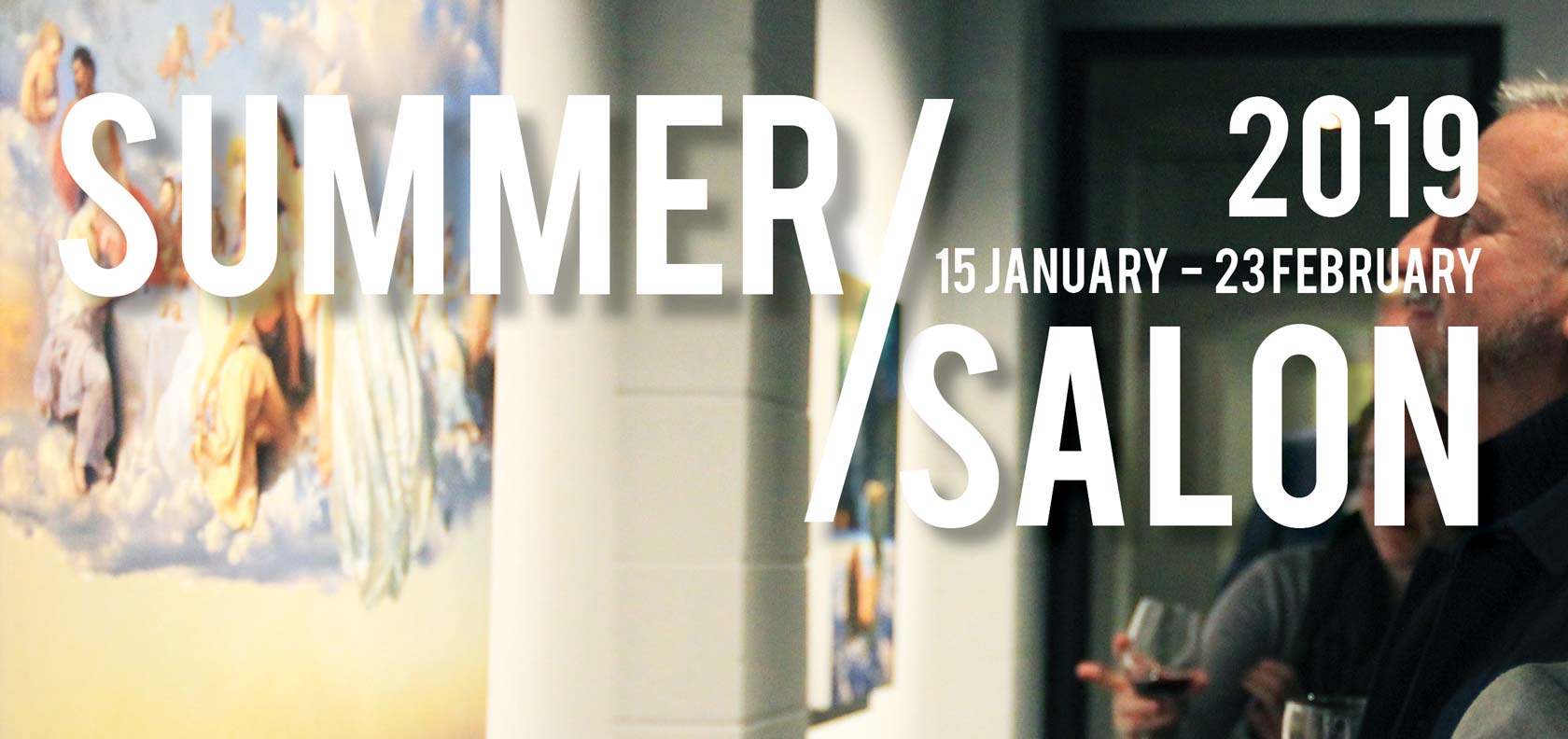 Past Exhibition:
SUMMER SALON
15th of January to the 23rd of February 2019
Our first exhibition for 2019 was a showcase of work from our stock room. This exhibition was eclectic, exciting, and engaging as we presented work from multiple artists that we represent. Featuring some of your favourites previously exhibited at ATELIER and new work that we have had the privilege to bring to the public since our launch.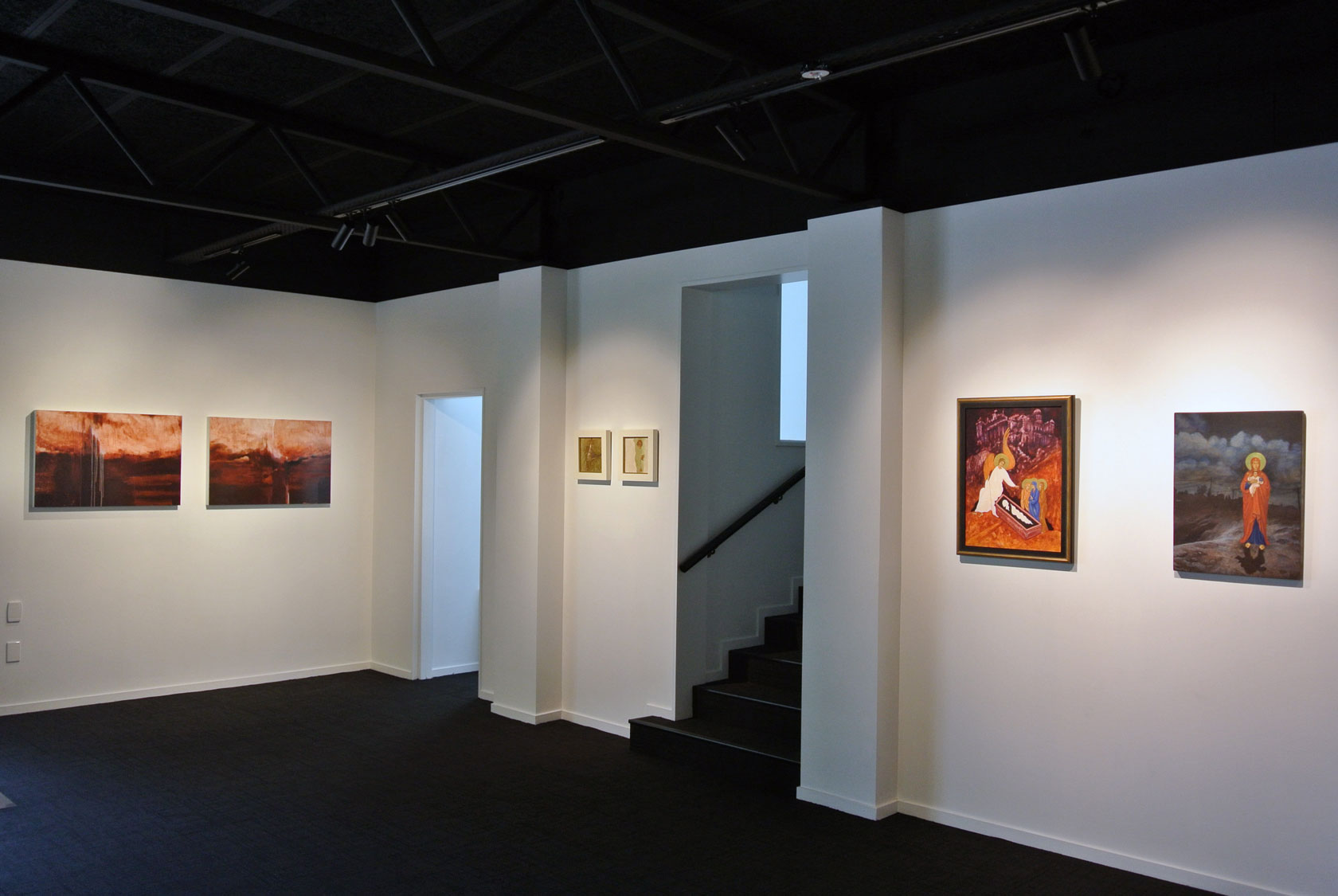 Past Exhibition:
DOWNSCALE
24th of November to the 22nd of December 2018
Small is the new big, they say! From the tiny-house movement to micro-gardens, painted miniatures to lower case text, beautiful things come in small sizes! In this group exhibition, a diverse retinue of contemporary artists from throughout New Zealand present small-scale works in a big way! Sculpture, painting, drawing, photography, and more meet together in a small, but by no means little show!
Featuring: Krystee Craig, Symen Hunter, Amanda Watson, Fiona Lees, Caroline Burton, Gaylene A. Barnes, Greta Greenwood, Darryn George, Leilani Frangipani, and David James.
Past Exhibition:
THE ESSENTIAL MARK
20th of October to the 17th of November 2018
Drawing is observational, expressive, conceptual, part of a process to something more, and the finished work in itself. Drawing is explorative, revealing, and at times highly personal. In this exhibition, The Essential Mark, we have the opportunity to present drawings and works on paper from over 15 different artists from throughout New Zealand. You will find a variety of approaches to drawing and a variety of subject matter, and in all, you will have the opportunity to enjoy the uniqueness of the artist's sensibilities toward their essential mark.
Group Exhibition: Drawings and Works on Paper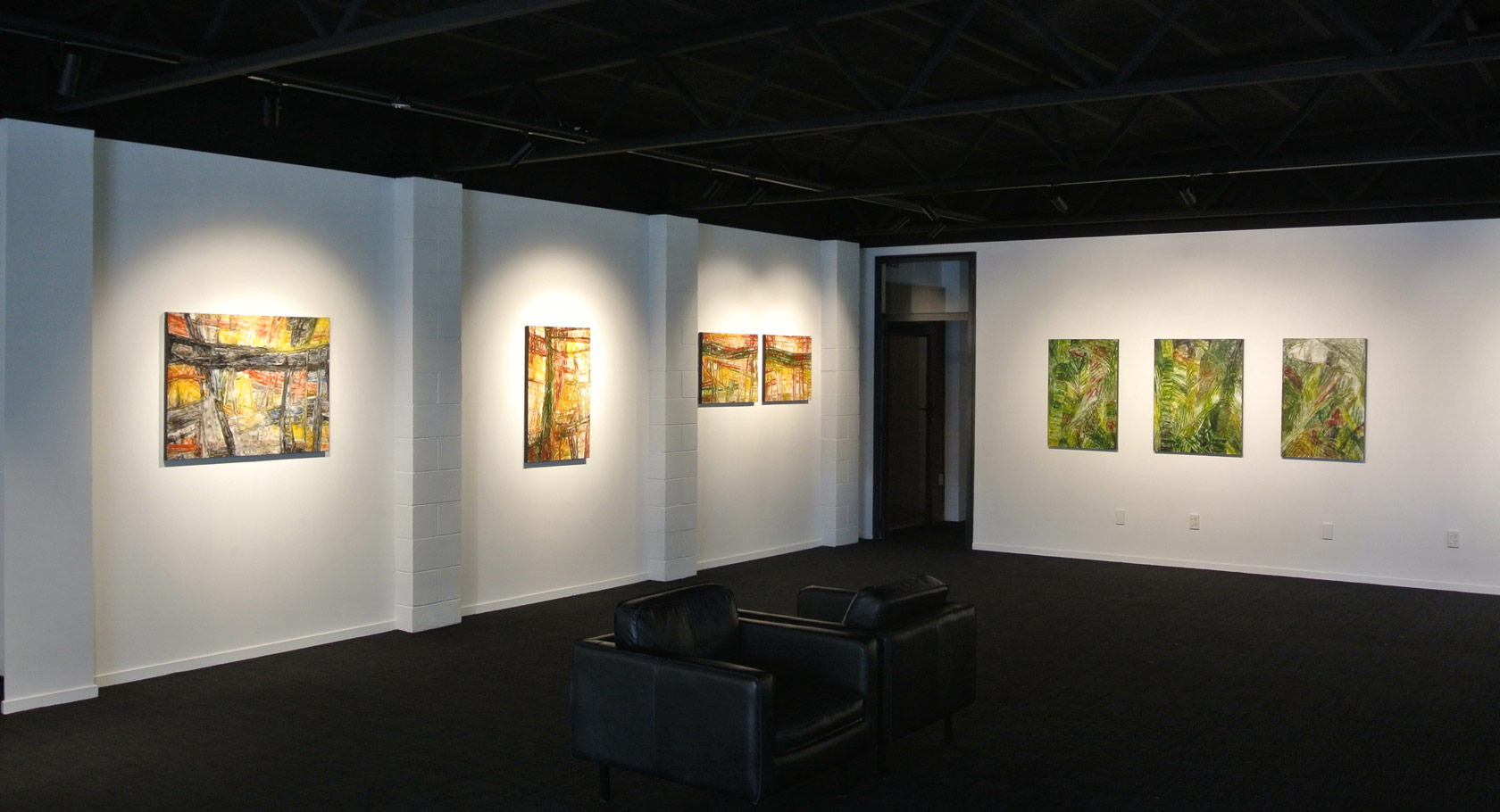 Past Exhibition:
PUNAKAIKI: GATES AND JOURNEYS
15th of September to the 13th of October 2018
In Punakaiki: Gates and Journeys, Jessica Crothall presents a highly personalised way of visually responding to the land, through layering textures and abstracting shapes and colours of the West Coast rainforests, making them a symbol not only of Punakaiki but also the land of Aotearoa as a whole.
Solo Exhibition: Jessica Crothall

Past Exhibition:
SONG OF ALL SONGS
11th of August to 8th of September 2018
The series of work Song of all Songs explores the complexity and mystery of love, desire, and beauty expressed through the rawness and transparency of real relationship.
Song of all Songs touches on the human desire for connection – connection with one another, and connection with the divine – and in return, it reveals also the heart of the divine to connect with humanity.
Solo Exhibition: David James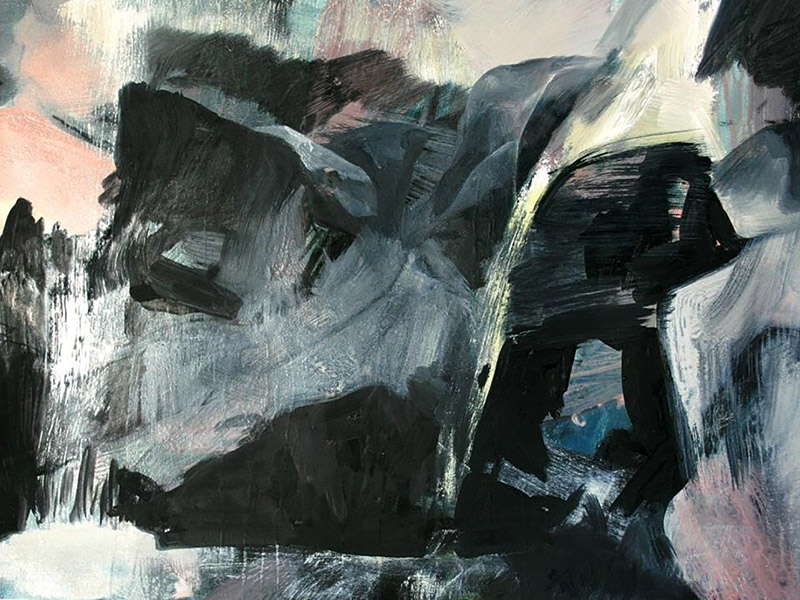 Past Exhibition:
PAINTERLY
7th of July to 4th of August 2018
5 Women Painters – Exploring the Painted Surface
Featuring: Amanda Watson, Erin O'Malley, Jill Smith, Jessica Crothall and Arwen Flowers.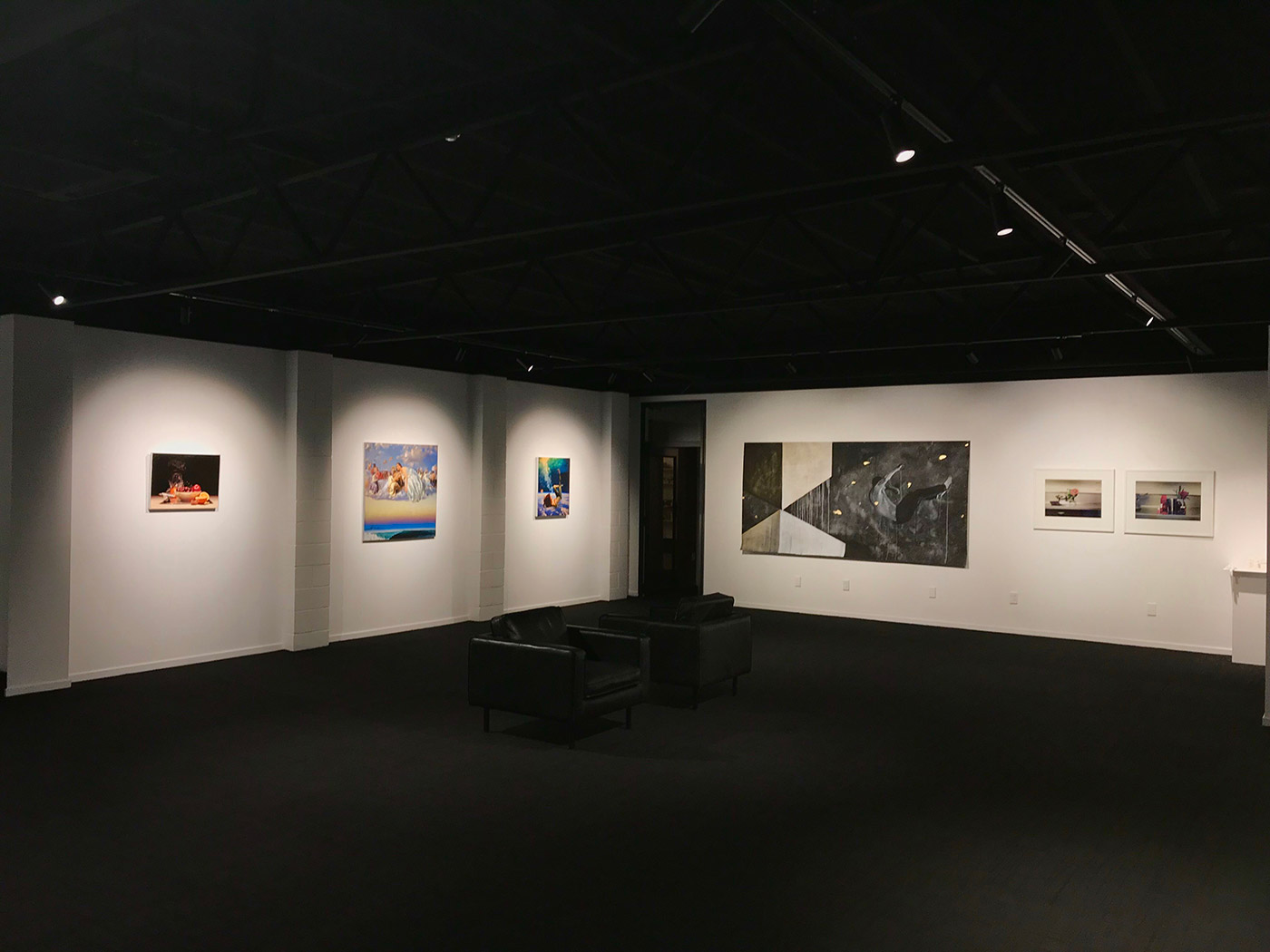 Past Exhibition:
Quality Of Life
2nd of June to 30th of June 2018
Featuring: Darryn George, Kees Bruin, Amanda Watson, Fiona Lees, Symen Hunter, and David James. (ATELIER Inaugural Exhibition)
ATELIER Studio|Gallery
OPEN HOURS:
Wednesday to Friday 11:00 a.m. – 5:00 p.m.
Saturday 11:00 a.m. – 2:00 p.m.
Also, open by appointment.
ADDRESS:
Level 1, 284 Trafalgar Street
Nelson 7010, New Zealand
PHONE:
(Gallery Manager)
021 166 8327