About ATELIER Studio|Gallery
Situated in the heart of picturesque Nelson city, New Zealand, ATELIER Studio|Gallery is a hub of art and creativity that presents an exhibition programme of contemporary artists both local and national.
Nelson, renowned for its wine, food, and arts culture, offers a wealth of experiences for locals and traveller's alike – it's a boutique creative community that boasts not only a beautiful environment and stunning natural landscapes, but also unique histories and groundbreaking artists and thinkers. It is into this creative culture that ATELIER was founded in 2018 as a not-for-profit initiative to support, represent, and promote emerging contemporary artists.
We believe that art brings us together and can change the world.
We believe that art nourishes the soul of individuals, communities, cities, and culture.
We believe that art is generative – it gives, grows and creates new things in kind.
We believe that art is essential to the emotional and spiritual health of humanity.
GALLERY
ATELIER is a beautiful, quiet and contemplative space – a haven from the everyday, perfect for viewing and engaging with contemporary art. The 100 sq/m gallery, white walls, and high steel-trussed ceiling offers multiple options for the installation of exhibitions and events.
ATELIER Studio|Gallery runs a monthly exhibition programme that highlights the work of established and emerging contemporary artists from Aotearoa, New Zealand. The monthly programme focusses on solo, collaborative, and group shows of represented artists and new and emerging talent.
Associated to the gallery is our functioning stockroom that houses multiple works from artists that we represent. These are available to view in person at any time in consultation with the gallery – examples are also able to be viewed on our website, and on our ARTSY page to engage with our broader online audiences across the globe.
Buy, invest, and own original, high quality, contemporary artwork that makes your soul come alive. Please don't hesitate to talk with us about payment options, up-front deposits, and pre-sales.
STUDIO
Housed at ATELIER Studio|Gallery is the private studio of founder and director, David James. David's working studio is open to the public upon request and may have any manner of projects on the go! Currently, David's main focus is on creating figurative, drawing-based works that explore the complexities of the human condition, connection and relationship.
The Studio is also the venue for art making classes and workshops held by ATELIER or our associated artists. Keep an eye on our website and social media for classes and workshops on offer each term – or sign up to our Mailing List to be personally informed by email.
Events
Throughout the year, specific events are held or hosted by ATELIER at the gallery – whether it's a conference, an arts incubator, or evening performances, the gallery space transforms into a venue suitable for intimate functions and events.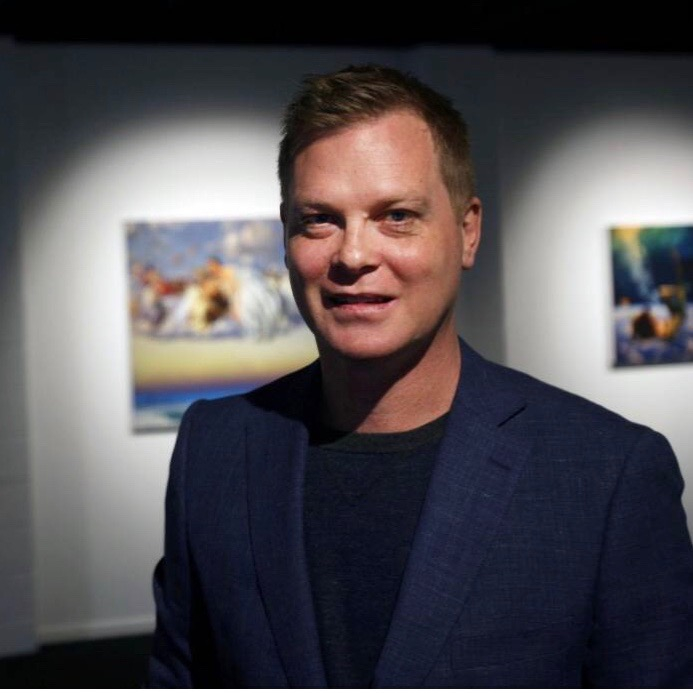 GALLERY DIRECTOR: DAVID JAMES
David is an artist, an art educator, and gallery director at ATELIER Studio|Gallery.
David James' art practice explores the sensitivity and control of traditional figurative drawing, disrupted by techniques to allow emotive and personal narratives to emerge and express our humanity. David holds an undergraduate qualification in Visual Arts majoring in painting and drawing, and a Master's degree in Art & Design for which he achieved First-Class honours.
As an art educator, David teaches contemporary and traditional approaches to drawing the figure. He previously worked at Nelson Marlborough Institute of Technology for over 12 years as a tutor on the Arts & Media programmes at certificate, diploma, and degree level before progressing into leadership and management roles in the Creative Industries programme area.
Today, as co-founder of Atelier Ministries NZ with his wife Nina, David directs the not-for-profit initiative ATELIER Studio|Gallery from where he runs his private studio.