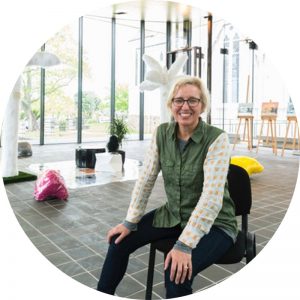 Profile: Karen Sewell
Karen Sewell is an Auckland based artist working in sculpture, installation, photography, drawing, and painting.
She aims to create provocations that question and critique the empty promises inherent within consumer lifestyle and to promote the flourishing of people and the natural created world. The destructive face of the empire is exposed in the systems and practices that exploit, discriminate against and destroy people and the natural world.
Sewell's works extend an invitation to the audience to engage in some way, opportunities for moments for rest, reflection and play. Karen has exhibited in a wide variety of different spaces including public spaces, public and dealer galleries, and art festivals and her work is held in private and public collections including The Wallace Arts Trust.
Sewell graduated with an MFA(Hons) from Whitecliffe College of Arts and Design in 2016, she won the Trusts Art and Sculpture Premier award in 2011 and has been a finalist in The Glaister Ennor Graduate Art Awards in 2016, The Wallace Art Awards in 2013 and The NewZealand Portrait Awards in 2012.
www.karensewell.net
Instagram @karensewellartist
Facebook karensewellart
MAJESTY workshop: Opening up 3D Space
This workshop will take a dive into interactive and immersive installation art. Karen will talk about creative process, working spatially, engaging audience and collaborating with the Holy Spirit. This will be a fun, hands on and 'give it a go' workshop, a space to generate and process ideas together through exploring and experimenting with materials in the space…what happens if? How does this relate to that? Installation spaces with invitations for participants to engage, can create opportunities for liminal moments of encounter with God.