Jill Smith
Visual Artist, Art Therapist
Jill's art bears witness to a life-long experience of seeing, feeling, being immersed in and deeply moved by the landscape of Aotearoa, and within it, an awareness of the Divine Presence. Early challenges, with the death of her mother, changes in family dynamics and battles with her health, awakened in Jill a desire to understand and experience the harmonising, healing, integrating way of Jesus for herself, and also for others.
The therapeutic value she experienced in creating art, later led her to further exploration, through a M.A. Arts Therapy offered by Whitecliffe College of Fine Art, completing with honours in 2006. Her thesis researched and proposed an Art Therapy approach that integrated Christian spirituality and world view in safe and effective practice.
Back to MAJESTY
View Next Workshop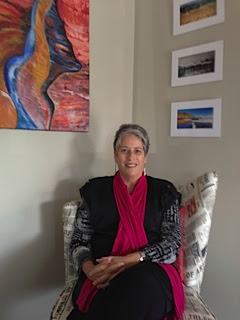 MAJESTY workshop
Out of the Chaos: Prophetically Shaping the New
Made in God's image, people have the ability to bring 'the word' to bear on chaotic, unformed potential to shape, form, structure, and/or articulate new things. Genesis 1 sets the scene for all of us. The responsibility and privilege of artists of faith is to turn up bringing the word they have received to bear on the unformed potential in particular times and places. We are called to partner in this creative shaping and structuring activity with Christ, the Living Word.
In our turning up truthfully and authentically we can actually be the word that is needed as we manifest the possibilities waiting in the apparent chaos, darkness and emptiness in front of us. In this sense we do our work prophetically, articulating new kingdom possibilities in words, images, movement and metaphor to bless our communities and culture.
The focus of this workshop is to consider these ideas in the light of our personal lives and arts practice and focus these two questions:
What is our personal word / truth to authentically manifest in our life and work?
How do we more intentionally partner with the Living Word in the unforced rhythms of grace "speaking" the creative word that manifests potential realities out of chaos?