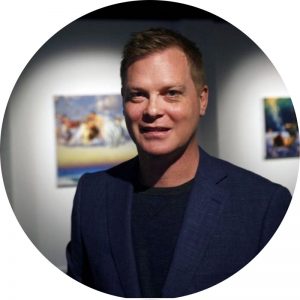 Profile: David James
David is an artist, an art educator, and gallery director at ATELIER Studio|Gallery.
David's art practice incorporates drawing, painting, photography, and video approaches to exploring faith and visual identity. He holds an undergraduate qualification in Visual Arts and achieved First-Class honours for his Masters degree in Art & Design. As an art educator, David worked at NMIT in Nelson for over 15 years as a tutor on the Arts & Media programmes at certificate, diploma, and degree level, and progressed into leadership and management roles in the Creative Industries programme area. This role had a national reach as a moderator for other degree programmes in the tertiary education sector and also included international relations and joint-degree programmes with universities in China.
Today, as founder of Atelier Ministries NZ Trust, David directs the not-for-profit initiative ATELIER Studio|Gallery. This initiative exists to support, represent, and promote artists of faith and is positioned as an incubator for both the ideas and the making that generates creativity and visual influence.
Instagram – @davidjamesartist
Facebook – atelierstudiogallery
Website – www.atelier.org.nz
MAJESTY workshop: The Power of Images
Images communicate. Images communicate differently depending on context, intention, and reading. In this workshop, participants will explore the power of images to communicate diverse and difficult ideas. Through a series of experiments, participants will develop a vocabularly of images, and engage with two-dimensional image making techniques to give voice to their own visual stories.